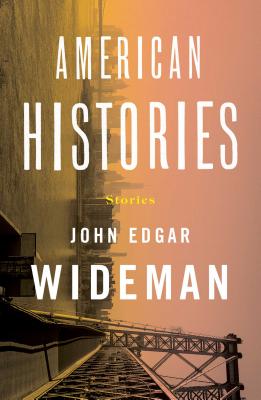 American Histories (Hardcover)
Stories
Scribner, 9781501178344, 240pp.
Publication Date: March 20, 2018
Other Editions of This Title:
Paperback (3/26/2019)
Library Binding, Large Print (5/8/2019)
* Individual store prices may vary.
Description
In this singular collection, John Edgar Wideman, the acclaimed author of Writing to Save a Life, blends the personal, historical, and political to invent complex, charged stories about love, death, struggle, and what we owe each other. With characters ranging from everyday Americans to Jean-Michel Basquiat to Nat Turner, American Histories is a journey through time, experience, and the soul of our country.

"JB & FD" reimagines conversations between John Brown, the antislavery crusader who famously raided Harper's Ferry, Virginia, and Frederick Douglass, the abolitionist and orator, conversations that belie the myth of race and produce a fantastical, ethically rich correspondence that spans years and ideologies. "Maps and Ledgers" eavesdrops on a brother and sister today as they ponder their father's killing of another man. "Williamsburg Bridge" sits inside a man sitting on a bridge who contemplates his life before he decides to jump. "My Dead" is a story about how the already-departed demand more time, more space in the lives of those who survive them.

Navigating an extraordinary range of subject and tone, Wideman challenges the boundaries of traditional forms, and delivers unforgettable, immersive narratives that touch the very core of what it means to be alive. An extended meditation on family, history, and loss, American Histories weaves together historical fact, philosophical wisdom, and deeply personal vignettes. More than the sum of its parts, this is Wideman at his best—emotionally precise and intellectually stimulating—an extraordinary collection by a master.
About the Author
John Edgar Wideman's books include American Histories, Writing to Save a Life, Philadelphia Fire, Brothers and Keepers, Fatheralong, Hoop Dreams, and Sent for You Yesterday. He is a MacArthur Fellow, has won the PEN/Faulkner Award twice, and has twice been a finalist for the National Book Critics Circle Award and National Book Award. He divides his time between New York and France.
Praise For American Histories: Stories…
"With the scrupulous intelligence and meditative intensity that define all this author's work . . . . Mr. Wideman's explicit subject is racial injustice but his treatment of it quietly deepens into existential horror. . . . This, then, is not a book for the unwary. Mr. Wideman possesses a true and terrible vision of the tragic."
—Wall Street Journal

"John Edgar Wideman has established himself as one of the country's most formally inventive writers ... an important addition to Mr. Wideman's body of writing and a remarkable demonstration of his ability to address social issues through a range of fictional forms and styles."
—Pittsburgh Post-Gazette

"A powerful assemblage of short stories exploring late-in-life angst through personal myth, cultural memory, and riffs on an empire scorched by its own hubris ... His prose, its twisting suntax, is a kind of stylish jazz of his own making."
—O Magazine

"A master stylist, Wideman pursues a wide array of tonal registers, rhetorical strategies, and musical effects in this collection of stories. He makes personal interventions in history and witnesses history intruding on the personal. Each story enacts a dialectic on matters of race that's mirrored in Wideman's sentences, the staccato tussling with the sinuous."
—Vulture, Best of 2018

"Wideman's 50-year writing career has won him countless awards, and the author proves his continued vitality, reimagining historical figures with vigor and soul."
—Entertainment Weekly

"Race and its reverberations are at the core of this slim, powerful volume, a blend of fiction, memoir, and reimagined history, in which the boundaries between those forms are murky and ever shifting."
—Boston Globe

"Wideman is a writer who excels at dramatising African American sensibilities and this collection typically addresses issues of race, injustice and inequality with power and potency. Crystallised moments of experience carry entire worlds in stories such as Maps and Ledgers, in which a black school teacher is told that his father has committed murdered a man, and Dark Matter, which recounts conversations diners have eating out, from the whimsical to the political ... A gem for anyone yet to discover his work."
—The Guardian

"John Edgar Wideman's latest book feels like a coda to his impressive body of work. He deftly incorporates a range of black names from the 20th century — Emmett Till, Jean-Michel Basquiat — in his riffs, then plunges deeper into history."
—Seattle Times

"Profound ... All of Wideman's work is distinguished by his elegant, sometimes almost stately prose that has rightly seen him at the forefront of American letters. But the structure of his work plays like jazz, layered and interwoven, never content with a single voice, understanding that perspective is various, varied."
—New Statesmen

"Singular."
—Brooklyn Rail

"Wideman . . . boldly subverts what a short story can be in this wonderful collection. . . . Each story feels new, challenging, and exhilarating, beguilingly combining American history with personal history."
—Publishers Weekly, starred review

"Linked by astringent wit, audacious invention, and a dry sensibility whose owner has for decades wrestled with what he describes as "the puzzle of how and why and where and who we come from." Wideman's recent work strides into the gap between fiction and nonfiction as a means of disclosing hard, painful, and necessary truths.
—Kirkus, starred review

"Wideman's shape-shifting, lyrical narratives offer mesmerizing and challenging perspectives on the creative process and the black experience, decisively affirming his stature as a major voice in American literature."
—Booklist, starred review
or
Not Currently Available for Direct Purchase