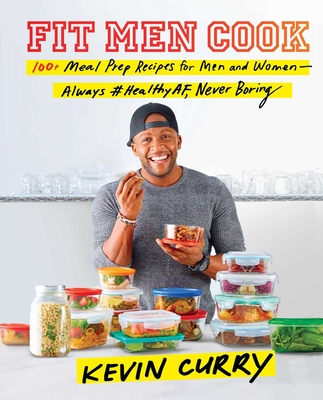 Fit Men Cook
100+ Meal Prep Recipes for Men and Women—Always #HealthyAF, Never Boring
Hardcover

* Individual store prices may vary.
Description
The fitness influencer and creator of the #1 bestselling Food & Drink app, FitMenCook, shares 100 easy, quick meal prep recipes that will save you time, money, and inches on your waistline—helping you to get healthy on your own terms.

We like to be inspired when it comes to food. No one enjoys cookie-cutter meal plans, bland recipes, or eating the same thing every day. Instead of worrying about what to eat and how it's going to affect our bodies, we should embrace food freedom—freedom to create flavorful meals, but in a more calorie-conscious way; freedom to indulge occasionally while being mindful of portions; and freedom to achieve wellness goals without breaking the bank.

In Fit Men Cook, Kevin Curry, fitness expert and social media sensation with millions of followers and hundreds of thousands of downloads on his app, shares everything you need to live a healthy life each day—from grocery lists to common dieting pitfalls to his ten commandments of meal prep—as well as his personal story of overcoming depression and weight gain to start a successful business and fitness movement. This guide also includes 100+ easy and flavorful recipes like Southern-Inspired Banana Corn Waffles, Sweet Potato Whip, Juicy AF Moroccan Chicken, and many more to help you plan your week and eat something new and nutritious each day. With Fit Men Cook, you can create exciting, satisfying meals and be on your way to losing weight for good.

After all, bodies may be sculpted at the gym, but they are built in the kitchen.
Praise For Fit Men Cook: 100+ Meal Prep Recipes for Men and Women—Always #HealthyAF, Never Boring…
"Curry, creator of the FitMenCook app, laces his hardcover debut with hashtags, Instagram-worthy photos, and listicles on topics like the five most common pitfalls of dieting… There are motivational pep talks, confessional tales of coping with depression, and hard earned bits of wisdom ("You simply cannot outtrain a poor diet"). Curry's meal plans are full of sturdy and flavorful ingredients and recipes… Curry's mission speaks volumes to readers in need of a workable diet to accompany their fitness plan."
—Publishers Weekly

"[Curry] offers tips on how to meal-plan and gives you the motivation to get healthy, and it's all written and laid out in a super digestible format. Most importantly, you're going to want to make these recipes: sweet potato and chickpea abundance bowl, quick orange chicken, and low-carb shepherd's pie will likely be new additions to your dinner rotation."
—Huffington Post
Gallery Books, 9781501178726, 320pp.
Publication Date: December 4, 2018
About the Author
Kevin Curry inspires millions of men and women to eat healthy and stay fit with FitMenCook, his popular website, app, and YouTube channel. The FitMenCook app was named an "App Store Best of 2015" and today remains one of the Top 3 Food & Drink apps in the US and UK. Curry is also a contributor for several syndicates including the Today show, Live with Kelly and Ryan, Men's Health, Bodybuilding.com, and Train magazine. He holds a master's degree from Harvard and has brand partnerships with the American Heart Association, Kohl's, Kroger, Reebok, Vitamix, and Nordic Track. He is the author of Fit Men Cook.