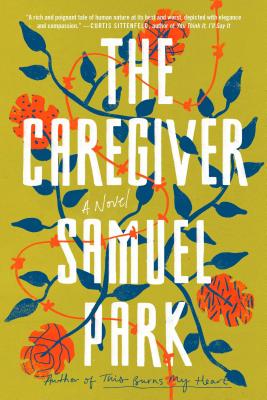 The Caregiver
Hardcover

* Individual store prices may vary.
Other Editions of This Title:
Digital Audiobook (9/24/2018)
Paperback (7/9/2019)
Compact Disc (9/25/2018)
Description
A FALL 2018 HIGHLY ANTICIPATED SELECTION BY * PEOPLE * O, THE OPRAH MAGAZINE * ENTERTAINMENT WEEKLY * VULTURE * CHICAGO TRIBUNE * THE MILLIONS * FAST COMPANY * SEATTLE TIMES * ST. LOUIS POST-DISPATCH * BOOKPAGE * BOOKRIOT * CONDE NAST TRAVELER *

"[A] luminous mother-daughter saga."—ENTERTAINMENT WEEKLY

"Lovely and heartbreaking."—PEOPLE

"A beautiful testament to [Park's] extraordinary talents as a storyteller…A ferocious page-turner."—KIRKUS REVIEWS (STARRED REVIEW)

From the critically acclaimed author of This Burns My Heart comes a gorgeous, emotionally wise tale about a daughter who unearths the hidden life of her enigmatic mother.

Mara Alencar's mother Ana is her moon, her sun, her stars. Ana, a struggling voice-over actress, is an admirably brave and recklessly impulsive woman who does everything in her power to care for her little girl. With no other family or friends her own age, Ana eclipses Mara's entire world. They take turns caring for each other—in ways big and small.

Their arrangement begins to unravel when Ana becomes involved with a civilian rebel group attempting to undermine the city's torturous Police Chief, who rules over 1980s Rio de Janeiro with terrifying brutality. Ana makes decisions that indelibly change their shared life. When Mara is forced to escape, she emigrates to California as an undocumented immigrant and finds employment as a caregiver to a young woman dying of stomach cancer. It's here that she begins to grapple with her turbulent past and starts to uncover vital truths—about her mother, herself, and what it means to truly take care of someone.

Told with vivid imagery and subtle poignancy, The Caregiver is a moving and profound story that asks us to investigate who we are—as children and parents, immigrants and citizens, and ultimately, humans looking for vital connectivity
Praise For The Caregiver…
PRAISE FOR THE CAREGIVER BY SAMUEL PARK

"[A] luminous mother-daughter saga."—ENTERTAINMENT WEEKLY

"A Brazilian immigrant finds work caring for a young woman dying of stomach cancer--the disease that claimed this young novelist's life last year. Lovely and heartbreaking."—PEOPLE

"Samuel Park's new novel, The Caregiver, is a study in fragility: that of bodies, of boundaries, and of identity itself...Park's prose is simultaneously dreamlike and visceral, evoking ocean water 'shiny as Mylar' beneath 'a neat peach-colored blanket' of dusk."—THE ATLANTIC

"A beautiful testament to [Park's] extraordinary talents as a storyteller. Park himself was diagnosed with stomach cancer in 2014, in his 30s, and died shortly after finishing this book—making this his final novel. In prose that rings clear and true, Park shepherds his characters through the streets of Copacabana to the posh hills of Bel Air. This is an elegy that reads, in some moments, like a thriller—and, in others, like a meditation on what it means to be alive…A ferocious page-turner with deep wells of compassion for the struggles of the living—and the sins of the dead."—KIRKUS REIVEWS (STARRED REVIEW)

"Affecting...the novel moves between Rio de Janeiro, where, as a teen, Mara finds a way to confront a former police chief accused of torturing her mother, and Los Angeles, where, reckoning with the past, she realizes how 'parents can both protect and hurt their children with the truth.'"—NEW YORKER

"A filigreed novel that follows hospice worker Mara from a dangerous childhood in 1970's Brazil to present-day L.A."—O MAGAZINE

"Sometimes the intersection of the creator's life and the material in his creation is actually one of the most illuminating ways to consider a book...Such is arguably the case with the late Samuel Park, whose second novel, The Caregiver has just been published posthumously. The book — though an absorbing and well-crafted work of fiction capable of standing on its own, without the support of biography — is almost impossible to consider independently of the knowledge of where its author's life overlaps with his art...The story that Park tells here, fittingly, is free of pity, but full of compassion. And while it is not essential that a reader know that Park's own background involves both distinct settings and that he himself met an early end from the same disease that he gives to one of his main characters, that knowledge undeniably adds an extra layer of interest and pathos to an already moving novel."—CHICAGO TRIBUNE

"This moving posthumously published novel by Park examines the relationship between a mother and daughter after years of mutual misunderstanding…readers will relish the wistful yearning that Park evokes. This beautiful novel is a moving meditation on the mutual dependence and unbreakable bonds of family."—PUBLISHERS WEEKLY

"Visual, almost hypnotic language creates a memorable story of what it means to truly care."—GOOD HOUSEKEEPING

"This posthumously published novel by Samuel Park...jumps between impoverished Copacabana and affluent Bel Air and considers, via a codependent mother-daughter relationship, larger questions of family, identity and the true meaning of caregiving. [Park's] lyrical voice is present in these pages."—CHICAGO TRIBUNE

"It's impossible to read Park's graceful novel, his second, without pausing to appreciate the poignancy of the story behind it. [A] remarkable example of literary courage...[and] a haunting mother/daughter story. The book slowly reveals Ana to us, as grown-up Mara begins to grapple — as young adults must — with not the adored fantasy of her mother, but the real woman, an unstoppable force."—SEATTLE TIMES

"It's bittersweet to crack open The Caregiver, Samuel Park's long-awaited follow-up to his luminous, romantic epic set in Korea, This Burns My Heart...[The Caregiver] is a tender mother-daughter story that alternates between 1980s Brazil and present day Los Angeles...As chapters alternate between Mara's past in Brazil and her present-day life in California, Park explores what it means to care for someone and the beauty of human resilience and survival."—BOOKPAGE

"Park's latest hauntingly examines the codependent mother-daughter bond amid complicated layers created by the pursuit of truth…Affecting."—BOOKLIST

"The heart of this coming-of-age tale lies in Ana's stint as an accessory to rebellion, as she risks her life, provokes overwhelming horror in Mara and blunders into trauma that will haunt them both for the rest of their days...The backdrop of Brazil in political turmoil deepens the suspense, and Park takes his time drawing out the truth of Ana's actions and their consequences...Park's final novel hums with quiet importance and thwarted promise."—SHELF AWARENESS

"I love Samuel Park, and I love the stories he tells. The Caregiver is a rich and poignant tale of human nature at its best and worst, depicted with elegance and compassion." —CURTIS SITTENFELD, New York Times bestselling author of Eligible

"The Caregiver is a triumph, a clear-eyed novel full of humanity and compassion and life. The threats of the world are ever-present, but so is a brave and defiant endurance, a sense that the heart can survive the worst defeats, the worst losses, the worst regimes. Samuel Park was a treasure, and he has left us with one."—REBECCA MAKKAI, author of The Great Believers

"A novel both gripping and tender, told through a lyrical, thoughtful voice that enchanted me from the first page. Mara's unique story would not let me go."—ELEANOR BROWN, New York Times bestselling author of The Weird Sisters and The Light of Paris

"An addictive, propulsive read that is both thoughtful and thought-provoking. Samuel Park writes with a gimlet eye about love, life and death, able to pierce even the toughest of hearts."—NAMI MUN, author of Miles from Nowhere

"The brilliant Samuel Park has left us a deft and urgent masterpiece about life and death and all the things that make us human. The Caregiver soars like a hymn, delivering heartbreak and joy and lifting readers into a place of compassion and understanding that feels entirely new." —JIM GAVIN, author of Middle Men and creator of AMC's "Lodge 49"
Simon & Schuster, 9781501178771, 288pp.
Publication Date: September 25, 2018
About the Author
Samuel Park was an Associate Professor of Creative Writing at Columbia College Chicago. He graduated from Stanford University and the University of Southern California, where he earned his doctorate. He is the author of the novella Shakespeare's Sonnets and the writer-director of a short film of the same name, which was an official selection of numerous domestic and international film festivals. He is also the author of the novels This Burns My Heart and The Caregiver. His nonfiction has appeared in The New York Times. Born in Brazil and raised in Los Angeles, he split his time between Chicago and Los Angeles. In April 2017, Samuel Park died of stomach cancer at the age of 41 shortly after finishing The Caregiver.
or
Not Currently Available for Direct Purchase