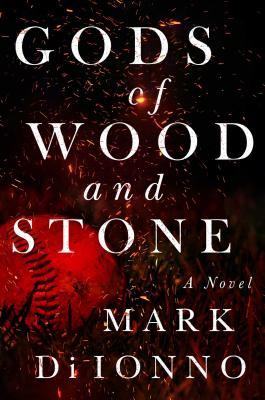 Gods of Wood and Stone (Hardcover)
A Novel
Atria Books, 9781501178900, 400pp.
Publication Date: July 17, 2018
Other Editions of This Title:
Paperback (3/5/2019)
Pre-Recorded Audio Player (12/1/2018)
* Individual store prices may vary.
Description
From Pulitzer Prize finalist Mark Di Ionno comes the next Great American Novel about the Great American Pastime—The Natural with echoes of Ford, Updike, DeLillo and Roth—two men from disparate worlds and their search for what constitutes a meaningful life in a searing portrait of honor and masculinity, sport and celebrity, marriage and parenthood.

Joe Grudeck is a living legend—a first-ballot Hall of Famer beloved by Boston Red Sox fans who once played for millions under the bright Fenway lights. Now, he finds himself haunted by his own history, searching for connection in a world that's alienated the true person behind his celebrity facade. He'll step back into the spotlight once more with a very risky Cooperstown acceptance speech that has the power to change everything—except the darkness in his past.

Horace Mueller is a different type altogether—working in darkness at a museum blacksmith shop and living in a rundown farmhouse on the outskirts of Cooperstown, New York. He clings to an anachronistic lifestyle, fueled by nostalgia for simpler times and a rebellion against the sport-celebrity lifestyle of Cooperstown, struggling to bring his baseball prodigy son to his side.

Gods of Wood and Stone is the story of these two men—framed by the lens of baseball, a timeless, but strikingly singular tale of the responsibilities of manhood and the pitfalls of glory in a painful and exhilarating novel that's distinctly American.
About the Author
Mark Di Ionno is a lifelong journalist and Pulitzer Prize finalist. He is a front-page columnist for The Star-Ledger, and its online partner nj.com. He began his career as a sportswriter for the New York Post. He is an adjunct professor of journalism at Rutgers University and a single father of six children. He lives in New Jersey.
Praise For Gods of Wood and Stone: A Novel…
"Sports columnist di Ionno sets…two seemingly disparate individuals on a collision course in which both get the punishment they've been unconsciously seeking.... A deeply moving novel."

A riveting story of baseball, pop culture, nostalgia, masculinity, and so much more, Mark Di Ionno's Gods of Wood and Stone is pure heat from a veteran at the top of his game.
— Alan Sepinwall, author of TV (The Book) and BREAKING BAD 101

As a sportswriter, sports columnist, at-large columnist and now an accomplished author, Mark Di Ionno has succeeded because he shares his sharp and unafraid probings of life and lives beneath their exteriors. Gods of Wood and Stone is rough, tough and thoughtful, blending his considerable abilities.
— Phil Mushnick, sports columnist at the NY Post

Gods of Wood and Stone isn't a baseball novel; it's a story of what really afflicts American men: disappointment. Mark Di Ionno is a gifted writer and renders his characters in ways both ruthless and empathetic. You won't forget Joe Grudeck. Or Horace Mueller. They live. They stay with you. They want you to know: what we learn of our heroes hurts less than what they learn of themselves.
— Mark Kriegel, bestselling author of NAMATH: A BIOGRAPHY and PISTOL: THE LIFE OF PETE MARAVICH

Engrossing from the first page, this clear-eyed and atmospheric novel hurtled me through a roller coaster of emotions—from curiosity to outrage to relief. How are American men raised to think about fame, talent, hard work, and women? What happens when two men with opposing worldviews get in each other's way? Gods of Wood and Stone raises important questions of our time.
— Alice Elliott Dark, author of THINK OF ENGLAND and IN THE GLOAMING

Framed against a backdrop of baseball and a life of land and country, this is a novel of nostalgia vs. progress, of grind vs. instant gratification, of lasting glory vs. Twitter celebrity. Delivered with a fan's passion, a journalist's eye for detail, and the unblinking courage of a storyteller, Mark Di Ionno knocks it out of the park with this piercing literary thriller, Gods of Wood and Stone.
— Bryan Gruley, Award-winning author of the STARVATION LAKE TRILOGY

Mark Di Ionno is the latest to bring our national pastime to the printed page with his novel Gods of Wood and Stone… And what a narrative it is, a story of relationships and disappointments, about the regrets that haunt us and the damage caused by the decisions we make… Narrative, characterization, dialogue–Gods of Wood and Stone is outstanding in every respect. It is thematically complex and emotionally challenging, a compelling as hell story with thoughtful ideas that just happens to be exquisitely readable… If I were inclined to clichés, I'd call it a home run. Instead, I'll call it exceptional.