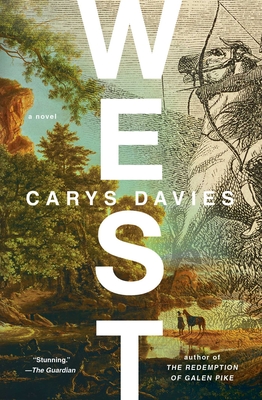 West
A Novel
Paperback

* Individual store prices may vary.
Other Editions of This Title:
Compact Disc (4/24/2018)
Hardcover (4/24/2018)
Library Binding, Large Print (8/2/2018)
Description
Named a Best Book of the Year by The Sunday Times (UK) * The Guardian (UK) * The Washington Independent Review of Books * Sydney Morning Herald * The Los Angeles Public Library * The Irish Independent * Real Simple *

Finalist for the Rathbones Folio Prize

"Carys Davies is a deft, audacious visionary." —Téa Obreht

When widowed mule breeder Cy Bellman reads in the newspaper that colossal ancient bones have been discovered in the salty Kentucky mud, he sets out from his small Pennsylvania farm to see for himself if the rumors are true: that the giant monsters are still alive and roam the uncharted wilderness beyond the Mississippi River. Promising to write and to return in two years, he leaves behind his only daughter, Bess, to the tender mercies of his taciturn sister and heads west.

With only a barnyard full of miserable animals and her dead mother's gold ring to call her own, Bess, unprotected and approaching womanhood, fills lonely days tracing her father's route on maps at the subscription library and waiting for his letters to arrive. Bellman, meanwhile, wanders farther and farther from home, across harsh and alien landscapes, in reckless pursuit of the unknown.

From Frank O'Connor Award winner Carys Davies, West is a spellbinding and timeless epic-in-miniature, an eerie parable of the American frontier and an electric monument to possibility.
Praise For West: A Novel…
"Slender, stark, and utterly mesmerizing." —The Mail on Sunday (UK)

"A tightly-knit, compulsively readable tale…Davies' slender novel has all the heft of a sprawling western classic." —Booklist, starred review

"From a distance, West looks like a slim fable; but a closer view reveals a peculiarly American self-delusion, opening up like a vast prairie. Davies is an audaciously talented writer to watch." —Minneapolis Star-Tribune

"As in a lofty Bierstadt painting, Davies' slim novel presents a landscape of mystery and longing, of possibility and the hunt for the impossible….This is a book you could read in an afternoon. But you won't want to. Davies' prose is something you'll want to savor." —Suzie Eckl, Washington Independent Review of Books

"This small book is a visionary and beautiful fable of discovery and dreaming, along with some harsh truths about the reality of American history and its dreamers' lives…And the writing is astonishing, right to the heart-stopping end." —Sydney Morning Herald

"Moving, atmospheric." —Real Simple

"A page-turner that can stop you in your tracks to linger over a sentence…It's a bravura performance — seasons come and go in a handful of words and there are masterful shifts of perspective and tense — but Davies's artistry is matched by her storytelling powers, and her denouement is cheer-raisingly satisfying." —Daily Mail

"Davies' slim, complex, and achingly beautiful first novel is a sculpture of daring shifts and provocative symmetries welded together by lyrical, fast-paced prose…The result is a choral performance, reminiscent of those by Penelope Fitzgerald...Deployed on the stage of the midlapsarian American frontier, Davies' chorus manages to weave threads of myth and hope into the gnarly chords of historical tragedy. A masterful first novel—the sort of book that warms even as it devastates, that forces serious reflection and yet charms." —Kirkus, starred review

"This small book is a visionary and beautiful fable of discovery and dreaming, along with some harsh truths about the reality of American history and its dreamers' lives…And the writing is astonishing, right to the heart-stopping end." —Sydney Morning Herald

"An engrossing work of historical fiction grappling with themes of vulnerability, longing and hope that transcend all contexts…West leaves the reader feeling as vulnerable and full of wonder as the book's main characters." —BookPage

"An exquisite debut that's short in length but steeped in the tall tales of American myth." —Lit Hub

"West proves what in-the-know lovers of her short stories have already been trumpeting: Carys Davies is a deft, audacious visionary, a master of the form. In West, she breaks open our fascination with fated journeys and the irrepressible draw of the unknown, imbuing the American landscape with her own rare magic, twisting the heart as few others can, brilliantly navigating the tension between narrative minimalism and imaginative opulence." —Téa Obreht, author of The Tiger's Wife

"To read Carys Davies' West is to encounter a myth, or a potent dream—a narrative at once new and timeless. Exquisite, continent, utterly vivid, this short novel will live on in your imagination long after you read the last page." —Claire Messud, author of The Burning Girl and The Woman Upstairs

"West has all the stark power and immediacy of a folk-tale or a legend. It is also structured with great artistry, a beguiling sense of form and pace, and a depth in the way the characters are created, making clear that Carys Davies is a writer of immense talent." —Colm Tóibín, author of Brooklyn and House of Names

"A story of determination, betrayal, folly, and reckless hope written in the grand tradition of the pioneers. You enter the familiar American frontier and shortly are convinced, with Davies' hero, that the mammoths of the Pleistocene still shyly roam the Plains. The seams between imagination and history in this extraordinary story are invisible. I believed every word." —Salvatore Scibona, author of The End

"Menace and mordant wit are the blood that runs through these veins, but there's a pulse of wonder in Carys Davies' West. She sees the world and its inhabitants both as we hope they are and as we fear that they might be. An audacious and enigmatic debut of thrilling dimensions, and a reminder of fiction's possibilities."— Akhil Sharma, author of Family Life and A Life of Adventure and Delight

"West is a journey and a wonder. A man leaves what he loves and goes west in search of the amazing. A story concerned with value and language, love and absence, life and death. A debut of real distinction." —Bernard MacLaverty, author of Midwinter Break and Cal

"One of the most haunting and beautifully crafted novels I have read in a long time… Davies has produced something quite wonderful in West. This is a gently seductive book, one that entrances right to its cleverly conceived end." —The Sunday Times (UK)

"A multi-faceted gem of a book, West taps the spirit of the great quest novels of Twain, Melville, Cervantes, but with a gentle feminist twist and a fraction of the page count." —Toronto Star

"Short, incredible, violent, uplifting and empowering – how Davies manages to create such an enduring story in 150 pages is a mystery, but she nails it." —Stylist
Scribner, 9781501179358, 160pp.
Publication Date: April 2, 2019
About the Author
Carys Davies's debut novel West was shortlisted for the Rathbones Folio Prize, runner-up for the Society of Authors' McKitterick Prize, and winner of the Wales Book of the Year for Fiction. She is also the author of two collections of short stories, Some New Ambush and The Redemption of Galen Pike, which won the 2015 Frank O'Connor International Short Story Award and the 2015 Jerwood Fiction Uncovered Prize. Her other awards include the Royal Society of Literature's V.S. Pritchett Prize, the Society of Authors' Olive Cook Short Story Award, a Northern Writers' Award, and a Cullman Fellowship at the New York Public Library. Born in Wales, she lived and worked for twelve years in New York and Chicago, and now lives in Edinburgh. The Mission House is her most recent novel.