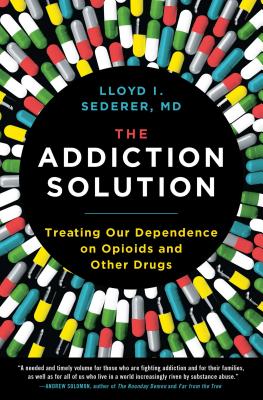 The Addiction Solution
Treating Our Dependence on Opioids and Other Drugs
Paperback

* Individual store prices may vary.
Other Editions of This Title:
Digital Audiobook (5/7/2018)
Hardcover (5/8/2018)
Description
A groundbreaking, "timely and well-written" (Booklist, starred review) guide to addiction from a psychiatrist and public health doctor, offering practical, proven solutions for individuals, families, and communities dealing with substance use and abuse.

Written with warmth, accessibility, and vast authority, The Addiction Solution is a practical guide through the world of drug use and abuse and addiction treatment. Here, Lloyd I. Sederer, MD, brings together scientific and clinical knowledge, policy suggestions, and case studies to describe our current drug crisis and establish a clear path forward to recovery and health. In a time when so many people are affected by the addiction epidemic, when 142 people die of overdoses every day in the United States, principally from opioids, Sederer's decades of wisdom and clinical experience are needed more than ever before.

With a timely focus on opioids, Sederer takes us through the proven essentials of addiction treatment and explains why so many of our current policies, like the lingering remnants of the War on Drugs, fail to help drug users, their families, and their wider communities. He identifies a key insight, often overlooked in popular and professional writing about addiction and its treatment: namely, that people who use drugs do so to meet specific needs, and that drugs may be the best solution those people currently have.

Writing with generosity and empathy about the many Americans who use illicit and prescribed substances, Sederer lays out specific, evidence-based, researched solutions to the prevention and problems of drug use, including exercise, medications, therapy, recovery programs, and community services. "Comprehensive…well-informed and accessible" (Kirkus Reviews), The Addiction Solution provides invaluable help, comfort, and hope.
Praise For The Addiction Solution: Treating Our Dependence on Opioids and Other Drugs…
"Aside from its broad insights, The Addiction Solution will be useful to those with afflicted loved ones."
—The Wall Street Journal

"Vivid and poignant ... If we as a society could only wholeheartedly embrace Dr. Sederer's sage recommendations to shift our resources from interdiction and punishment to scientifically informed prevention and treatment,we could undoubtedly escape the grip of our current opioid epidemic, mitigate the harms from other substances, and enjoy a much safer and healthier world."
—American Journal of Psychiatry

"Just what I needed to understand more about the opioid crisis."
—Well + Good

"The Addiction Solution offers guidance; it is not a textbook or exhaustive treatise. It proposes tools to fight the disease and plainly, though not overly simplistically, suggests the best means to implement them."
—Shelf Awareness

"Enriched with patient case studies that illustrate the complex nature of this disease, Sederer's balanced and compassionate approach makes this a valuable addition to the conversation on this timely topic."
—Library Journal, starred review

"Timely and well-written ... draws on many cultural sources to reveal the complex social and personal factors underlying addiction and encourage empathy.
—Booklist, starred review

"Scholarly and informative ... this book will prove invaluable."
—Publishers Weekly

"Comprehensive ... a well-informed and accessible guide to treating addiction."
—Kirkus Reviews

"In this impressive and highly readable book, Lloyd Sederer explores the science, the law, and the social reality of addiction. This is a needed and timely volume for those who are fighting addiction and their families, as well as for all of us who live in a world increasingly riven by substance abuse."
—Andrew Solomon, New York Times bestselling author of The Noonday Demon and Far From the Tree

"Dr. Sederer writes with clarity and compassion, and suggests sensible and humane answers. This book is impressive, timely, and valuable."
—Lee Child, New York Times bestselling author of the Jack Reacher series

"In the U.S., psychiatry has for too long had a very narrow and simplistic understanding of addiction—so it's really exciting to read a wise psychiatrist engaging deeply with this subject. This is a humane and intelligent book."
—Johann Hari, New York Times bestselling author of Chasing the Scream: The First and Last Days of the War on Drugs

"The Addiction Solution is a wise and humane book about one of our hardest problems—that of addiction and its consequences. Drawing on decades of clinical and policy experience, Dr. Sederer makes an important contribution to our understanding of this problem. I emerged from reading it with clarity about the bold steps we must take collectively to move beyond addiction, to create a healthier world, and I am grateful to Dr. Sederer for writing this book."
—Dr. Sandro Galea, MD, DrPH, Robert A. Knox Professor and Dean of the Boston University School of Public Health and former President of the Society for Epidemiologic Research

"Like Dr. Sederer's other works, this book is a pleasure to read. The Addiction Solution covers a complex and controversial subject in plain, jargon-free language. The book does more than inform: it offers solutions.
—Andrew Kolodny, MD, Co-Director, Opioid Policy Research Collaborative, Heller School for Social Policy and Management, Brandeis University


Scribner, 9781501179457, 240pp.
Publication Date: February 19, 2019
About the Author
Lloyd I. Sederer, MD, is a psychiatrist, public health doctor, and medical journalist. He is also an adjunct professor at the Columbia/Mailman School of Public Health and a monthly regular on Tell Me Everything, the SiriusXM radio show hosted by John Fugelsang. His recent books include The Addiction Solution; Improving Mental Health: Four Secrets in Plain Sight; and Controversies in Mental Health and the Addictions.