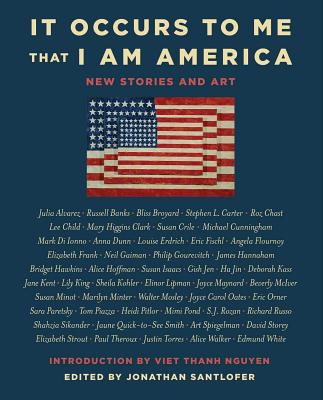 It Occurs to Me That I Am America
New Stories and Art
Hardcover

* Individual store prices may vary.
Other Editions of This Title:
Digital Audiobook (1/15/2018)
Paperback (7/2/2019)
Description
In time for the one-year anniversary of the Trump Inauguration and the Women's March, this provocative, unprecedented anthology features original short stories from thirty bestselling and award-winning authors—including Alice Walker, Richard Russo, Walter Mosley, Joyce Carol Oates, Alice Hoffman, Neil Gaiman, Michael Cunningham, Mary Higgins Clark, and Lee Child—with an introduction by Pulitzer Prize–winning author Viet Thanh Nguyen.

When Donald Trump claimed victory last November, the US literary world erupted in indignation. Many of America's leading writers and artists openly resist the current administration's dogma and earliest policy moves, and they're not about to go gently into that good night. In It Occurs to Me That I Am America: New Stories and Art, more than thirty of the most acclaimed modern writers consider the fundamental ideals of a free, just, and compassionate democracy—through fiction.

Featuring artwork by some of today's best known artists, cartoonists, and graphic novelists—including Art Spiegelman, Roz Chast, Marilyn Minter, and Eric Fischl—who cover political, social, and cultural issues, this anthology is a beautiful, enduring collection that will resonate with anyone concerned with the contest for our American soul.
Praise For It Occurs to Me That I Am America: New Stories and Art…
"On its own, this chorus of brilliant voices articulating the shape and texture of contemporary America makes for necessary reading; that this collection also supports the ACLU, the fiercest and most noble defender of our freedoms, makes it urgent as hell."
— —LAUREN GROFF, author of Fates and Furies, The Monsters of Templeton, and Arcadia

"At this time in our history, it is imperative that the narratives we put forward illuminate rather than confound, elevate rather than suppress, and embrace rather than isolate. This dazzling volume of talented artists and writers, like the ACLU that it supports, does just that."
— —ADAM D. WEINBERG, Alice Pratt Brown Director, Whitney Museum of American Art

"It's bracing to see such a remarkable and gifted group of writers come together in support of civil liberties and American ideals at this particularly troubling time in our history."
— —JULIE OTSUKA, author of The Buddha in the Attic and When the Emperor Was Divine

"An anthology that celebrates the radical freedom of the imagination, and the power of art to redraw the lines of our shared reality."
— —KAREN RUSSELL author of Swamplandia! and St. Lucy's Home for Girls Raised by Wolves

"If literature is 'news that stays news', how often do we get to see it blaze out like this, as an audacious rebuke to the headlines? These writers will help you feel proud to live in this country again."
— —JONATHAN LETHEM, author of A Gambler's Anatomy, The Fortress of Solitude, and Motherless Brooklyn

"This book is filled with powerful writers articulating what they care about so deeply: our country, depicted here with beauty and emergency. I hope many, many people read this book and help support democracy in this urgent moment."
— —MEG WOLITZER, author of The Interestings, The Ten-Year Nap, and Belzhar

"A visceral reminder that storytelling gives us the opportunity to change our minds about strangers, and thus is an essential tool for re-teaching empathy to a nation that is trying—and hopefully, failing—to live with a closed heart."
— —COURTNEY MAUM, author of Touch and I Am Having So Much Fun Here Without You

"It Occurs to Me That I Am America is a masterful literary achievement, one that should enter the pantheon of great books. More than a collection of fine works by some of our country's most accomplished and talented writers and artists, it is a telling reflection of the America we have become in these troubled times and communicates a hope for the American we can be. For a nation consumed by anger and blindness, it is a critical salve to remind us all of what it means to be an American. And it should be required reading for future generations, so that the knowledge of who we are is never again forgotten."
— —KURT EICHENWALD, Vanity Fair contributing editor and author of The Informant and Conspiracy of Fools

"There is a pitch battle in progress for the soul of our country. The writers and artists in this anthology represent a wide spectrum of views but each speaks for and to our better nature and to a vision of the United States in which all can thrive in a moment of crisis when others seek to reduce us to the worst possible, most exclusive view of our collective capacities. Their contributions are patriotism in practice. Reading and looking at their work we have reason to take heart and fight harder when the stakes could hardly be higher."
— —ROBERT STORR, Professor, Yale University

"I can't think of a better act of #resistance than an anthology that brings together some of America's fiercest fiction writers and visual artists to reclaim our country—and our flag—from the fever dream of Trumpism. Its glories, to quote Walt Whitman, are 'strung like beads on my smallest sights and hearings.' Read it and feel renewed."
— —BENJAMIN ANASTAS, author of An Underachiever's Diary and Too Good to be True

"Hooray for the warty, flawed, wondrously and painfully nuanced life experience that is America! A spectacular assemblage of inspired art and thought-provoking prose, at a time when we all need to be reminded of the power of story, the urgency of the current political moment, and the precious and often precarious nature of our democracy and our civil liberties."
— —DENISE KIERNAN, author of The Last Castle and The Girls of Atomic City

"Of course, not all American literature tells a tale of grace and justice. But what the best stories do have in common is their faithfulness to the deepest truths, compelling us to see our world as it is now, in all its imperfections, or else showing us what it could look like, redeemed. These artists and writers continue that grand tradition and, in this incredible volume, do so in support of our best values: the pursuit of civil liberties, the freedom to create, and the chance to live the lives we choose. It Occurs to Me That I Am America is a battle cry: We will not be silenced."
— —MATTIE KAHN, ELLE.com writer covering politics, culture, and dangerous women

"What a remarkable thing, to see so many names, from all over the world, giving voice to our collective story. It inspires awe and hope, like America itself."
— —JOHN KENNEY, author of Truth in Advertising

"When the fundamental values of our country are under attack, writers and artists pick up their pens, head to their computers, and write brilliant pieces that demonstrate the joys of our differences and the power of our shared humanity. This book entertains, charms, and supports the ACLU. I can't think of a more delightful purchase."
— —JANE ISAY, author of Walking on Eggshells

"A terrific collection of short stories and art, which you will enjoy reading even more because the book supports the ACLU. Needed now more than ever."
— —DICK CAVETT, longtime television talk-show host

"We are both thrilled and humbled to see that so many great writers and artists have come together to support the ACLU as we confront the greatest civil liberties crisis of our time. History has shown the crucial role artists play in challenging injustice during times of crisis. This anthology promises to be both a powerful tool in the fight to uphold our values and a tribute to the remarkable voices behind it."


— —Anthony D. Romero, Executive Director of the ACLU
Atria Books, 9781501179600, 400pp.
Publication Date: January 16, 2018
About the Author
Richard Russo is the author of nine novels, two collections of short stories, a memoir, and several produced screenplays. Empire Falls won the 2002 Pulitzer Prize for Fiction, and his adaptation of the book for HBO was nominated for an Emmy. His collection of essays, The Destiny Thief, will be published in 2018. He and his wife, Barbara, live in Portland, Maine.

Joyce Carol Oates is the author most recently of the novel A Book of American Martyrs and the story collection DIS MEM BER. She is a recipient of the National Book Award, the National Humanities Medal, the PEN/Malamud Award in Short Fiction, and a Lifetime Achievement Award from PEN America, among other honors. She has been a professor at Princeton University for many years and is currently Visiting Distinguished Writer in Residence in the Graduate Writing Program at New York University; in the spring term she is Visiting Professor of English at University of California, Berkeley. Her forthcoming novel is Hazards of Time Travel.

Neil Gaiman is an award-winning author of books, graphic novels, short stories, and films for all ages. His titles include Norse Mythology, The Graveyard Book, Coraline, The View from the Cheap Seats, The Ocean at the End of the Lane, Neverwhere, and the Sandman series of graphic novels, among other works. His fiction has received Newbery, Carnegie, Hugo, Nebula, World Fantasy, and Eisner awards. The film adaptation of his short story "How to Talk to Girls at Parties" and the second season of the critically acclaimed, Emmy-nominated television adaptation of his novel American Gods will be released in 2018. Born in the UK, he now lives in the United States.

Lee Child, previously a television director, union organizer, theater technician, and law student, was fired and on the dole when he hatched a harebrained scheme to write a bestselling novel, thus saving his family from ruin. Killing Floor went on to win worldwide acclaim. The Midnight Line, is his twenty-second Reacher novel. The hero of his series, Jack Reacher, besides being fictional, is a kindhearted soul who allows Lee lots of spare time for reading, listening to music, and watching Yankees and Aston Villa games. Lee was born in England but now lives in New York City and leaves the island of Manhattan only when required to by forces beyond his control. Visit Lee online at LeeChild.com for more information about the novels, short stories, and the movies Jack Reacher and Jack Reacher: Never Go Back, starring Tom Cruise. Lee can also be found on Facebook: LeeChildOfficial, Twitter: @LeeChildReacher, and YouTube: LeeChildJackReacher.

The #1 New York Times bestselling author Mary Higgins Clark wrote forty suspense novels, four collections of short stories, a his­torical novel, a memoir, and two children's books. With bestselling author Alafair Burke she wrote the Under Suspicion series including The Cinderella Murder, All Dressed in White, The Sleeping Beauty Killer, Every Breath You Take, and You Don't Own Me. With her daughter Carol Higgins Clark, she coauthored five more suspense novels. More than one hundred million copies of her books are in print in the United States alone. Her books are international bestsellers.

Jonathan Santlofer is a writer and artist. He has published five novels, including the The Death Artist, the Nero Award–winning Anatomy of Fear, and many short stories. He has been editor/contributor of several anthologies as well as the New York Times bestselling serial novel Inherit the Dead. His artwork has been exhibited widely in the US, Europe, and Asia, and is in such public and private collections as the Art Institute of Chicago, Tokyo's Museum of Contemporary Art, and the Newark Museum, among many others. Santlofer is the recipient of two National Endowment for the Arts grants and serves on the board of Yaddo. His memoir, The Widower's Notebook, will be published in 2018. Visit Jonathan at JonathanSantlofer.com
or
Not Currently Available for Direct Purchase