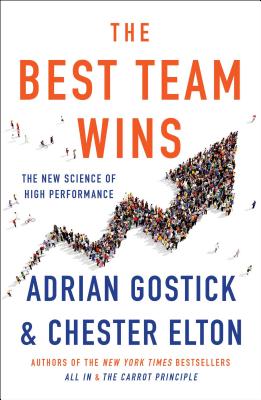 The Best Team Wins (Hardcover)
The New Science of High Performance
Simon & Schuster, 9781501179860, 272pp.
Publication Date: February 13, 2018
Other Editions of This Title:
Digital Audiobook (2/12/2018)
* Individual store prices may vary.
Description
The New York Times bestselling authors of The Carrot Principle and All In deliver a breakthrough, groundbreaking guide for building today's most collaborative teams—so any organization can operate at peak performance.

A massive shift is taking place in the business world. In today's average company, up to eighty percent of employees' days are now spent working in teams. And yet the teams most people find themselves in are nowhere near as effective as they could be. They're often divided by tensions, if not outright dissension, and dysfunctional teams drain employees' energy, enthusiasm, and creativity. Now Adrian Gostick and Chester Elton share the proven ways managers can build cohesive, productive teams, despite the distractions and challenges every business is facing.

In The Best Team Wins, Gostick and Elton studied more than 850,000 employee engagement surveys to develop their "Five Disciplines of Team Leaders," explaining how to recognize and motivate different generations to enhance individual engagement; ways to promote healthy discord and spark innovation; and techniques to unify customer focus and build bridges across functions, cultures, and distance. They've shared these disciplines with their corporate clients and have now distilled their breakthrough findings into a succinct, engaging guide for business leaders everywhere. Gostick and Elton offer practical ways to address the real challenges today's managers are facing, such as the rise of the Millennials, the increasing speed of change, the growing number of global and virtual teams, and the friction created by working cross-functionally.

This is a must-read for anyone looking to maximize performance at work, from two of the most successful corporate consultants of their generation, whom The New York Times called "creative and refreshing."
About the Author
Adrian Gostick is the New York Times bestselling coauthor of The Best Team Wins, The Carrot Principle, and All In, which are sold in more than fifty countries around the world. He is a founder of the global training firm The Culture Works, with a focus in culture, teamwork, and employee motivation. Learn more at TheCultureWorks.com or CarrotGuys.com.

Chester Elton is coauthor of The Best Team Wins, The Carrot Principle, and All In, a popular lecturer, and an influential voice in global workplace trends. He is a founder of The Culture Works and advises the leadership teams of numerous Fortune 500 firms on cultural and teamwork issues. Learn more at TheCultureWorks.com or CarrotGuys.com.
Praise For The Best Team Wins: The New Science of High Performance…
"With more than 60,000 employees in 1,500 teams in our organization, I'm convinced that high performance success is based on diverse teams. After reading Gostick and Elton's book All In and learning about the necessity to create a culture of belief (the why), the circle was completed when reading this latest book The Best Team Wins that gives the what and how (strategies and tips). At the end of the day it's all about leaders putting enough importance and emphasis on the soft-skills."—Ulrich Hurni, Head of PostMail, Deputy CEO, Swiss Post

"Wow! Gostick and Elton have done it again. They have a knack of capturing big ideas in simple ways. Their five specific disciplines are timely, thoughtful, and useful for team leaders to be effective. Their 101 ways to inspire your team offer the complete menu of team leadership. Their mix of stories, research, and tools makes this book relevant and readable."—Dave Ulrich, Rensis Likert Professor, Ross School of Business, University of Michigan Partner, The RBL Group

"This is the book I've been waiting for on teams. Gostick & Elton share the secrets of modern teamwork—written with clarity and humor, and full of fascinating case studies, startling research and down-to-earth advice. Trust me, we'll all be talking about these ideas for years to come."—Matt Davies, Tesco UK CEO

"Gostick and Elton are architects for high achievement. They continue to discover new and innovative ways to build powerful leaders, and The Best Team Wins is a blueprint for those looking for authentic and penetrating insights to drive exceptional performance. I suspect this book will become a staple among those looking to create a unique value proposition for success."—David Kasiarz, Senior Vice President, Global Total Rewards and Medical American Express



"I love this book! This is a brilliant, practical, and engaging guide to creating a better world to work and live. The chapter 101 Ways to Inspire Your Team, is now officially the required template for our team of managers."—Scott O'Neil, CEO, Philadelphia 76ers, New Jersey Devils & Prudential Center

"This is a must-read for any organization that seeks to align individual leaders and their people into cohesive, effective teams. 'The 5 Disciplines' generate the engagement needed to find success in business today."—Lance Trenary, President & CEO, Golden Corral

"The style is accessible, the ideas are easy to implement, and the results could be transformational, both for managers and their employees."—Booklist