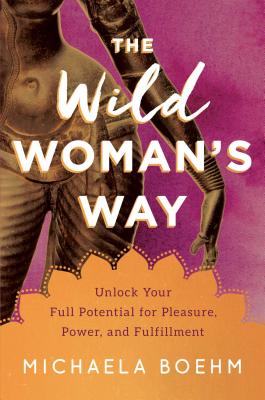 The Wild Woman's Way
Unlock Your Full Potential for Pleasure, Power, and Fulfillment
Hardcover

* Individual store prices may vary.
Other Editions of This Title:
Digital Audiobook (8/20/2018)
Paperback (11/9/2021)
Compact Disc (8/21/2018)
Description
"As pragmatic as it is compassionate, this intimate, humorous, and ultimately relaxing invitation to re-wild yourself, stripping away all that is not your true nature, will leave you inspired and curious to discover the wild woman within" (Lissa Rankin, MD, New York Times bestselling author of Mind Over Medicine).

For many women today, achieving a successful career, a fulfilling romantic relationship, and a rewarding personal life can feel like an unattainable goal. The pressure to "have it all" wreaks havoc on our bodies and emotional well-being, and also creates unrealistic expectations. Toxic comparisons and the need to perform enforces damaging ideals of who and what we should be, making it harder for us to connect with who we really are.

But what if there was a way to break free from these patterns and beliefs? What if you could free your body from stress and trauma, tap into your inherent creativity, and connect more authentically with the people who matter?

In this life-changing book, intimacy expert and counselor Michaela Boehm shares practical rituals and exercises to show you simple, everyday changes that will revolutionize your connection to yourself, your life, and your relationships.

Beyond the outdated stereotypes of femininity lies the ancient wisdom of the Wild Woman archetype, a path to reconnecting with our "body intelligence."

In this book, you will learn to:

- Re-wild yourself by connecting to who you really are and integrating body, emotions, and mind for powerful expression in the world.

- Switch effortlessly between "doing" and "being," allowing you to access both empowered success and personal fulfillment.

- Unlock creativity and intuition through understanding how body, heart, and mind can work together.

- Engage in relaxed, body-specific exercises that help you connect with yourself and your chosen relationships.
Praise For The Wild Woman's Way: Unlock Your Full Potential for Pleasure, Power, and Fulfillment…
"Through simple, thoughtful exercises and engaging personal and client stories, Michaela Boehm invites us into the dancing heart of our own lusciousness, and teaches us how to share it with others. I think this book should be a required manual for all women—to live the lives we were born to in all of our capacities, and with joy and purpose. Not to mention a lot of hot sex. Don't miss this invitation to revel in your feminine power!"
— Rachel Carlton Abrams, MD, co-author of The Multi-Orgasmic Woman and director of Santa Cruz Integrative Medicine

"The societal message that the modern women is meant to be a vixen in the bedroom, a shark in the boardroom, Martha Stewart in the home, and an Om-chanting, pretzel-bodied yogini in her spiritual life leaves women feeling flooded, confused, and perpetually "not enough." Yet finally...phew...The Wild Woman's Way drips from the pages like the sweet nectar of relief. As pragmatic as it is compassionate, this intimate, humorous, and ultimately relaxing invitation to re-wild yourself, stripping away all that is not your true nature, will leave you inspired and curious to discover the wild woman within."
— Lissa Rankin, MD, New York Times bestselling author of Mind Over Medicine

"Wise, warm, and wonderful, like sitting around the fire, listening to stories from a brave adventurer in the inner worlds."
— Lorin Roche, PhD, author of The Radiance Sutras

"I love this book. Herein lie simple beautiful secrets to being kinder to yourself, making you and those around you happier, healthier, and more fulfilled. Being a wild woman sounds wildly wonderful."
— Chris Martin, singer-songwriter, Coldplay

"A concentrated dose of playful wisdom about the realms of energy, connection, and love! Much needed in this wild world of ours!"
— Jesse Carmichael, Maroon 5

"Michaela Boehm is, in my opinion, the most advanced teacher currently sharing wisdom about the intersection of sexuality and spirituality. The Wild Woman's Way is Michaela's kind-hearted and clear-headed encapsulation of a foundational area within her vast knowledge. May this fabulous and long-awaited debut book—which everyone with a body should read—be the first in a library of her teachings."
— Michael Ellsberg, author of The Education of Millionaires

"Listen. Let go. Live. The invitation back home to your wild, natural self lies within these pages, immersed in the embodied wisdom of one who walks her talk. Read. Relax. Reclaim what has always been yours."
— Dr. Saida Désilets, author of Emergence of the Sensual Woman

"The Wild Woman's Way is a roadmap to living your life with sensuality and strength; you will gain more power and joy as these pages reawaken your inner wild woman who has been waiting to be expressed."
— Christy Whitman, New York Times bestselling author of The Art of Having It All and Quantum Success

"Let Michaela's wisdom lead you to a new, harmonious relationship with your body, your beloved, and your boss. From outer work to inner sensuality, The Wild Women's Way is an essential guide to learning how to find your 'flow' rather than pushing your 'go' all the time."
— HeatherAsh Amara, author of Warrior Goddess Training

"A must read for every Goddess looking to dial up the way they woman. The wild. The raw. The wise. Michaela Boehm walks you through every ounce of womanhood in these beautifully honest pages that are sure to find you unlocking your inner power and pleasure centers."
— Emma Mildon, bestselling author of The Soul Searcher's Handbook and Evolution of Goddess

"Every page reveals the sacred wisdom of how to fully embody the divine pleasure of life."
— Rikka Zimmerman; creator of Life Transformed™ & singer-songwriter

"The most practical and inspiring guide yet to self-care for a woman's physical, spiritual and emotional needs."
— Debbie Phillips, founder & CEO of Women on Fire
Atria/Enliven Books, 9781501179884, 256pp.
Publication Date: August 21, 2018
About the Author
Michaela Boehm teaches and counsels internationally as an expert in intimacy and sexuality. Born and raised in Austria, Michaela combines degrees in psychology and extensive clinical counseling experience with her in-depth training in the yogic arts as a classical Kashmiri Tantric lineage holder. Michaela's approach empowers her students through an eclectic mix of education, experiential exercises and guided explorations. Known for her work with high-performing individuals, her ongoing private clients include Academy Award–winning actors, producers, business pioneers, and multiple Grammy Award–winning musicians. Michaela lives on an organic farm in California where she rescues and rehabilitates animals. For more information, please visit her website at MichaelaBoehm.com.
or
Not Currently Available for Direct Purchase