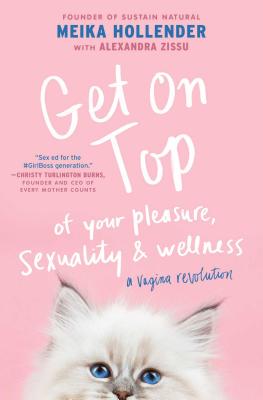 Get on Top
Of Your Pleasure, Sexuality & Wellness: A Vagina Revolution
Paperback

* Individual store prices may vary.
Other Editions of This Title:
Digital Audiobook (3/12/2018)
Description
A smart, actionable guide to help women take control of their sexual health and learn about vital information in a pro-pleasure, safety-first, and sex-positive way from a leader in sexual education for the GirlBoss generation.

Women are suffering—especially in the eighteen to thirty age range. They're suffering from misinformation, fear, intimidation. They're worried about the side effects of birth control, confused about consent, sexuality, and cheating, and don't know when or always even where to seek medical attention. Women need answers from someone they trust, from a partner. And Get on Top is that partner.

Written by the creator of the Get On Top national campaign, cofounder of Sustain all-natural sexual wellness products, and daughter of the founder of the billion-dollar green company, Seventh Generation, this book helps women access all the facts they need to make smart, healthy, and safe choices when it comes to sex by continuing the conversation, by answering questions, and by providing the information in a relatable and totally normal way. Meika answers questions similar to those she receives every day from the thousands of readers and listeners of the GetOnTop campaign and fans of the green brands, Sustain and Seventh Generation. It's a chance to give conversational advice to readers.

Chapters include topics such as birth control, STDs, sex, masturbation, and what PH is and why it's important. Meika answers all of the questions women have about sex in an unselfconscious, straightforward, real, and enlightening way. Not sexed up, not sleazy. Just smart, actionable information for any and all sexual questions. Not only will it teach women everything they need to know about their bodies, Get on Top will also change the way women think about sexual health.
Praise For Get on Top: Of Your Pleasure, Sexuality & Wellness: A Vagina Revolution…
"Meika has written an invaluable resource for women in an age of misinformation and uncertainty. As Founder of Sustain Natural, she's sparked a candid dialogue around safe and all-natural sexual wellness and Get On Top furthers this important mission to destigmatize sexual health."
— Katherine Ryder, Founder + CEO of Maven

"Meika Hollender has taken everything she has learned building Sustain and created Sex Ed for the #GIRLBOSS generation. Meika is the ultimate #GIRLBOSS who empowers us all with her rally cry to "Get On Top." I'm buying one for every woman (and girlboss in the making) I know!"
— Christy Turlington Burns, Founder & CEO, Every Mother Counts

"Imagine your high school sex ed class (if you even had one) flipped on its head. We can't get enough of the sex-positive, normalizing way Meika writes about sex and sexual health and shares relevant in formation that you can actually use."—Laura McQuade, President and CEO, Planned Parenthood of New York City

"Meika Hollender is making sex healthier for everyone."—Girlboss.com

"Meika Hollender has a way of turning topics that make some blush into conversations that we can all join. Only a woman that has the foresight to build Sustain and the 'GET ON TOP' national campaign would have the insight to write this book. From one #GIRLBOSS to a world of #GIRLBOSSES, Get on Top answers REAL questions, is accessible, informative, smart and necessary."—Skylar Diggins-Smith, WNBA All-Star

"Meika Hollender's Get on Top is not only a guide to sexual health for millennials but a call to action for all women to take control of their bodies."—Jeanne Rizzo, R.N., President and CEO, Breast Cancer Prevention Partners


"With #GetOnTop, Sustain's founder, Meika Hollender, is aiming to squash the stigma surrounding women and sexual health, and elevate a national conversation to encourage women to take control of their sexual experience."—Women's Health
Atria Books, 9781501179976, 224pp.
Publication Date: March 13, 2018
About the Author
Meika Hollender is an entrepreneur, author, and cofounder of Sustain, a sexual wellness company marketed to women that provides all-natural condoms and lubricants, among other products. She's also the creator of GetOnTop, a national campaign aimed at getting women to take control of their sexual health. She's a member of the NYC Venture Fellows Class of 2016 and received her MBA from New York University's Stern School of Business, where she was the President of the Social Enterprise Association. Through Sustain Natural's 10%4Women initiative, which donates profits to women's issues, she works closely with Planned Parenthood and Amber Rose's SlutWalk. Meika writes frequently on sexual health issues and advocacy for publications like Refinery 29. She is the coauthor of Naturally Clean and the author of Get on Top.