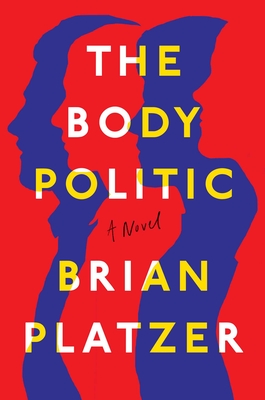 The Body Politic
A Novel
Hardcover

* Individual store prices may vary.
Other Editions of This Title:
Digital Audiobook (6/1/2020)
Paperback (11/10/2020)
Compact Disc (6/2/2020)
MP3 CD (6/2/2020)
Description
In the bestselling tradition of The Interestings and A Little Life, this keenly felt and expertly written novel by the author of the "savvy, heartfelt, and utterly engaging" (Alice McDermott) Bed-Stuy Is Burning follows four longtime friends as they navigate love, commitment, and forgiveness while the world around them changes beyond recognition.

New York City is still regaining its balance in the years following 9/11, when four twenty-somethings—Tess, Tazio, David, and Angelica—meet in a bar, each yearning for something: connection, recognition, a place in the world, a cause to believe in. Nearly fifteen years later, as their city recalibrates in the wake of the 2016 election, their bond has endured—but almost everything else has changed.

As freshmen at Cooper Union, Tess and Tazio were the ambitious, talented future of the art world—but by thirty-six, Tess is married to David, the mother of two young boys, and working as an understudy on Broadway. Kind and steady, David is everything Tess lacked in her own childhood—but a recent freak accident has left him with befuddling symptoms, and she's still adjusting to her new role as caretaker.

Meanwhile, Tazio—who once had a knack for earning the kind of attention that Cooper Union students long for—has left the art world for a career in creative branding and politics. But in December 2016, fresh off the astonishing loss of his candidate, Tazio is adrift, and not even his gorgeous and accomplished fiancée, Angelica, seems able to get through to him. With tensions rising on the national stage, the four friends are forced to face the reality of their shared histories, especially a long-ago betrayal that has shaped every aspect of their friendship.

Elegant and perceptive, The Body Politic explores the meaning of commitment, the nature of forgiveness, the way that buried secrets will always find their way to the surface, and how all of it can shift—and eventually erupt—over the course of a life.
Praise For The Body Politic: A Novel…
"For anyone who looks back on the past twenty years of American life and wonders how the hell did we get here, picking up Brian Platzer's The Body Politic is a good place to start. How many times when reading this novel did I stop and say, 'Like that, it all felt a lot like that.'" —Elliot Ackerman, author of Waiting for Eden

"An inherently character-driven tale, beautifully written, and a fine example of a long, strange trip." —Library Journal

"Brian Platzer has done something marvelous — transmuted the queasy early years of the Trump presidency into a novel that's a delight to read. The Body Politic is a book about many things — what it means to be unwell, what it means to heal, how deep and strange friendships can be, and how hidden things never stay hidden for long. I was grateful for its engaging, empathetic company during these fractious times." —Rachel Monroe, author of Savage Appetites

"Brian Platzer's The Body Politic is my favorite kind of book: a novel that swings for the fences. It's smart and bold and a little bit brutal. The book it reminds me of the most is Claire Messud's The Emperor's Children—it has the same kind of expansive scope, and dark bite. Lots of people are writing books that attempt to capture the current political moment; fewer people are writing honestly about how it feels to live in it - and all the ways it's changing us." —Kristen Roupenian, author of You Know You Want This

"A cleverly constructed and emotionally compelling novel about the common disappointments and surprising consolations of middle age. The Body Politic captures the ambient dread of chronic illness with extraordinary precision and striking insight." —Jenny Offill, author of Dept. of Speculation

"Platzer's (Bed-Stuy is Burning, 2018) second novel is about four friends in their thirties in New York City. But The Body Politic is bold in other ways. Firmly set in the almost-present aftermath of the 2016 election, it's propelled by real-world headlines." —Booklist

Praise for Bed-Stuy is Burning:

"Platzer's take on race, religion, class, and politics—all the subjects you're not supposed to discuss—is sure to get people talking." —Vanity Fair

"Riveting, full of cliffhanger chapter endings and surprise twists… Mr. Platzer deftly swivels among the clashing points of view, and the climax, in which Aaron returns to disperse the crowd with an improvised sermon, is powerfully done." —Wall Street Journal

"Heart pounding and relentless…Bed-Stuy is Burning offers a suspenseful, well written, and empathetic story filled with wit, wisdom, and hard truths….An engaging, timely, and provocative read." —Jewish Book Council

"Brian Platzer's first novel captures a violent day in the uneasy life of a gentrifying Brooklyn neighborhood where the fragility of love, parenthood, class and race is put to the test. A bad day in Bed-Stuy is a vivid microcosm of the United States, but the hope Platzer suggests with his characters' healthy unmasking offers optimism for the whole country's days ahead." —Shelf Awareness

"A debut novel about class conflict, race and gentrification. Reminiscent of Bonfire of the Vanities." —New York Post

"The city is burning indeed in New Yorker contributor Platzer's debut novel, sometimes with fire and sometimes with much-compounded shame… Expertly paced, eminently readable, and a promising start." —Kirkus Reviews

"Platzer, a writer and educator who lives in Bed-Stuy, is aiming high here, addressing race-related violence, the Black Lives Matter movement, gentrification, and other volatile topics. He succeeds in presenting multiple perspectives of dramatic yet familiar situations." —Booklist

"[A] dramatic first novel… the prose is energetic, and Platzer is obviously committed to exploring these contemporary urban issues." —Library Journal

"Platzer clearly knows his turf. A Bed-Stuy resident himself, he convincingly sketches out how thin the neighborhood's peaceful veneer is." —Minneapolis Star Tribune

"Brian Platzer's first novel is a savvy, heartfelt and utterly engaging examination of gentrification, love, race, ambition, money, parenthood and even faith. A Bonfire of the Vanities for millennials, it is a marvelous, and daring, debut." —Alice McDermott, National Book Award-winning author of Charming Billy
Atria Books, 9781501180774, 320pp.
Publication Date: March 3, 2020
About the Author
Brian Platzer has an MFA from the Johns Hopkins Writing Seminars, and a BA from Columbia University. His writing has appeared often in The New Yorker's "Shouts and Murmurs" and McSweeney's "Internet Tendency," as well as in The New York Times, The New Republic, Salon, and elsewhere. He lives with his wife and two young sons in Bed-Stuy, Brooklyn, and teaches middle school English in Manhattan. He is the author of the novels Bed-Stuy Is Burning and The Body Politic.
or
Not Currently Available for Direct Purchase