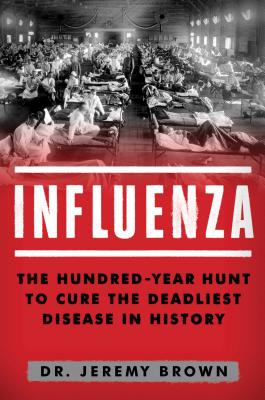 Influenza
The Hundred Year Hunt to Cure the Deadliest Disease in History
Hardcover

* Individual store prices may vary.
Other Editions of This Title:
Digital Audiobook (12/17/2018)
Paperback (10/1/2019)
Paperback, Chinese (3/1/2020)
Paperback, Chinese (7/30/2020)
Library Binding, Large Print (8/21/2019)
Compact Disc (12/18/2018)
Compact Disc (12/18/2018)
Description
On the 100th anniversary of the devastating pandemic of 1918, Jeremy Brown, a veteran ER doctor, explores the troubling, terrifying, and complex history of the flu virus, from the origins of the Great Flu that killed millions, to vexing questions such as: are we prepared for the next epidemic, should you get a flu shot, and how close are we to finding a cure?

While influenza is now often thought of as a common and mild disease, it still kills over 30,000 people in the US each year. Dr. Jeremy Brown, currently Director of Emergency Care Research at the National Institutes of Health, expounds on the flu's deadly past to solve the mysteries that could protect us from the next outbreak. In Influenza, he talks with leading epidemiologists, policy makers, and the researcher who first sequenced the genetic building blocks of the original 1918 virus to offer both a comprehensive history and a roadmap for understanding what's to come.

Dr. Brown digs into the discovery and resurrection of the flu virus in the frozen victims of the 1918 epidemic, as well as the bizarre remedies that once treated the disease, such as whiskey and blood-letting. Influenza also breaks down the current dialogue surrounding the disease, explaining the controversy over vaccinations, antiviral drugs like Tamiflu, and the federal government's role in preparing for pandemic outbreaks. Though 100 years of advancement in medical research and technology have passed since the 1918 disaster, Dr. Brown warns that many of the most vital questions about the flu virus continue to confound even the leading experts.

Influenza is an enlightening and unnerving look at a shapeshifting deadly virus that has been around long before people—and warns us that it may be many more years before we are able to conquer it for good.
Praise For Influenza: The Hundred Year Hunt to Cure the Deadliest Disease in History…
"The influenza pandemic of 1918 was responsible for an estimated 50–100 million deaths worldwide. A century later, 'The flu is still a serial killer,' writes emergency-medicine physician Brown... Brown smartly examines this viral infection from all sorts of angles—medical history, virology, diagnosis and treatment, economics and epidemiology' health-care policy, and prevention."
—Starred Booklist

"Influenza tells a surprisingly compelling and accessible story of one of the world's most deadly diseases. It is timely and interesting, engaging and sobering." —David Gregory, CNN Political Analyst and former moderator for NBC's, Meet the Press

"Jeremy Brown, one of the country's leading emergency physicians, has written a terrific book. From the Great Influenza Pandemic of 1918 to our most recent outbreaks, he tells a gripping story that brings an entirely new perspective on our battle against influenza. Extensively researched and often humorous, it reminds us of the great strides modern medicine has made, and of the dangers that we still face each flu season." —Gail D'Onofrio MD, Professor and Chair, Department of Emergency Medicine, Yale School of Medicine

"Even now, a century after the great flu pandemic of 1918, which left an estimated 50 to 100 million people dead worldwide, there's still no cure, writes Brown, an ER veteran and director of the National Institutes of Health's Office of Emergency Care Research. In his debut, he traces the millions-of-years history of the virus, efforts to understand and treat it, and its many devastating outbreaks… A solid book of popular science." —Kirkus Reviews

"Brown, director of the Office of Emergency Care Research at the National Institutes of Health, marks the 100th anniversary of the 1918 Spanish flu pandemic with this no-nonsense account of medicine's long battle against influenza. Brown recounts the 'epic effort' in the 1990s to resurrect and genetically decode the Spanish flu, which, in addition to triggering concern that "all this tinkering was creating superviruses," underscored influenza's elusiveness. As an experienced ER doctor, he also offers plain advice on dealing with the virus."—Publishers Weekly

"A thoughtful portrait of an elusive enemy."
—Nature.com

"An in-depth look at what scientists know now about the 1918 strain [and] a fascinating look at the factors that make the more common seasonal flu so challenging to predict and prevent… For those who want more science with a frank discussion of the challenges influenza still poses, Brown delivers a clear and captivating overview."
—Science News
Atria Books, 9781501181245, 272pp.
Publication Date: December 18, 2018
About the Author
Dr. Jeremy Brown trained at University College School of Medicine in London and completed his residency in emergency medicine in Boston. He was the Research Director in the Department of Emergency Medicine at George Washington University before moving to the National Institutes of Health, where he now directs its Office of Emergency Care Research. His opinion pieces have been published in The New York Times and The Washington Post, and he has written for Discover magazine.
or
Not Currently Available for Direct Purchase