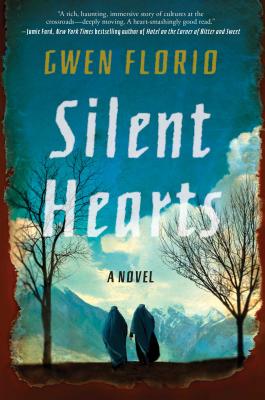 Silent Hearts
A Novel
Hardcover

* Individual store prices may vary.
Other Editions of This Title:
Digital Audiobook (7/23/2018)
Compact Disc (7/24/2018)
Description
"A rich, haunting, immersive story of cultures at the crossroads—deeply moving. A heart-smashingly good read, the kind of novel you'll want to share with your book club." —Jamie Ford, New York Times bestselling author of Love and Other Consolation Prizes and Hotel on the Corner of Bitter and Sweet

"Highly recommended, especially for fans of Khaled Hosseini." —Library Journal, starred review

For fans of A Thousand Splendid Suns comes a stirring novel set in Afghanistan​ about two women—an American aid worker and her local interpreter—who form an unexpected friendship despite their utterly different life experiences and the ever-increasing violence that surrounds them in Kabul. ​

In 2001, Kabul is suddenly a place of possibility as people fling off years of repressive Taliban rule. This hopeful chaos brings together American aid worker Liv Stoellner and Farida Basra, an educated Pakistani woman still adjusting to her arranged marriage to Gul, the son of an Afghan strongman whose family spent years of exile in Pakistan before returning to Kabul.

Both Liv and her husband take positions at an NGO that helps Afghan women recover from the Taliban years. They see the move as a reboot—Martin for his moribund academic career, Liv for their marriage. But for Farida and Gul, the move to Kabul is fraught, severing all ties with Farida's family and her former world, and forcing Gul to confront a chapter in his life he'd desperately tried to erase.

The two women, brought together by Farida's work as an interpreter, form a nascent friendship based on their growing mutual love for Afghanistan, though Liv remains unaware that Farida is reporting information about the Americans' activities to Gul's family, who have ties to the black market.

As the bond between Farida and Liv deepens, war-scarred Kabul acts in different ways upon them, as well as their husbands. Silent Hearts is an absorbing, complex portrayal of two very different but equally resilient women caught in the conflict of a war that will test them in ways they never imagined.
Praise For Silent Hearts: A Novel…
"A rich, haunting, immersive story of cultures at the crossroads—deeply moving. A heart-smashingly good read, the kind of novel you'll want to share with your book club."—Jamie Ford, New York Times bestselling author of Hotel on the Corner of Bitter and Sweet

"Gwen Florio paints a nuanced and heartbreaking portrait of two women, one American and the other Pakistani, and demonstrates how their plight is achingly similar, despite their obvious differences. By flipping the script, Florio not only shows us life in post-9/11 Afghanistan but also casts a dispassionate eye toward America, as seen by those who bear the brunt of its aggression."—Thrity Umrigar, author of The Space Between Us and The Secrets Between Us

"Silent Hearts is searing, brave, and complex, but most importantly, an absolute pleasure to read. I was floored by the depths contained in this book--Florio dissects two marriages with the measured eye of an anthropologist, but paints the husbands and wives with unexpected grace, humility, and pathos. Florio's greatest gift is creating dread--readers will devour each page. This is the best kind of reading, the white-knuckled kind. Florio's twists and turns are never telegraphed, and the ending shocking and so very true. Above all else, this is an important book, a necessary book, an honest and fair-minded examination of love blooming in an arranged marriage, in the most unlikely of places and times: Afghanistan in 2001. I learned so much, and I felt even more. Silent Hearts is my favorite book of the year."—Richard Fifield, author of The Flood Girls

"Gorgeous. Illuminating. Resonant. Thrilling. I've read and adored Gwen Florio's Lola Wicks series but Silent Hearts shows us a new side of Florio's talent as an expert on Afghani culture and politics. The heroines are strong-willed, resilient, intricately flawed, and both less-than-perfect. A masterful story that surprises and deserves every single accolade it's sure to get . . . and then some."—Kate Moretti, New York Times bestselling author of The Vanishing Year

"Silent Hearts is one of the best books I've ever read about America's long dirty war in Afghanistan . . . . [It] is a non-stop flight to Kabul, transporting readers to a land inhabited by 'a people bent beneath the weight of war.' With her impeccable eye for detail, Florio makes us feel what it's like to live beneath the oppression of a burqa in a place where eyes ache from 'the constant scrub of the dust in the air,' where shopping in the marketplace means taking your life in your hands, and where women face the greatest danger not from incoming missiles but from their own husbands."—David Abrams, author of Brave Deeds and Fobbit

"Two very different women cross paths and their lives are changed forever. I found myself riveted by this story, the richness of the setting, and the geo-political themes written intimately on the lives of these two women."—Shilpi Somaya Gowda, #1 bestselling author of Secret Daughter and The Golden Son

"Too often in stories of modern war, the everyday lives of those caught up in its ravages are pushed to the background. Not so in Silent Hearts, a ferocious, whip-smart tribute to those everyday lives. Readers will become immersed in the hopes and fears of Farida and Liv, and find themselves wishing we all possessed the courage of these women. If we did, the world would be a much finer place."—Matt Gallagher, author of Youngblood

"With deep reservoirs of empathy and intelligence, Gwen Florio's Silent Hearts asserts that humanity is something we share across cultures and that all hearts break the same. Her talent is on full display in these pages and she is masterful."—Elliot Ackerman, author of Dark at the Crossing

"Florio (Dakota, 2014), who reported from Afghanistan as a journalist, handles her material with conviction and skill."— Booklist

"Florio delivers an intriguing, well-spun tale that is both a striking portrait of two resilient, appealing women and a fascinating in-depth depiction of the cultural and religious aspects of life in Kabul after the collapse of the Taliban regime. VERDICT Highly recommended, especially for fans of Khaled Hosseini."— Library Journal (starred review)

"[Florio] writes with authority about the poverty, the discrimination, the danger of life in Kabul during the days of American bombing following 9/11. . . . Silent Hearts is that rare book that tells a compelling story while teaching you about a culture halfway around the world."— The Denver Post

"[Silent Hearts is] not only the best book I've read by a Missoula author this year, it's the best book I've read in 2018."— Missoula Independent
Atria Books, 9781501181924, 336pp.
Publication Date: July 24, 2018
About the Author
Gwen Florio is the author of Silent Hearts. She grew up in a 250-year-old brick farmhouse on a wildlife refuge in Delaware and now lives in Montana. Currently the city editor for the Missoulian, Gwen has reported on the Columbine High School shooting and from conflict zones such as Afghanistan, Iraq, and Somalia. Montana, her first novel in the Lola Wicks detective series, won the High Plains Book Award and the Pinckley Prize for debut crime fiction.
or
Not Currently Available for Direct Purchase