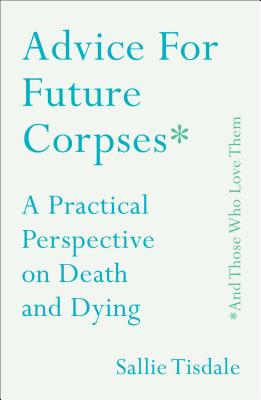 Advice for Future Corpses (and Those Who Love Them)
A Practical Perspective on Death and Dying
Hardcover

* Individual store prices may vary.
Other Editions of This Title:
Digital Audiobook (6/11/2018)
Paperback (6/18/2019)
Compact Disc (6/12/2018)
Description
A NEW YORK TIMES BOOK CRITICS' TOP 10 BOOK OF THE YEAR

"In its loving, fierce specificity, this book on how to die is also a blessedly saccharine-free guide for how to live." —The New York Times

We Are All Future Corpses

Former NEA fellow and Pushcart Prize-winning writer Sallie Tisdale offers a lyrical, thought-provoking, yet practical perspective on death and dying in Advice for Future Corpses (and Those Who Love Them). Informed by her many years working as a nurse, with more than a decade in palliative care, Tisdale provides a frank, direct, and compassionate meditation on the inevitable.

From the sublime (the faint sound of Mozart as you take your last breath) to the ridiculous (lessons on how to close the sagging jaw of a corpse), Tisdale leads the reader through the peaks and troughs of death with a calm, wise, and humorous hand. Advice for Future Corpses is more than a how-to manual or a spiritual bible: it is a graceful compilation of honest and intimate anecdotes based on the deaths Tisdale has witnessed in her work and life, as well as stories from cultures, traditions, and literature around the world.

Tisdale explores all the heartbreaking, beautiful, terrifying, confusing, absurd, and even joyful experiences that accompany the work of dying, including:

A Good Death: What does it mean to die "a good death"? Can there be more than one kind of good death? What can I do to make my death, or the deaths of my loved ones, good?

Communication: What to say and not to say, what to ask, and when, from the dying, loved ones, doctors, and more.

Last Months, Weeks, Days, and Hours: What you might expect, physically and emotionally, including the limitations, freedoms, pain, and joy of this unique time.

Bodies: What happens to a body after death? What options are available to me after my death, and how do I choose—and make sure my wishes are followed?

Grief: "Grief is the story that must be told over and over...Grief is the breath after the last one."

Beautifully written and compulsively readable, Advice for Future Corpses offers the resources and reassurance that we all need for planning the ends of our lives, and is essential reading for future corpses everywhere.
Praise For Advice for Future Corpses (and Those Who Love Them): A Practical Perspective on Death and Dying…
"In its loving, fierce specificity, this book on how to die is also a blessedly saccharine-free guide for how to live. . . . Tisdale does not write to allay anxieties but to acknowledge them, and she brings death so close, in such detail and with such directness, that something unusual happens, something that feels a bit taboo. She invites not just awe or dread—but our curiosity. And why not? We are, after all, just 'future corpses pretending we don't know.'"
—New York Times

"Tisdale (Violation: Collected Essays), a former nurse, offers an intimate insider's look at dying, aimed at both caregivers and mortally ill people. By turns philosophical and pragmatic, Tisdale gently prods readers to make plans while they can … Tisdale's forthright narrative voice, charmingly bossy in style ("Be very careful about odors.... You don't want to be the most nauseating thing that happens in the day"), is so generous and kind in spirit that readers will gladly follow along."
—Publishers Weekly

"Sallie Tisdale's elegantly understated new book pretends to be a user's guide when in fact it's a profound meditation. It also pretends to be about how to die. Actually, it's about how to live."
—David Shields, bestselling author of Reality Hunger

"Reading the book is like having a nice, long chat with an unsqueamish friend. . . Tisdale writes warmly, sharing what she knows with a natural gift."
—Portland Tribune

"A very good book on making peace with the inevitable and has been great in conjunction as an EMT both here in the states and Port au Prince, Haiti, where untimely death is a daily occurrence much like this crisis."
—CNN

"When a title sets the tone for a book, readers can see themselves invited into a conversation with kindness. . . [Advice for Future Corpses] is written in a gentle tone, but without euphemisms, as you would hope to hear from the person who sits beside to tell you that you are going to die. Someday."
—popmatters.com

"[Tisdale] could not be more earnest and authentic in adopting a compassionate understanding of death and dying. . . This book is packed with a great wealth of information."
—Choice Connect

Praise for Sallie Tisdale

"The work of caring for others is at the center of Tisdale's writing, and it proves an endlessly complex and engaging subject."
— Laura Marsh, The New Yorker

"Sallie Tisdale is the real thing, a writer who thinks like a philosopher, observes like a journalist, and sings on the page like a poet"
—Meghan Daum, author of The Unspeakable

"I read Sallie Tisdale and within a few seconds I am under her spell. It matters not whether she's writing about the tyranny of weight loss, the startling lives of blowflies, or what it's like to work in an oncology ward (she is a dedicated nurse as well as a brilliant writer), I'm all in, all the time. I will go anywhere she wants to take me. An alternate image—climbing into a submarine with Tisdale at the controls and diving down down down, into her singular sensibility, her genius for language,her love of our deeply imperfect world."
—Karen Karbo, author of Julia Child Rules: Lessons on Savoring Life
Gallery Books, 9781501182174, 256pp.
Publication Date: June 12, 2018
About the Author
Sallie Tisdale is the author of several books, including Advice for Future Corpses (and Those Who Love them), Violation, Talk Dirty to Me, Stepping Westward, and Women of the Way. She has received a Pushcart Prize, an NEA Fellowship, the James D. Phelan Literary Award, and was selected for the Shoenfeldt Distinguished Visiting Writer Series. Her work has appeared in Harper's, The New Yorker, The Threepenny Review, The Antioch Review, Conjunctions, and Tricycle. In addition to her award-winning writing career, Tisdale has been a nurse for many years, including a decade in palliative care. She lives in Portland, Oregon. Visit her online at SallieTisdale.com.


or
Not Currently Available for Direct Purchase