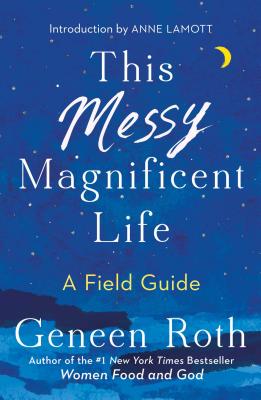 This Messy Magnificent Life
A Field Guide
Hardcover

* Individual store prices may vary.
Other Editions of This Title:
Digital Audiobook (3/5/2018)
Paperback (1/15/2019)
Description
Inspiring, personal, and often spiritual reflections on how women can find peace, make wise choices, practice everyday joy, and step into their power from Geneen Roth—author of the #1 New York Times bestselling Women Food and God.

From the beginning, Geneen Roth was told she was too sensitive, too emotional, too curious, too demanding, too intense, and too big. Yet gaining and losing weight for decades did not improve her self-worth or reduce other people's criticisms. Like most women who struggle with their weight, she believed that if she could resolve what seemed to be the source of her self-hatred—how and what she ate—she would be thin, happy, and free. That belief, she discovered, was false.

When her struggle with food ended—and didn't change anything except the size of her thighs—she kept trying to fix other broken parts of herself with therapy, intensive meditation retreats, and rigorous spiritual practices. Yet it was only when Geneen stopped trying to change or fix herself—that she was at last able to feel at home in her mind, body, and life. Now, she shares the wisdom of giving up what Geneen calls "the Me Project," and finding the freedom, peace and power that await us just beyond it.

With humor, compassion, and insight, This Messy Magnificent Life explores the personal beliefs, hidden traumas, and social pressures that shape not just women's feelings about their bodies, but also their confidence, choices, and relationships. This provocative, enchanting, and sometimes laugh-out-loud look at the imperfect path women take to step into their own power, presence, and ownership is based on the author's personal journey and her decades of work with thousands of women around the country.

Roth embraces everyone's unique and often unsung potential and shows us how to be open, curious, and kind with ourselves; how to say no to people and ideas that hold us back; how to let go of grudges and anxieties; how to pick ourselves up after setbacks; how to say a resounding yes to the world; how to move from fixing ourselves to finding ourselves; how to find joy in the ordinary; and how to experience the extraordinary right here and now in our bodies.

With a foreword by Anne Lamott, This Messy Magnificent Life is a compelling and often quirky look at what it means to be an imperfect but unapologetic woman living a (mostly) magnificent life.
Praise For This Messy Magnificent Life: A Field Guide…
"These chapters of simple advice are easily digestible, and reading one per day is a good way to start this practice. Empowering words for women—especially those struggling with body issues—to regain control of their lives."
— Kirkus

"Geneen Roth's early work pulled my sister out of the abyss of eating disorders. My gratitude and admiration for Geneen has deepened still with her newest book. In This Messy Magnificent Life, we experience her signature divine wisdom and hilarious humanity—but Geneen also gives us something new and important. Here, Geneen shows us how our individual body and food obsessions are directly linked to our collective oppression as women—and how getting free from our personal prisons is crucial to seeking liberation at every level. This is a beautiful, funny, deeply relevant book -- a vital work for this moment."
— Glennon Doyle, author of the #1 New York Times bestseller Love Warrior and founder and president of Together Rising

"This Messy Magnificent Life delivers a brilliant, funny, and frank offering at the stroke of midnight (just when we need it). By page ten you're convinced she's your smartest and funniest best friend. This Messy Magnificent Life is—dare I say it? Yep. Messy. It's magnificent, hilarious and 100% the generous, complicated gift that is Geneen Roth's imagination, experience and soul, on a platter. 2018 will be made easier to navigate with This Messy Magnificent Life by my side."
— Kathy Najimy

"Geneen Roth's secret sauce—the ingredients of which are warmth, wisdom, honesty and powerful self-scrutiny—are all blended to perfection in this lovely book, which will be a welcome companion to her legions of readers, and bring her many lucky new ones. There's a reason she's such a treasure."
— Dani Shapiro, author of Hourglass: Time, Memory, Marriage and Devotion: A Memoir

"I've long admired Geneen Roth's approach to food and its place in our lives. In This Messy Magnificent Life she goes beyond food and shows the complex interconnection between our minds and the bodies we have the power to heal. Her insights and simple practices will help readers rediscover the power to live their most vibrant lives."
— Mark Hyman, MD, author of the New York Times bestseller Eat Fat, Get Thin

"Roth, who has become more resilient with age, will captivate readers with her energetic yet calming wisdom."
— Publishers Weekly

"Roth is an intellectual, but her tone is warm and comfortable, and she knows when to add a touch of humor. She willingly shares her own emotional baggage, and her advice is life-affirming."
— Booklist

"Now is the time to celebrate the qualities that make you unique and to be bold in your pursuit of personal bliss. This book will help get you started."
— BookPage
Scribner, 9781501182464, 224pp.
Publication Date: March 6, 2018
About the Author
Geneen Roth is the author of ten books, including the New York Times bestsellers When Food Is Love, Lost and Found, and Women Food and God, as well as The Craggy Hole in My Heart and the Cat Who Fixed It. She has been speaking, teaching groundbreaking workshops, and offering retreats for over thirty years and has appeared on numerous national shows, including The Oprah Winfrey Show, 20/20, the Today show, Good Morning America, and The View. For more information about her work, please visit GeneenRoth.com


or
Not Currently Available for Direct Purchase