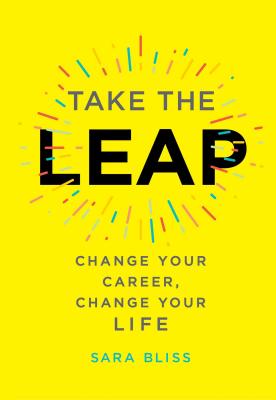 Take the Leap (Hardcover)
Change Your Career, Change Your Life
Gallery Books, 9781501183188, 256pp.
Publication Date: December 4, 2018
* Individual store prices may vary.
Description
A road map for landing your dream job.

Take the Leap features inspiration and advice from more than sixty-five people who transformed their lives—and with this guide, so can you. These are game changers, rule breakers, and side hustlers who once stood where you are now, wondering if they should take a risk. They went from production assistant to million-dollar screenplay writer; attorney to surf instructor; mom to DJ; hairdresser to firefighter; real estate agent to award-winning chef.

Do you want to go for that career you've always dreamed about? Launch a new company? Become a tech mogul? Live a life of adventure? Save the world? You'll find wisdom from successful mentors like creative visionary and writer Simon Doonan, entrepreneur Barbara Corcoran, NFL player turned artist/activist Aaron Maybin, and wellness and beauty guru Bobbi Brown.

This is a career guide for today's ever-changing job market. Thinking about your own next chapter? Take the leap.
About the Author
Sara Bliss is a freelance writer and New York Times bestselling author who writes on the topics of business, health, beauty, design, and travel, as well as profiles. Sara is coauthor and author of ten books including Hotel Chic at Home, Pretty Powerful, and Beauty from the Inside Out. A former senior writer for Yahoo, Sara's articles have appeared in The Wall Street Journal, Town & Country, and Refinery29.
Praise For Take the Leap: Change Your Career, Change Your Life…
"Have you ever fantasized about making a massive life change to pursue a dream job in travel? Take the Leap is about to become your how-to guide."
—Forbes

"I've always believed that a fresh perspective is the key to disrupting an industry or acing a new career. I've switched up my career multiple times and it keeps things interesting. If you are ready to go for the life and the job you really want, Take the Leap is the go-to book for anyone making a career change."
—Bobbi Brown

"Get ready to leap! A great career should be like a rollercoaster: exhilarating, scary with lots sharp turns."
—Simon Doonan, Barneys New York creative ambassador

"This book doesn't just tell you that you can change your life. It shows you how. Take the Leap is filled with valuable advice for any budding entrepreneur, along with the stories to back it up."
—Barbara Corcoran



"OK, so you've been wanting to leave your crappy job forever, or finally start that podcast you've been sitting on for months. Sara Bliss has compiled the stories of over 65 people who took the very leap you've been afraid to take, and shares their advice for how to dive into the next chapter of your career, creative and personal life."
—Bustle

"Sometimes… people hear a quiet voice inside their heads insisting that the life they currently have isn't the life they should be living. Bliss interviewed over 65 people for whom that whisper became a shout… The diverse interviews will undoubtedly resonate with different readers for a myriad of reasons, making this book a helpful text for both entrepreneurs and those on a self-help journey."
—Sarah Steers, Booklist

"Feeling stuck in your career? Lost in your life? Grab Take the Leap and read every page. You'll have a personal coach, cheering you on. Sara Bliss does the hard work for you. Read all about the careers of talented, successful people, and how they pivoted dreams and careers. Each chapter is filled with sound advice from people like entrepreneur Bobbi Brown, businesswoman Barbara Corcoran, and NFL athlete Aaron Maybin."
–Women.com

"If you are ready to go for the life and job you really want, Take the Leap by Sara Bliss is the go-to book for anyone making a career change."
–JustBobbi.com

"Sara Bliss has assembled one of the best collections ever of short but super effective, inspiration-boosting insights into the professional journeys of over fifty entrepreneurs and business people from fields as varied as farming to financial advising."
—MsCareerGirl.com

"If you're yearning to make a change in your career, you need to check out this book. Take the Leap features inspiration and advice from more than 65 people who have made massive leaps in their careers. With this guide, you can definitely build a roadmap towards making your dreams come true."
—BestLife