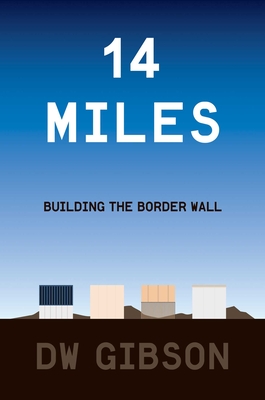 14 Miles
Building the Border Wall
Hardcover

* Individual store prices may vary.
Other Editions of This Title:
Compact Disc (7/7/2020)
Paperback (7/27/2021)
Description
An esteemed journalist delivers a compelling on-the-ground account of the construction of President Trump's border wall in San Diego—and the impact on the lives of local residents.

In August of 2019, Donald Trump finished building his border wall—at least a portion of it. In San Diego, the Army Corps of engineers completed two years of construction on a 14-mile steel beamed barrier that extends eighteen-feet high and cost a staggering $147 million. As one border patrol agent told reporters visiting the site, "It was funded and approved and it was built under his administration. It is Trump's wall." 14 Miles is a definitive account of all the dramatic construction, showing readers what it feels like to stand on both sides of the border looking up at the imposing and controversial barrier.

After the Department of Homeland Security announced an open call for wall prototypes in 2017, DW Gibson, an award-winning journalist and Southern California native, began visiting the construction site and watching as the prototype samples were erected. Gibson spent those two years closely observing the work and interviewing local residents to understand how it was impacting them. These include April McKee, a border patrol agent leading a recruiting program that trains teenagers to work as agents; Jeff Schwilk, a retired Marine who organizes pro-wall rallies as head of the group San Diegans for Secure Borders; Roque De La Fuente, an eccentric millionaire developer who uses the construction as a promotional opportunity; and Civile Ephedouard, a Haitian refugee who spent two years migrating through Central America to the United States and anxiously awaits the results of his asylum case.

Fascinating, propulsive, and incredibly timely, 14 Miles is an important work that explains not only how the wall has reshaped our landscape and countless lives but also how its shadow looms over our very identity as a nation.
Praise For 14 Miles: Building the Border Wall…
"As the wall makes its slow march forward, Gibson sets out on a quest to meet people whose lives are connected to the border. It's hard to think of an archetype he doesn't profile...The book's 60 short chapters are easy to gobble up, especially since Gibson is constantly peppering us with surreal tidbits...Gibson's book stands out from the pack in other important ways. So much of today's journalism lacks context for Trump's immigration policies. In 14 Miles, the president's attack on immigration is rightly presented as the latest in a long history of attempts to keep, or kick, foreigners out." —Shane Bauer for The New York Times Book Review

"D.W. Gibson pieces together a richly textured non-fiction mosaic about the barrier that separates San Diego and Tijuana, and the lives it affects. We meet wall builders, border agents, migrants, ranchers, activists, vigilantes, religious leaders — a fascinating collection of voices that shows not just how the wall works (or doesn't), but what it says about our national identity."—John Wilkens, The San Diego Union-Tribune

"[A] fascinating collection of voices that shows not just how the wall works (or doesn't), but what it says about our national identity."—John Wilkens, The San Diego Union-Tribune

"Deeply reported and lyrically wrought, DW Gibson's investigation illuminates the border's complex ecosystem and the wall's looming power of disruption."—Eliza Griswold, Pulitzer Prize-winning author of Amity and Prosperity: One Family and the Fracturing of America

"14 Miles is a book teeming with voices. In it, DW Gibson talks to migrants and smugglers, border agents and activists, property barons and wall contractors, faith leaders and vigilantes, and border residents of every imaginable stripe. The result is a rich and complex mosaic, one that, while smartly rooted in a singular stretch of terrain, is nevertheless emblematic of our entire incongruous borderline."—Francisco Cantú, National Book Critics Circle Award finalist and New York Times bestselling author of The Line Becomes a River: Dispatches from the Border

"DW Gibson has written the definitive account of the U.S.-Mexico border wall. In 14 Miles, he shows how as each section of the barrier goes up, countless lives are being dismantled. This is an important and eye-opening book."—Reyna Grande, bestselling author of The Distance Between Us and A Dream Called Home

"Forget everything you think you know about President Trump's 'big, beautiful' border wall. DW Gibson has given us an unforgettable portrait of perhaps the most surreal political project in American history. 14 Miles is a beautifully written and compelling travelogue, capturing the human stories along the border that seem a million miles away from the political rhetoric in Washington. Gibson shows that building a wall might not keep anyone out of the U.S.A., but it's definitely changing the character of those of us on this side."—Christopher Leonard, New York Times bestselling author of Kochland: The Secret History of Koch Industries and Corporate Power in America

"DW Gibson brings us an up-close and intimate account of what's really happening with the construction of the southern border wall, from the people who live and work there, from those whose lives have been most impacted by this ill-fated attempt to deal with the crisis on the border. Meet the deportados, artists, activists, Border Patrol agents, priests, ranchers, vigilantes, polleros, and lawyers. Their own words, unfiltered, on what's happening beyond the rhetoric and sound bites. This book is an immersive experience that will bring you closer to one of the most important and misunderstood issues of our time." —Oscar Cásares, author of Where We Come From

"A timely and eye-opening work of witness. Sometimes searing, always revelatory, Gibson allows the voices of the desert to tell their own harrowing stories."—Luis Alberto Urrea, bestselling author of The Devil's Highway and The House of Broken Angels
Simon & Schuster, 9781501183416, 352pp.
Publication Date: July 7, 2020
About the Author
DW Gibson is the author of the award-winning book The Edge Becomes the Center: An Oral History of Gentrification in the Twenty-First Century and Not Working: People Talk About Losing a Job and Finding Their Way in Today's Changing Economy. He shared a National Magazine Award for his work on an oral history of Bedford-Stuyvesant, Brooklyn. His work has also appeared in Harper's, The New York Times, The Washington Post, The Nation, The Village Voice, and The Caravan. Gibson is a contributor to NPR's All Things Considered and a frequent guest host for WNYC programming. He is also the author of 14 Miles.