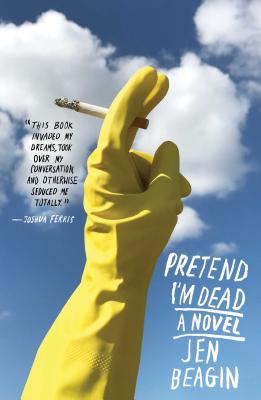 Pretend I'm Dead
A Novel
Hardcover

* Individual store prices may vary.
Other Editions of This Title:
Digital Audiobook (5/14/2018)
Paperback (1/8/2019)
Compact Disc (5/15/2018)
Paperback (10/1/2015)
Description
NAMED A BEST BOOK of the YEAR by O, THE OPRAH MAGAZINE, REFINERY 29, and KIRKUS REVIEWS
SHORTLISTED FOR THE CENTER FOR FICTION FIRST NOVEL PRIZE

Miranda July meets Mary Karr in this brilliant debut novel from Jen Beagin, Whiting Award winner and "one of the freshest voices I've read in years—funny, wise, whip-smart and compassionate" (Jami Attenberg, author of The Middlesteins), about a cleaning lady on a quest for self-acceptance after her relationship with a loveable junkie goes awry.

Jen Beagin's quirky, moving, "frank and unflinching" (Josh Ferris) debut novel introduces an unforgettable character, Mona—almost twenty-four, emotionally adrift, and cleaning houses to get by. Handing out clean needles to drug addicts, she falls for a recipient she calls Mr. Disgusting, who proceeds to break her heart in unimaginable ways.

In search of healing, Mona decamps to Taos, New Mexico, for a fresh start, where she finds a community of seekers and cast-offs, all of whom have one or two things to teach her—the pajama-wearing, blissed-out New Agers, the slightly creepy client with peculiar tastes in controlled substances, the psychic who might really be psychic. But always lurking just beneath the surface are her memories of growing up in a chaotic, destructive family from which she's trying to disentangle herself, and the larger legacy of the past she left behind.

The story of Mona's journey to find her place in this working-class American world is at once hilarious and wonderfully strange, true to life and boldly human, and introduces a stunningly one-of-a-kind new voice in American fiction.
Praise For Pretend I'm Dead: A Novel…
"One of the most anticipated literary debuts of the year... Pretend I'm Dead traces a cleaning woman's journey to self-acceptance in alternately warm, sharp, and deeply wise fashion... Scathingly funny."
— Entertainment Weekly

"Rib-ticklingly funny-sad... [Beagin] works magic in the space between hilarity and heartbreak... Absurdly affecting."
— O Magazine, a Best Book of 2018

"How can you resist a love story in which the object of desire is named Mr. Disgusting? Like Denis Johnson, Jen Beagin is able to find humanity and wonder (and yes, love) in some of the most forlorn and hopeless corners of our world."
— Tom Perrotta, author of Mrs. Fletcher and The Leftovers

"Pretend I'm Dead by Jen Beagin is like one of those old-fashioned classics by Charles Bukowski or John Fante or, more recently, Denis Johnson, a shambling, lyrical dispatch from the dive bars and the flop houses where the downtrodden, divested of hope, livelihood, good health, and any number of other markers of respectability, nevertheless retain full possession of their hearts and minds, their integrity, their souls, too, perhaps--and no one nearly as triumphantly as Mona Boyle, Beagin's heart-breaking hero & alter-ego. Rare is the encounter with such a frank and unflinching voice reporting from life on the edge, and rarer still the humor and compassion that Beagin manages to locate in some of the country's, and the psyche's, darkest corners. This book invaded my dreams, took over my conversation, and otherwise seduced me totally."
— Joshua Ferris, author of Then We Came to the End

"Jen Beagin has one of the freshest voices I've read in years - funny, wise, whip-smart and compassionate. I tore through Pretend I'm Dead with a deep sense of affection for all of its beautifully flawed characters and their bittersweet lives."
— Jami Attenberg, author of The Middlesteins and All Grown Up

"Pretend I'm Dead is funny, weird, disturbing, and just a touch magical. Mona, our main character, is such fabulous company, even when she wants everyone in her life to leave her alone. Jen Beagin's novel will stare you down, mesmerize you, and dare you to laugh."
— Annie Hartnett, author of Rabbit Cake

"Sharp but empathetic... Clear-eyed and funny... What gives this novel its heart is Beagin's capacity for seeing... Beagin makes [her theme] fresh with her sly, funny, compassionate voice. This is a terrific debut. Singularly enjoyable."
— Kirkus, starred review

"Beagin's debut is grungy and ribald, melancholic and funny. Throw in a little wisdom, schmaltz and a few useful housekeeping tips, and Pretend I'm Dead delivers a real bang for the buck."
— Shelf Awareness

"Beagin's work has been compared to Denis Johnson, which is high praise indeed, and totally deserved based on this smart, funny, darkly profound debut."
— Nylon

"If nuanced, funny, dark, utterly unpretentious literature is your drug of choice, Jen Beagin's Pretend I'm Dead constitutes an epic score. Please enjoy responsibly."
— Elisa Albert, author of After Birth

"In Jen Beagin's Pretend I'm Dead, the brilliant and damaged young proprietress of Bee's Knees Housekeeping is continually in danger of too much information. She cleans people's homes, all those telling, secret, even intimate spaces, and reflected back are the secrets of her own past, the million sadnesses. Despite Mona's wicked sense of humor, too much contends for her fine heart in this daily work. Funny, supremely candid, this debut hurt me perfectly on every page."
— Ron Carlson, author of Return to Oakpine

"Pretend I'm Dead is utterly engaging, laugh-out-loud funny, and always compelling. Mona is an irresistible character, and I loved being in her head and hearing her thoughts. In short, I was rooting for her straight through. Each sentence is alive, vibrant and quaking. Beagin's writing is fearless and bold, yet the book is entirely accessible and even relatable."
— Jessica Anya Blau, author of The Wonder Bread Summer

"With her droll humor and hilarious (but also earnest) observations, the 24-year-old narrator of Pretend I'm Dead had us hooked from page one. Mona gets by cleaning houses; in her free time, she hands out clean needles to heroin junkies. She is adrift; a dreamer without the fuel to make her dreams real. Pretend I'm Dead follows Mona as she moves to a new city, through a few relationships. But reciting the plot doesn't do the book justice. Glide through Mona's series of bad decisions with her – she's a good companion."
— Refinery 29, a Best Book of 2018
Scribner, 9781501183935, 240pp.
Publication Date: May 15, 2018
About the Author
Jen Beagin holds an MFA in creative writing from the University of California, Irvine, and is a recipient of a 2017 Whiting Award in fiction. She is the author of Pretend I'm Dead and Vacuum in the Dark. A former cleaning lady, she lives in Hudson, New York.
or
Not Currently Available for Direct Purchase