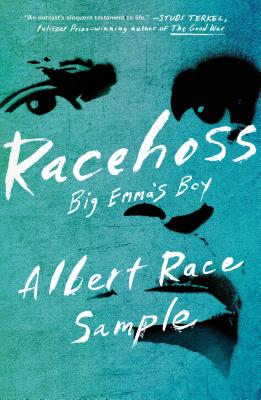 Racehoss
Big Emma's Boy
Hardcover

* Individual store prices may vary.
Other Editions of This Title:
Paperback (5/22/2018)
Description
"A timeless classic" (San Antonio Express-News), reissued with a new foreword, afterword, and ten percent more material about a black man who spent seventeen years on a brutal Texas prison plantation and underwent a remarkable transformation.

First published in 1984, Racehoss: Big Emma's Boy is Albert Race Sample's "unforgettable" (The Dallas Morning News) tale of resilience, revelation, and redemption. Born in 1930, the mixed-race son of a hard-drinking black prostitute and a white cotton broker, Sample was raised in the Jim Crow South by an abusive mother who refused to let her son—who could pass for white—call her Mama. He watched for the police while she worked, whether as a prostitute, bootlegger, or running the best dice game in town. He loved his mother deeply but could no longer take her abuse and ran away from home at the age of twelve.

In his early twenties, Sample was arrested for burglary, robbery, and robbery by assault and was sentenced to nearly twenty years in the Texas prison system in the 1950s and 60s. His light complexion made him stand out in the all-black prison plantation known as the "burnin' hell," where he and over four hundred prisoners picked cotton and worked the land while white shotgun-carrying guards followed on horseback. Sample earned the moniker "Racehoss" for his ability to hoe cotton faster than anyone else in his squad. A profound spiritual awakening in solitary confinement was a decisive moment for him, and he became determined to turn his life around. When he was finally released in 1972, he did just that.

Though Sample was incarcerated in the twentieth century, his memoir reads like it came from the nineteenth. With new stories that had been edited out of the first edition, a foreword by Texas attorney and writer David R. Dow, and an afterword by Sample's widow, Carol, this new edition of Racehoss: Big Emma's Boy offers a more complete picture of this extraordinary time in America's recent past.
Praise For Racehoss: Big Emma's Boy…
"Masterful ... A great story satisfies the mind and soul in ways that few things can."
—The Austin Chronicle

"An outcast's eloquent testament to life."
—Studs Terkel, Pulitzer Prize ­­winning author of The Good War

"As remarkable as Wright's [Black Boy]."
—Richard Stern, The Chicago Tribune

"Startling as a cell-door clanking shut ... Sample has made it, and Racehoss is his proof."
—Peter C. Wyckoff, The Houston Post

"Extraordinary ... The prison stories are raw, horrible and occasionally funny. Again, the absence of bitterness is remarkable. Sample doesn't tell you about it — he puts you there."
—Molly Ivins, Dallas Times Herald

"As he spoke, he began to weep, quietly at first, and then sobbing. Scores of listeners have written and called to tell me how they sat, spellbound, hearing Sample relive his spiritual experience. Many said they wept right along with him. Other were moved to reflect on their own lives because of his inspirational words."
—Diane Rehm, The Washington Post

"The book reads like good naturalistic fiction: strong narrative and dialogue, and many incidents of raw, shocking and absolutely convincing authenticity ... [The] book is also warmly funny. The prisoners are brought to life through Sample's accurate ear for how people talk, and it's clear that humor is one of the means for surviving in hell."
—Don Graham, Dallas Morning News

"[Sample is] an affecting storyteller."
—Brian Moss, New York Daily News

"The book does read like a novel .. It offers glimpses into characters any master of fiction would have been proud to have created ... Sample captures the black way of talking so well that the speech, spiced with folksy sayings and similie, is a joy to read."
—Mike Cox, Austin American Statesman

"[At] the end I knew I had read a classic. If you accept Racehoss in the right spirit, it will blow your mind."
—Maury Maverick, San Antonio Express-News

"Sample tells the story without editorial comment. He lets the facts do his arguing ... some of the incidents would be impossible to understand in any other setting."
—Bill Walraven, Corpus Christi Caller-Times

"Albert Sample's book offers a powerful chronicle of the Texas penal system, life in Depression era East Texas and of how, despite seemingly insurmountable odds, one man rose above the scum that life can dish out and still came out a winner."
—Mike Elswick, Longview Morning Journal

"Some critics have put Sample's storytelling in the same realm as Twain and Faulkner ... The book, he says, is an effort to share the hope he found [one] day in solitary [confinement]."
—Chris Welin, The Dallas Morning News

"An important book to read."
—Jan Jarboe, San Antonio Express

"What [Sample] went though and how he survived is a remarkable true story. It should be "must" reading for all first offenders, especially those who consider themselves tough."
—Wes Moon, Asbury Park Press
Scribner, 9781501183973, 416pp.
Publication Date: May 22, 2018
About the Author
A multi-recidivist and after seventeen years of incarceration, Albert Race Sample, author of Racehoss: Big Emma's Boy, became the first ex-convict in Texas to work out of the Office of the Governor, to serve as a probation officer for Travis County, and to serve on the staff of the State Bar of Texas. He was granted a full pardon and restoration of all civil rights in 1976. The recipient of numerous humanitarian awards and the Outstanding Crime Prevention Citizen of Texas Award, Sample resided in Austin with his wife, Carol, until his passing in 2005.

David R. Dow is the Cullen Professor of Law at the University of Houston Law Center, the Rorschach Visiting Professor of History at Rice, and the founder of the Texas Innocence Network. His books include Executed on a Technicality, The Autobiography of an Execution, and Things I've Learned From Dying.
or
Not Currently Available for Direct Purchase