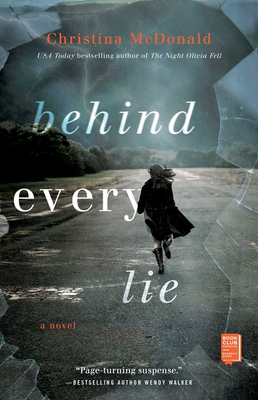 Behind Every Lie
Paperback

* Individual store prices may vary.
Other Editions of This Title:
Digital Audiobook (2/3/2020)
Compact Disc (2/4/2020)
Description
From the USA TODAY bestselling author of The Night Olivia Fell—an "emotionally charged mystery" (Mary Kubica, New York Times bestselling author)—comes a thrilling new suspense novel about the insidious nature of family secrets…and their deadly potential.

If you can't remember it, how do you prove you didn't do it?

Eva Hansen wakes in the hospital after being struck by lightning and discovers her mother, Kat, has been murdered. Eva was found unconscious down the street. She can't remember what happened but the police are highly suspicious of her.

Determined to clear her name, Eva heads from Seattle to London—Kat's former home—for answers. But as she unravels her mother's carefully held secrets, Eva soon realizes that someone doesn't want her to know the truth. And with violent memories beginning to emerge, Eva doesn't know who to trust. Least of all herself.

Told in alternating perspectives from Eva's search for answers and Kat's mysterious past, Christina McDonald has crafted another "complex, emotionally intense" (Publishers Weekly) domestic thriller. Perfect for fans of Lisa Jewell's I Found You and Karin Slaughter's Pieces of Her, Behind Every Lie explores the complicated nature of mother-daughter relationships, family trauma, and the danger behind long-held secrets.
Praise For Behind Every Lie…
Praise for Behind Every Lie

"Behind Every Lie is a deep, suspenseful novel packed with family secrets. Christina McDonald has a true gift for creating characters that are so well-developed, it feels like you know them. An outstanding achievement!"
— Samantha Downing, author of the #1 International Bestseller My Lovely Wife

"In Behind Every Lie, Christina McDonald brilliantly intertwines page-turning suspense with jaw-dropping family secrets. An emotionally-charged domestic thriller that is sure to please!"
— Wendy Walker, national bestselling author of The Night Before

"A riveting collision of motherhood and memory—where a sinister and inescapable past haunts those struggling to make sense of their lives and protect their children. What's Behind Every Lie is a shocking truth—and for readers, a jaw-dropping page-turning whirlwind of a thriller. Instantly captivating, and endlessly surprising! Christina McDonald is a star."
— Hank Phillippi Ryan, USA Today Bestselling author of The Murder List

"A clever, tense, and absorbing novel--this tale of family secrets had me racing towards the final pages."
— Emma Rous, bestselling author of The Au Pair

"Christina McDonald follows up her smashing debut The Night Olivia Fell with another winner. McDonald starts with a bang, then builds the action steadily, a gradual unfolding of secrets and lies that will have you constantly switching alliances. Read it like I did, in one sitting and straight through to the end, because you won't want to put this one down."
— Kimberly Belle, internationally bestselling author of Dear Wife

"Christina McDonald's Behind Every Lie is a layered, gut-wrenching domestic thriller that explores the complexities of mothers and daughters and the secrets families keep. Smart and intense, and with more than enough twists to give you whiplash, McDonald's beautiful, emotional storytelling will leave you breathless. I don't think I exhaled until the end."
— Jennifer Hillier, author of Jar of Hearts, ITW Award winner for Best Novel

"Christina McDonald's Behind Every Lie is a cleverly plotted and emotionally charged page-turner about memory, trusting yourself, grieving, and letting go. Family secrets run deep in this compelling exploration of how far a mother will go to protect her child. Full of twists and turns, this is domestic suspense at its best!"
— Karen Katchur, bestselling author of River Bodies

"In Behind Every Lie, a lightning strike survivor discovers that memories are fallible, identities are fungible, and she can't trust anyone—including herself. With nuanced and dubiously trustworthy characters, dual timelines revealing decades of secrets, and a tension-packed plot, Christina McDonald has crafted an engrossing and utterly addictive thriller. I couldn't turn the pages fast enough!"
— Kathleen Barber, author of Truth Be Told

"Addictive and emotionally resonant, Behind Every Lie is a twisty, fast-paced thriller with secrets nestled inside secrets. Nothing is as it seems in this story exploring the sorrow and strength of brokenness, and with complex characters and a relentlessly compelling plot, you'll be unable to stop reading it—or forget it once you do."
— Megan Collins, author of The Winter Sister

"[An] intriguing suspense novel... McDonald weaves together Eva and Kat's narratives, which span past and present, to create a compulsively readable and fast-paced yarn that explores the lingering effects of trauma and abuse as well as the complex bonds between mothers and daughters. Readers who enjoy character-driven thrillers will be pleased."
— Publishers Weekly

"Told in alternating narratives from Eva's traumatic life and her mother's mysterious past, the story twists and turns with one shocking revelation after another until it threatens to careen out of control. But behind every lie there is always a reason, and there is a satisfying ending once everyone's hand is played out."
— Booklist

"Behind Every Lie is a page-turner and an entertaining read. Many readers will enjoy Eva's breathless race of discovery and journey of survival."
— Bookreporter

Praise for The Night Olivia Fell

"The Night Olivia Fell by Christina McDonald is a stunning thriller that instantly grabbed me by the throat and wouldn't let go until the final, poignant sentence. McDonald artfully brings to the page the emotionally fraught, complex relationship between mother and daughter in this atmospheric, absorbing page-turner. The Night Olivia Fell cracked my heart into a million pieces and then slowly pieced it back together again."
— Heather Gudenkauf, New York Times bestselling author of The Weight of Silence and Not a Sound

"In Christina McDonald's The Night Olivia Fell, Abi gets the call every mother fears: her daughter has fallen from a bridge and is brain dead...but was it an accident or a crime? McDonald reveals the answer in steady, page-turning increments, a gradual unfolding of truths and long-held secrets that culminates in a heart-wrenching resolution. A suspenseful debut that packs an emotional punch."
— Kimberly Belle, internationally bestselling author of Three Days Missing and The Marriage Lie

"I was absolutely hooked, it was such an emotional read that I was broken by the end. Heartbreaking and thrilling at the same time."
— Jenny Blackhurst, bestselling author of How I Lost You

"Beautifully written and moving with characters I felt I knew, The Night Olivia Fell is a stunning debut that kept me guessing right until the final, heartbreaking twist."
— Claire Douglas, bestselling author The Sisters, Local Girl Missing and Last Seen

"Christina McDonald's The Night Olivia Fell takes a mother's worst nightmare to a whole new level. This is an intense, twisting, heartbreaking thriller that explores in painful detail the consequences of family secrets. The reader will be riveted until the final page...and may even feel a bit of hope when all is said and done. Don't miss this one!"


— David Bell, bestselling author of Somebody's Daughter

"Christina McDonald has crafted an emotionally-charged mystery that will leave readers equally gut-wretched and gripped. The Night Olivia Fell welcomes a talented new addition to the world of domestic suspense."


— Mary Kubica, New York Times bestselling author of The Good Girl and When The Lights Go Out

"[A] complex, emotionally intense first novel…Fans of twisty domestic suspense novels will be rewarded."
— Publishers Weekly

"McDonald ratchets up the suspense with every chapter, including plenty of gasp-worthy twists and turns as Abi and Olivia's story pushes towards its devastating conclusion. The suspense is supplemented by relationships of surprising depth and tenderness, providing balance and nuance to the story. A worthy debut from an up-and-coming domestic-suspense author; readers who enjoy mother-daughter stories in the genre should line up for this one."
— Booklist (Starred Review)

"This book is a tearjerker, so have tissues at hand. A well-structured story of how lying corrupts from the start that will keep pages turning."
— Library Journal

"A thrilling page-turner you have to read."
— PopSguar
Gallery Books, 9781501184031, 336pp.
Publication Date: February 4, 2020
About the Author
Christina McDonald is the USA TODAY bestselling author of Do No Harm, Behind Every Lie, and The Night Olivia Fell, which has been optioned for television by a major Hollywood studio. Originally from Seattle, Washington, she now lives in London, England, with her husband, two sons, and their dog, Tango.