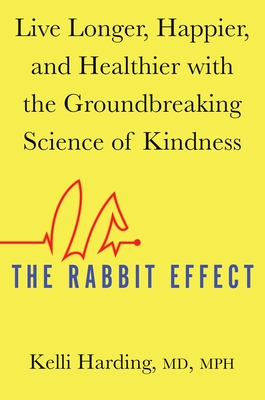 The Rabbit Effect
Live Longer, Happier, and Healthier with the Groundbreaking Science of Kindness
Hardcover

* Individual store prices may vary.
Other Editions of This Title:
Digital Audiobook (8/26/2019)
Paperback (11/3/2020)
Compact Disc (8/27/2019)
Description
Discover an eye-opening and provocative new way to look at our health based on the latest groundbreaking discoveries in the science of compassion, kindness, and human connection.

For all of its rigor and science, medicine is full of stories—mysteries—that doctors and research cannot explain. Patients who are biologically healthy, but feel ill. Patients who are biologically ill, but feel healthy. What if these health mysteries could teach us something about what really makes us sick—and how to be healthy?

When Columbia University doctor Kelli Harding began her clinical practice, she never intended to explore the invisible factors behind our health. But then there were the rabbits. In 1978, a seemingly straightforward experiment designed to establish the relationship between high blood cholesterol and heart health in rabbits discovered that kindness—in the form of a particularly nurturing post-doc who pet and spoke to the lab rabbits as she fed them—made the difference between a heart attack and a healthy heart.

As Dr. Kelli Harding reveals in this eye-opening book, the rabbits were just the beginning of a much larger story. Groundbreaking new research shows that love, friendship, community, life's purpose, and our environment can have a greater impact on our health than anything that happens in the doctor's office. For instance, chronic loneliness can be as unhealthy as smoking a pack of cigarettes a day; napping regularly can decrease one's risk of heart disease; and people with purpose are less likely to get sick. Through provocative storytelling and compelling research, Harding presents a new model for you to take charge of your health.

At once paradigm-shifting and empowering, The Rabbit Effect shares a radical new way to think about health, wellness, and how we live.
Praise For The Rabbit Effect: Live Longer, Happier, and Healthier with the Groundbreaking Science of Kindness…
"A blending of free-flowing confessional prose and scholarly research . . . Amid the clanging political noise about Obamacare, Medicare, Medicaid, health insurance, and thieving pharmaceutical companies, Kelli Harding stands apart from the horde . . ."
— The Washington Post

"[A]n inspiring guide that will appeal to health enthusiasts fed up with the usual '10-step fitness plan or . . . two-week diet.' . . . Harding's book will leave readers with much to ponder and . . . an encouraging rationale for treating others more kindly."
— Publishers Weekly

"Readers will be inspired to make these manageable, life-altering changes."
— Booklist

"[Offering] the kind of do-able and wise solutions that make for a better life, [Dr. Harding] illustrates the deep connections between stress—and the inflammatory response it evokes—and our physical and mental health. . . . She beautifully identifies kindness as an endlessly renewable resource—the light we all can shine on the lives of others and in so doing bathe in its grace ourselves."
— New York Journal of Books

"[T]he most interesting [book on kindness] . . . personal, while also steeped in data . . . Harding [shows] how our interconnectedness helps us stay healthier . . . I couldn't help tearing up."
— New York Times Book Review

"An illuminating exploration of a new vision of the practice of medicine and health that demonstrates what our lives could be like if we targeted our 'hidden factors of health,' looked more to our social world for solutions to our health woes, and recognized how beneficial and transformative the use of kindness is . . . I give this book a glowing recommendation."
— Psychiatric Times

"A beautifully written, inspiring book! The Rabbit Effect is truly eye opening and a joy to read. It illuminates vital public health research showing kindness in our day-to-day lives can make the world a healthier, happier place. I recommend this book highly for anyone who wants to live more healthfully."
— Christy Turlington Burns, humanitarian and CEO of Every Mother Counts

"A wonderful demonstration of how our physical health is affected by the kindness we receive—and the kindness we give. Beautifully written and based on really hard science."
— Lord Richard Layard, professor, London School of Economics, coauthor of The World Happiness Report

"Dr. Harding weaves together compelling clinical vignettes with fascinating medical evidence. This comprehensive, holistic view of health is critical, much needed, and absolutely convincing."
— Arthur J. Barsky, MD, professor of Psychiatry, Harvard Medical School

"[A] blockbuster book. . . . Dr. Harding shows us that, by being compassionate, giving, and kind human beings, we can win the great rewards of vitality and longevity. Read this book! It will change your life."
— Mindy Thompson Fullilove, MD, LFAPA, HonAIA, author of Urban Alchemy: Restoring Joy in America's Sorted-Out Cities

"In this brilliant and delightfully practical book, Dr. Kelli Harding unveils the hidden factors that determine our health and well-being. . . . The Rabbit Effect's radical argument is that the most promising remedies for our biomedical problems will come from the social world, not the doctor's office or pharmaceutical lab."
— Eric Klinenberg, #1 New York Times bestselling coauthor of Modern Romance and author of Palaces for the People

"An inspiring, evidence-based and beautifully written exploration of the profound impact that love, connection and kindness have on our health. Harding's book should be required reading for all health practitioners and anyone with an interest in a living a longer, healthier and happier life."
— Mark Williamson, PhD, director of Action for Happiness

"This book is fascinating because of Dr. Kelli Harding's unique ability to combine stories with a deep understanding of the scientific foundation of the stories. This is an extremely compelling book, which will entertain, educate, and impact the readers."
— Moshe Szyf, PhD, GlaxoSmithKline and James McGill Professor, Department of Pharmacology & Therapeutics, McGill University Medical School

"It's utterly wonderful. Dr. Harding has reviewed the science on why community matters to individuals' physical and mental health in a truly masterful manner, which will reach both scientific and lay audiences. I learned a great deal."
— Laurence Guttmacher, MD, professor of Clinical Psychiatry, Clinical Medical Humanities, and Bioethics at the University of Rochester, School of Medicine & Dentistry

"Dr. Harding knows what our mental health needs. More Kindness! This book has a powerful message for us all—backed by ample research—and woven together with the warmth of an expert clinician."
— Drew Ramsey, MD, assistant clinical professor of Psychiatry at Columbia University and author of Eat Complete

"When we first conducted the rabbit studies over 40 years ago, we never imagined the critical role that relationships play in health. I'm excited that those studies helped motivate this splendid book. Dr. Harding's evidence-based exploration provides readers with a new way to think about human disease, one rooted in the importance of kindness and relationships. As stated in the Ecclesiastes proverb quoted in the book, a 'faithful friend is the medicine of life.'"
— Robert M. Nerem, PhD

"Blest are those patients cared for tenderly and wisely by Dr. Kelli Harding. Blest, too, are those who read her book and absorb it into their physical and spiritual lives."
— Colman McCarthy, journalist and peace teacher
Atria Books, 9781501184260, 272pp.
Publication Date: August 27, 2019
About the Author
Dr. Kelli Harding is an assistant professor of psychiatry at Columbia University Medical Center. She is a diplomat of the American Board of Psychiatry and Neurology, as well as boarded in the specialty of psychosomatic (mind-body) medicine. Kelli works in the emergency room at New York-Presbyterian Hospital, and has appeared on Today, Good Morning America, NPR, The New York Times, Medscape, WFUV's Cityscape, and US News & World Report.
or
Not Currently Available for Direct Purchase