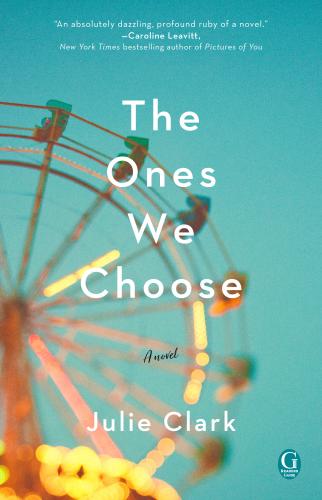 The Ones We Choose
Paperback

* Individual store prices may vary.
Other Editions of This Title:
MP3 CD (2/5/2019)
Description
Lisa Genova meets 23andMe in this exploration of the genetic and emotional ties that bind, as debut author Julie Clark delivers a compelling read about a young boy desperate to find his place in this world, a mother coming to terms with her own past, and the healing power of forgiveness.

The powerful forces of science and family collide when geneticist Paige Robson finds her world in upheaval: Her eight-year-old son Miles is struggling to fit in at his new school and begins asking questions about his biological father that Paige can't answer—until fate thrusts the anonymous donor she used into their lives.

Paige's carefully constructed life begins to unravel as the truth of Miles's paternity threatens to destroy everything she has grown to cherish. As Paige slowly opens herself up—by befriending an eccentric mother, confronting her own deeply buried vulnerabilities, and trying to make sense of her absent father's unexpected return—she realizes breakthroughs aren't only for the lab. But when tragedy strikes, Paige must face the consequences of sharing a secret only she knows.

With grace and humor, Julie Clark shows that while the science is fascinating, solving these intimate mysteries of who we are and where we come from unleashes emotions more complex than the strands of DNA that shape us.
Praise For The Ones We Choose…
"How could I not love a debut about science, secrets, DNA, and how the traumas of our ancestors still live within our very cells? With gorgeous prose, and a deep emotional resonance, The Ones We Choose is about the science of love, how our DNA shapes us, and a mother's fierce battle to protect her son while confronting what really makes our identity ours, what and who we choose to let in, and what and who we don't. An absolutely dazzling, profound ruby of a novel."
— Caroline Leavitt, New York Times bestselling author of Pictures of You and Cruel Beautiful World

"A novel with a wonderfully smart and strong protagonist, Julie Clark's debut The Ones We Choose is an impressive and surprising combination of hard science and raw emotion. In this absorbing story of friendship, parenting, and the intensity of the sibling bond, Clark reveals how messy family life can be and how the mess itself might be of great value. An engaging read!"
— Amy Poeppel, author of Small Admissions

"An engaging, heart-felt alchemy of genetics and emotion, THE ONES WE CHOOSE is a unique story that will having you thinking about the true meaning of family and how our heritage silently weaves its way into every choice we make."
— Amy Hatvany, author of Outside the Lines

"This chimera of heart and science skillfully produces an extraordinary breakthrough novel. I love smart fiction with a sharp heroine at the core. Julie Clark has perceptively given us that in The Ones We Choose. A story of mother and son and the ties that bind, right down to the marrow. Trust me, you're going to want to read this."
— Sarah McCoy, New York Times and international bestselling author of Marilla of Green Gables and The Mapmaker's Children

"A unique marriage of love and science, Julie Clark's powerful debut The Ones We Choose proves family is what we make it. Poignant and captivating, this is a read-in-one-sitting story!"
— Karma Brown, bestselling author of The Choices We Make
Gallery Books, 9781501184475, 368pp.
Publication Date: May 8, 2018
About the Author
Born and raised in Santa Monica, California, Julie Clark grew up reading books on the beach while everyone else surfed. After attending college at University of the Pacific, and a brief stint working in the athletic department at University of California, Berkeley, she returned home to Santa Monica to teach. She now lives there with her two young sons and a golden doodle with poor impulse control. The Ones We Choose is her first novel.