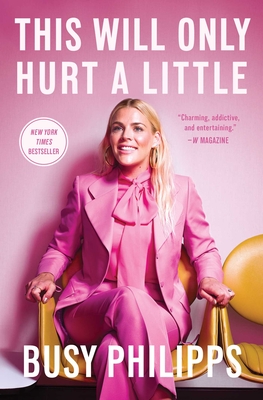 This Will Only Hurt a Little
Paperback

* Individual store prices may vary.
Other Editions of This Title:
Digital Audiobook (10/15/2018)
Hardcover (10/16/2018)
Description
A hilarious, heartfelt, and refreshingly honest memoir and New York Times bestseller by the beloved comedic actress known for her roles on Freaks and Geeks, Dawson's Creek, and Cougar Town who has become "the breakout star of Instagram stories...Imagine I Love Lucy mixed with a modern lifestyle guru" (The New Yorker).

There's no stopping Busy Philipps. From the time she was two and "aced out in her nudes" to explore the neighborhood (as her mom famously described her toddler jailbreak), Busy has always been headstrong, defiant, and determined not to miss out on all the fun. These qualities led her to leave Scottsdale, Arizona, at the age of nineteen to pursue her passion for acting in Hollywood. But much like her painful and painfully funny teenage years, chasing her dreams wasn't always easy and sometimes hurt more than a little.

In a memoir "that often reads like a Real World confessional or an open diary" (Kirkus Reviews), Busy opens up about chafing against a sexist system rife with on-set bullying and body shaming, being there when friends face shattering loss, enduring devastating personal and professional betrayals from those she loved best, and struggling with postpartum anxiety and the challenges of motherhood.

But Busy also brings to the page her sly sense of humor and the unshakeable sense that disappointment shouldn't stand in her way—even when she's knocked down both figuratively and literally (from a knee injury at her seventh-grade dance to a violent encounter on the set of Freaks and Geeks). The rough patches in her life are tempered by times of hilarity and joy: leveraging a flawless impression of Cher from Clueless into her first paid acting gig, helping reinvent a genre with cult classic Freaks and Geeks, becoming fast friends with Dawson's Creek castmate Michelle Williams, staging her own surprise wedding, conquering natural childbirth with the help of a Mad Men–themed hallucination, and of course, how her Instagram stories became "the most addictive thing on the internet right now" (Cosmopolitan).

Busy is the rare entertainer whose impressive arsenal of talents as an actress is equally matched by her storytelling ability, sense of humor, and sharp observations about life, love, and motherhood—"if you think you know Busy from her Instagram stories, you don't know the half of it" (Jenni Konner). Her conversational writing reminds us what we love about her on screens large and small. From "candid tales of celebrity life, mom life, and general Busy-ness" (W Magazine), This Will Only Hurt a Little "is everything we've been dying to hear about" (Bustle).
Praise For This Will Only Hurt a Little…
"You guys!! Busy is a legit writer with a voice as clear as a bell. This book is honest, funny, intimate, and well-observed by a person who has observed some sh*t."
—Tina Fey

"Judy Blume meets Karl Ove Knausgaard meets one brave woman from Arizona. On the page, Philipps' toughness shines through—a rare and feminine ethical code; devoted and blunt. It's a thrill to watch her stumble right up until the very moment she storms the f*cking gates. Also: just as casually addictive as her Instastories but no guilt because it's a book."
—Miranda July

"If you think you know Busy from her Instagram stories, you don't know the half of it. This book delves deeply and candidly into Busy's life in a way that will surprise and delight you. She does not shy away from the darker stories, but she'll make you laugh (hard) while you read them. You might not even know if the tears or from laughter or sorrow or recognition. You will see yourself in the book. You can't help it. We are lucky to have Busy's rigorously authentic book (personality) in our lives."
—Jenni Konner

"To know Busy Philipps is to love Busy Philipps (and follow her on Instagram). And now, it's also to read her funny, refreshingly candid memoir about Hollywood, motherhood, and BFFhood (with her Dawson's Creek castmate Michelle Williams, of course)."
—Cosmopolitan

"Philipps paints a picture of what it's like to be a woman in the world of acting, from sexism to body shaming to juggling parenthood and career in a celebrity memoir that stands apart in a crowded field."
—Library Journal

"One of Instagram's realest, funniest moms-slash-humans brings that humor and honesty to a memoir that anyone will love, regardless of whether or not you were obsessed with Freaks and Geeks. Philipps entertained us for years on TV, but her behind-the-scenes experiences battling sexism, becoming a mother, and forming famous friendships with the likes of Michelle Williams make for an engrossing personal history."
—Apartment Therapy

"From dealing with body shaming, motherhood, betrayal and more, This Will Only Hurt a Little by Busy Philipps helps us to rise above adversity. With a sly sense of humor and an unapologetic wit, this is the book you will read over and over again."
—USMagazine.com

"Her voice is clear, bright and engaging—'sparkly,' to borrow her word."
—StarTribune.com

"Actress and, more recently, Instagram star Phillips shares the deeply candid story of her life and career in a book that's both funny and straight-talking in its assessment of the challenges of making it in a sexist system (she recounts instances of on-set bullying and body shaming on the sets of shows like Freaks and Geeks). As she does in her acting and in her social media, Phillips holds back nothing on the page, neither her triumphs nor her stumbles. Fans will find that Philipps remains a social media star with toughness, depth, and a sense of humor."
—B&N Blog
Gallery Books, 9781501184727, 320pp.
Publication Date: October 22, 2019
About the Author
Busy Philipps is an actress best known for roles in cult TV classics like Freaks and Geeks, Dawson's Creek, Cougar Town, ER, and, most recently, HBO's Vice Principals. She has appeared in fan-favorite films such as Made of Honor, I Don't Know How She Does It, He's Just Not That Into You, White Chicks, and The Gift. She also was one of the writers of the hit film Blades of Glory. She is the host of Busy Tonight on E!. Busy lives in Los Angeles with her husband and their two daughters.