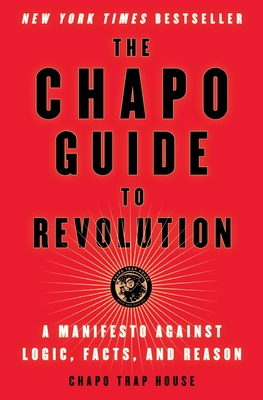 The Chapo Guide to Revolution
A Manifesto Against Logic, Facts, and Reason
Paperback

* Individual store prices may vary.
Other Editions of This Title:
Digital Audiobook (8/20/2018)
Hardcover (8/21/2018)
Description
Instant New York Times bestseller
"Howard Zinn on acid or some bullsh*t like that." —Tim Heidecker

The creators of the cult-hit podcast Chapo Trap House deliver a manifesto for everyone who feels orphaned and alienated—politically, culturally, and economically—by the lanyard-wearing Wall Street centrism of the left and the lizard-brained atavism of the right: there is a better way, the Chapo Way.

In a guide that reads like "a weirder, smarter, and deliciously meaner version of The Daily Show's 2004 America (The Book)" (Paste), Chapo Trap House shows you that you don't have to side with either sinking ships. These self-described "assholes from the internet" offer a fully ironic ideology for all who feel politically hopeless and prefer broadsides and tirades to reasoned debate.

Learn the "secret" history of the world, politics, media, and everything in-between that THEY don't want you to know and chart a course from our wretched present to a utopian future where one can post in the morning, game in the afternoon, and podcast after dinner without ever becoming a poster, gamer, or podcaster.

A book that's "as intellectually serious and analytically original as it is irreverent and funny" (Glenn Greenwald, New York Times bestselling author of No Place to Hide) The Chapo Guide to Revolution features illustrated taxonomies of contemporary liberal and conservative characters, biographies of important thought leaders, "never before seen" drafts of Aaron Sorkin's Newsroom manga, and the ten new laws that govern Chapo Year Zero (everyone gets a dog, billionaires are turned into Soylent, and logic is outlawed). If you're a fan of sacred cows, prisoners being taken, and holds being barred, then this book is NOT for you. However, if you feel disenfranchised from the political and cultural nightmare we're in, then Chapo, let's go…
Praise For The Chapo Guide to Revolution: A Manifesto Against Logic, Facts, and Reason…
"I haven't had my worldview exploded by a political work like this since reading Millie's Book in 1992."
— Patton Oswalt

"In my day it didn't take fifteen goddamn people to write a book, nevertheless this was an exceptional, funny and entertaining read. Howard Zinn on acid or some bullshit like that."
— Tim Heidecker

"The raucous Dirtbag hilarity of the Chapo crew sometimes masks the fact that they reliably provide some of the most incisive, sophisticated and thought-provoking political analysis found on any platform. Their book is as intellectually serious and analytically original as it is irreverent and funny, and it deserves substantial discussion and all of the gushing and angry reactions it will inevitably provoke." –Glenn Greenwald, New York Times bestselling author of No Place to Hide

"This is next level. This is an advancement of political/social satire and debate. Garrote sharp, acerbic, smart, inventive and truly laugh out loud funny, The Chapo Guide to Revolution feels like it was written by the offspring of the shotgun marriage of The Onion, Howard Zinn, Dorothy Parker, Bill Hicks, Noam Chomsky, and Jonathan Swift. If they all got together and f*cked and had one baby, I mean. I LOVED this book." –David Cross

"Chapo Trap House is a lot like The Three Stooges: three or four or maybe five sloppy numbskulls who can't fix a water leak, who quickly resort to violent name calling at any opportunity, engaging every obstacle with counterproductive praxis - and yet seem to get more accomplished in pie-ing the faces of one-percenters and couch-fascists than any of the Very Important Thinkers currently sucking air out of the atmosphere." –James Adomian, comedian

"Lovers of the podcast will revel in righteous takedowns and scathing portraits of galling political self-interest, while newcomers to the brand and veterans alike will enjoy the frank and funny introduction to the contemptible political players, online feuds, Marxist themes, and partisan blood-letting that are the grist of the Chapo podcast, and which have made it a site of catharsis for an entire doomed generation."—Briahna Joy Gray, Senior Politics Editor at The Intercept

"Finally a book that explains why I shouldn't like Matt Yglesias. And so many others. All the monsters we encounter online, have been laid out and torn asunder in spectacular fashion. This book is like those fleeting moments of the Chapo Trap House podcast that have clarity."—Dave Anthony, Coauthor of The United States of Absurdity

"The Guide is a weirder, smarter, and deliciously meaner version of The Daily Show's 2004 America (The Book): A Citizen's Guide to Democracy Inaction… if you love Chapo – and if you don't, you should – then by your own logic, you must love The Guide as well."—Paste

"Rather than being simply flip and nihilistic, features of the book, in particular its attention to climate change, carry a kind of raw, plangent earnestness. The result is a clear inheritor of a venerable tradition of American satire, reminiscent of Ambrose Bierce, H.L. Mencken, and Dorothy Parker, and something distinctively new—and very funny."
— Bookforum
Atria Books, 9781501187292, 320pp.
Publication Date: October 15, 2019
About the Author
Chapo Trap House is a collective of writers, artists, and satirists that began as a political comedy podcast in March 2016. Their biweekly show has been covered everywhere from The New Yorker and The Guardian to VICE and Paste magazine, which calls its creators "the vulgar, brilliant demigods of the new progressive left." Chapo is a mix of absurdist comedy and freewheeling commentary, skewering political and media figures and reviewing bad movies and books. Originally a trio of Internet-pals Will Menaker, Felix Biederman, and Matt Christman, the show has expanded its roster to writers Brendan James, Amber A'Lee Frost, and Virgil Texas. They live in Brooklyn, New York.