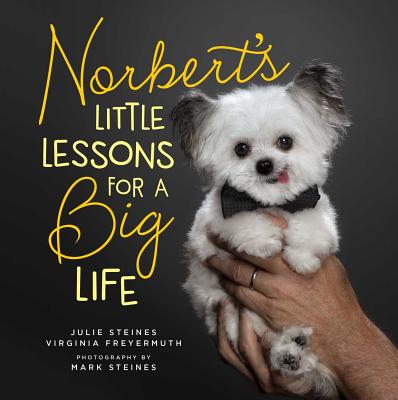 Norbert's Little Lessons for a Big Life (Hardcover)
Gallery Books, 9781501187315, 144pp.
Publication Date: October 10, 2017
* Individual store prices may vary.
Description
Norbert, the Internet's cutest and most popular therapy dog, shares the lessons he's learned from being a three-pound hero and philanthropist, demonstrating that you don't need to be big to make a big difference in the world.

Philosopher, intuitive healer, and fashion-forward snappy dresser, Norbert the tiny, mixed-breed therapy dog with a big heart shares his lessons on friendship, individuality, family, love, and more to help you shift your perspective and focus on what really matters in life. With fifty accompanying photographs throughout the book, Norbert hopes to continue his goal to spread smiles, inspire kindness, and bring comfort to those in need.
About the Author
With Norbert, Julie's three lb. registered therapy dog, Julie has built a global audience of 1.7 million highly engaged followers, known as The Norberthood. Through Facebook, Instagram, Twitter, and YouTube, Julie consistently promotes kindness and compassion, while inspiring Norbert's dedicated and passionate fans to spread smiles to others. Norbert has become a worldwide phenomenon and a captivating symbol of goodness and generosity of spirit. For the past seven years, Julie and Norbert have spent many hours volunteering at hospitals, nursing homes, school's fundraisers, and homeless shelters to bring comfort and smiles to people of all ages.

Most recently, her company created a Norbert mini-plush. Her websites are Norberthood.com and PollyParkerPress.com.

A national award-winning educator and artist, Virginia has given over 300 public presentations to people of all ages concerning the transformative capacities of art. She illustrated and designed Norbert's children's book series, authored by her daughter, Julie Steines, winning nine prestigious book awards and is the coauthor of Norbert's Little Lesson's for a Big Life. Together they founded the kindhearted mother/daughter independent publishing company Polly Parker Press. Her website is VirginiaFreyermuth.com.

Emmy Award­–winning journalist Mark Steines hosts Hallmark Channel's Emmy Award–nominated Home & Family. After more than seventeen years on Entertainment Tonight, Steines and his co-host Debbie Matenopoulos entertain and inform their audience daily with an array of entertaining and relevant lifestyle topics, such as do-it-yourself projects, cooking, celebrities, and experts. In 2017, Steines and Leeza Gibbons will take over as the new hosts of the KTLA's Tournament of Roses Parade broadcast.

Mark receives rave reviews as a photographer. His photo book See The Light: A Passage to Sierra Leone documents the Light House Medical Mission's trip to raise awareness for fresh water in impoverished countries. He's shot over thirty celebrities for Bootcampagin.org's patriotic image campaign, and editorial work for Focus Magazine, Groomer to Groomer Magazine, Life After 50, and Paper Magazine. His website is MarkSteines.com.