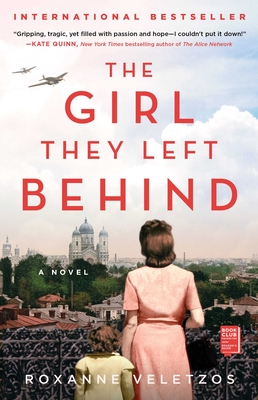 The Girl They Left Behind
A Novel
Paperback

* Individual store prices may vary.
Other Editions of This Title:
Digital Audiobook (10/8/2018)
Compact Disc (10/9/2018)
Hardcover (10/9/2018)
Library Binding, Large Print (2/27/2019)
Description
A sweeping historical romance that is "gripping, tragic, yet filled with passion and hope" (Kate Quinn, New York Times bestselling author), offering a vivid and unique portrayal of life in war-torn 1941 Bucharest during World War II and its aftermath—perfect for fans of Lilac Girls and Sarah's Key.

On a freezing night in January 1941, a little Jewish girl is found on the steps of an apartment building in Bucharest. With Romania recently allied with the Nazis, the Jewish population is in grave danger so the girl is placed in an orphanage and eventually adopted by a wealthy childless couple who name her Natalia. As she assimilates into her new life, she all but forgets the parents who were forced to leave her behind.

As a young woman in Soviet Romania, Natalia crosses paths with Victor—an important official in the Communist regime that she used to know as an impoverished young student. Now they are fatefully drawn into a passionate affair despite the obstacles swirling around them and Victor's dark secrets.

When Natalia is suddenly offered a one-time chance at freedom, Victor is determined to help her escape, even if it means losing her. Natalia must make an agonizing decision: remain in Bucharest with her beloved adoptive parents and the man she has come to love, or seize the chance to finally live life on her own terms, and to confront the painful enigma of her past.

The Girl They Left Behind "is a vividly told, beautifully written, impossible-but-true story" (Helen Bryan, internationally bestselling author of War Brides) that you won't soon forget.
Praise For The Girl They Left Behind: A Novel…
"A fresh, original debut, twining personal family drama together with the lesser-known history of World War II Romania. Even readers saturated with Second World War dramas will be enthralled by this moving tale of two ferociously-devoted mothers, the daughter they share, and the sacrifices they are willing to make for a new future. Gripping, tragic, yet filled with passion and hope—I couldn't put it down!"

—Kate Quinn, New York Times bestselling author of The Alice Network

"Love in all its forms – parental, filial and romantic – renders each character's life through a prism of deeply felt humanity in The Girl They Left Behind as unforgettable men and women face devastating choices during WWII and its aftermath. The political is personal, and Roxanne Veletzos shows us how lives shatter when ideology devolves into chaos and brutality behind the Iron Curtain. This is an important book for these times."

—Laurie Lico Albanese, author of Stolen Beauty

"Based on the life of Roxanne Veletzos' mother, The Girl They Left Behind is a vividly told, beautifully written, impossible-but-true story. This novel is a moving testament to the power of the human spirit and to those who defied impossible odds to allow the light of humanity to shine in the darkest of times."

—Helen Bryan, internationally bestselling author of War Brides

"There are stories that must be told because in doing so, they shed light on the irreparable consequences of war in the lives of so many innocents. The Girl They Left Behind, written with flawless historical detail, is a page-turner. In its first pages, it narrates the desperation of a young couple as they leave their four-year-old daughter on the steps of a building. The tale of that girl's destiny, like those of thousands of others, are a necessary testimony for humanity."

— Armando Lucas Correa, author of The German Girl

"Never flinching from the bleak, this sweeping historical romance pieces together hope from the ruins."

—Kirkus Reviews

"Written in the gripping style of Thomas Keneally's Schindler's List and Markus Zusak's The Book Thief, Veletzos's powerful, heartbreaking story, and fluid writing style will transport readers."

— Library Journal

"Veletzos expertly weaves historical detail into a rich story about the endurance of the human spirit in the face of adversity."

— Publishers Weekly

"[The Girl They Left Behind], which Veletzos based on her mother's life, is worth reading for its Romanian setting, and questions regarding Natalia's real parents and whether she will ever be reunited with them add an element of suspense."

— Booklist

"A gripping story of endurance; of a childhood lived under a state of relentless war; and of goodness, courage, sheer will, and the fierce, selfless love that binds parent to child. Highly recommended."— Historical Novel Society

"A beautiful story." —Good Housekeeping
Washington Square Press, 9781501187698, 368pp.
Publication Date: September 3, 2019
About the Author
Roxanne Veletzos was born in Bucharest, Romania, and moved to California with her family as a young teen. Already fluent in English and French, she began writing short stories about growing up in her native Eastern Europe, at first as a cathartic experience as she transitioned to a new culture. With a bachelor's degree in journalism, she has worked as an editor, content writer, and marketing manager for a number of Fortune 500 companies. Her debut novel, published in multiple languages, is an international bestseller. Roxanne lives in the San Francisco Bay Area.