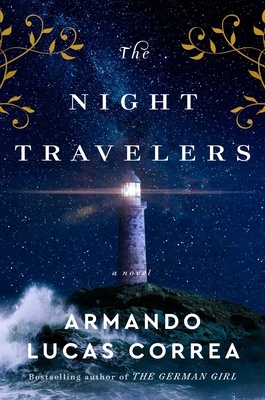 The Night Travelers
A Novel
Hardcover

* Individual store prices may vary.
Description
Four generations of women experience love, loss, war, and hope from the rise of Nazism to the Cuban Revolution and finally, the fall of the Berlin Wall in this sweeping novel from the bestselling author of the "timely must-read" (People) The German Girl.

Berlin, 1931: Ally Keller, a talented young poet, is alone and scared when she gives birth to a mixed-race daughter she names Lilith. As the Nazis rise to power, Ally knows she must keep her baby in the shadows to protect her against Hitler's deadly ideology of Aryan purity. But as she grows, it becomes more and more difficult to keep Lilith hidden so Ally sets in motion a dangerous and desperate plan to send her daughter across the ocean to safety.

Havana, 1958: Now an adult, Lilith has few memories of her mother or her childhood in Germany. Besides, she's too excited for her future with her beloved Martin, a Cuban pilot with strong ties to the Batista government. But as the flames of revolution ignite, Lilith and her newborn daughter, Nadine, find themselves at a terrifying crossroads.

Berlin, 1988: As a scientist in Berlin, Nadine is dedicated to ensuring the dignity of the remains of all those who were murdered by the Nazis. Yet she has spent her entire lifetime avoiding the truth about her own family's history. It takes her daughter, Luna, to encourage Nadine to uncover the truth about the choices her mother and grandmother made to ensure the survival of their children. And it will fall to Luna to come to terms with a shocking betrayal that changes everything she thought she knew about her family's past.

Separated by time but united by sacrifice, four women embark on journeys of self-discovery and find themselves to be living testaments to the power of motherly love.
Praise For The Night Travelers: A Novel…
Praise for The German Girl

"Fascinating . . . a brilliant entrée into the souls, terrors, ardors, endeavors and hopeless valor of people who have been written off. . . . Now, in a new age of people in peril and adrift on the world's seas, this magnificent novel—and the unexpected and intricate tragedies of its powerfully imagined characters—bespeaks this eternal injustice."
— Thomas Keneally, Bestselling author of Schindler's List

"An unforgettable and resplendent novel which will take its place among the great historical fiction written about World War II. Hannah Rosenthal will remain in your heart and her determination to tell the story of what she saw, lived, and lost will change the way you look at the world."
— Adriana Trigiani, bestselling author of The Shoemaker's Wife

"powerful and affecting…that sheds light on a sorrowful piece of Holocaust history."
— Kirkus Reviews

"A vital tribute to liberty, love and justice…one of the most fascinating and extraordinary literary events of recent times."
— Zoé Valdés, international bestselling author of The Weeping Woman

"A timely must-read."
— People

Praise for The Daughter's Tale

"[The Daughter's Tale is] better written and more tightly edited than most books in this genre, and the story line is breathtakingly threaded together from start to finish with the sound of a beating heart. Or more to the point, the silence between the heartbeats. Correa's prose is atmospheric, but what's most fascinating about this novel is his portrayal of terrified yet strong female characters who anticipate future trials and methodically work through them. Amanda knows that each decision she makes will have an impact on the next, but her goal is always survival."
— New York Times Book Review

"Correa offers a gripping and richly detailed account of lives torn apart by war."
— Booklist

"[A] searing second novel."
— PEOPLE

"[A] detailed, immersive chronicle of World War II's tragedy, the power of love and the lengths to which a mother will go to save her children when there are no choices left."
— BookPage

"[A] gorgeous, heartbreaking historical novel [...] perfect for fans of Martha Hall Kelly's Lilac Girls — and is sure to be a favorite at book clubs."
— BookBub

"THE DAUGHTER'S TALE is well researched and informed by actual historic events, stories that will vividly remind readers of the horrors of war. The book's scope is ambitious, but its emotional core is palpable and affecting. [...] the emotions underpinning their speeches seem genuine, and the love at the heart of this war-torn family will inspire readers' compassion as well."
— Bookreporter.com
Atria Books, 9781501187988, 368pp.
Publication Date: January 10, 2023
About the Author
Armando Lucas Correa is an award-winning journalist, editor, author, and the recipient of several awards from the National Association of Hispanic Publications and the Society of Professional Journalism. He is the author of the international bestseller The German Girl, which is now being published in thirteen languages. He lives in New York City with his partner and their three children. Visit ArmandoLucasCorrea.com.