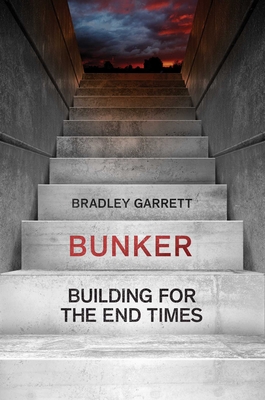 Bunker
Building for the End Times
Hardcover

* Individual store prices may vary.
Other Editions of This Title:
Compact Disc (8/4/2020)
Description
A thought-provoking, chilling, and eerily prescient look at "prepper" communities around the world that are building bunkers against a possible apocalypse.

Currently, 3.7 million Americans call themselves preppers. Millions more prep without knowing it. Bradley Garrett, who began writing this book years before the 2020 Covid-19 pandemic, argues that prepping is a rational response to global, social, and political systems that are failing to produce credible narratives of continued stability. Left with a sense of foreboding fueled by disease outbreaks, increasing government dysfunctionality, eroding critical infrastructure, nuclear brinksmanship, and an accelerating climate crisis, people all over the world are responding predictably—by hunkering down.

For this book, Garrett traveled across four continents to meet those who are constructing panic rooms, building underground backyard survival chambers, stockpiling supplies, preparing go bags, hiding inflatable rafts, rigging mobile "bugout" vehicles, and burrowing deep into the earth. He has returned with a brilliant, original and never less than deeply disturbing story from the frontlines of the way we live now: an illuminating reflection on our age of disquiet and dread that brings our times into new and sharper focus.

The "bunker," Garrett shows, is all around us: in malls, airports, gated communities, the vehicles we drive. Most of all, he reveals, it's in our minds.
Praise For Bunker: Building for the End Times…
"A kind of apocalyptic Super Size Me...The self-destruction of our species haunts this book: we realize that all along Garrett has been more interested in exploring human limits than human spaces."
—The Guardian

"The book is about much more than illicit glimpses into occluded spaces. It is a thoughtful study into the nature of paranoia and the people who try to profit from it—and it makes for a page-turning read."
—Financial Times

"A tartly thoughtful work, by turns witty and philosophical, with an undercurrent of anger at the way we are governed and the commodification of existential fear….Garrett writes pacily, bringing to vivid life a gallery of survivalist wingnuts, conmen and evangelists."
—Evening Standard

"Brilliant…Bunker, self-evidently a work for our times, shimmers with a Ballardian imagery of disaster and melt-down."
—The Spectator

"The dark charisma of the bunker is probably what will attract readers to this book, but the energetic and gregarious Garrett keeps the story focused on people rather than buildings….Fortunately, [he] is a bright and buoyant guide and Bunker rattles briskly along."
—Literary Review (UK)

"An engrossing tour of the fortified living spaces where 'preppers' plan to isolate and protect themselves from the collapse of civilization….This richly detailed account will have readers wondering about their own disaster plans."
—Publishers Weekly

"Intriguing and often entertaining reading on a phenomenon that seems timeless."
—Kirkus Reviews

"[Ranges] across four continents to examine the efforts of various doomsday preppers. ….Readers interested in current topics, cultural studies, and survivalism will enjoy this insightful look at prepper culture."
—Library Journal

"Will make you question both [the] eagerness and reticence to go underground or bug out. Either way, if you want an interesting, open-eyed read, grab Bunker and be prepared."
—North Platte Telegraph

"An excellent resource for entrepreneurs desiring to create a resilience plan, put extra slack in their own system, and minimize the negative consequences for their business."
—Entrepreneur magazine

"A good book…recommended…One of Bunker's strengths is the amount of travel, immersion, and analysis…the book spans four continents: North America, Australia, Europe, and Asia, and it reads like a Who's Who of the prepping universe."
—The Prepared

"I enjoyed this book, both in its commentary and its exploration. It is bold and curious, and I liked Garrett's openness to people with strong and unusual opinions."
—Jeremy Williams, The Earthbound Report

"What makes Garrett's book fascinating is his portrayal of the balance between fringe thinking and the real world…[Includes] credible accounts of substantial projects designed to sustain post-apocalyptic communities in secure underground environments…Superb stuff."
—TheIET.org

"Bunker is an extraordinary achievement; a big-thinking, deep-diving, page-turning study of fear, privilege, and apocalypse told through the space of the bunker. Garrett has written a gripping, grim, witty work of geography and ethnography, which he completed—with eerie timeliness—in the first weeks of the COVID pandemic. A book about prepping and prognostication, then, which had already foretold its own future."
—Robert Macfarlane, author of Underland: A Deep Time Journey

"Like an indefatigable archaeologist of the present, Bradley Garrett explores the dark spaces of our collective imagination, illuminating our spaces of survival, and the people who dream of inhabiting them, with a mordantly humorous—sometimes sympathetic—eye, and ample doses of philosophical insight. From Tennessee to Tasmania, it's a wild ride."
—Tom Vanderbilt, author of Traffic and Survival City: Adventures among the Ruins of Atomic America

"A beguiling exploration of the architecture of catastrophe. Garrett is a fine companion for this exploration through apocalyptic anxieties, from survivalists in the southwestern U.S. obsessively preparing their hardened retreats to Silicon Valley tech-bros buying their way into immortality. Bunker is compellingly written and endlessly fascinating."
—Lewis Dartnell, author of The Knowledge: How to Rebuild Civilization in the Aftermath of a Cataclysm

"Bradley Garrett's fine book is about way more than bunkers and boltholes. It's a look inside some of the world's weirdest subcultures and a gracefully written, profound meditation on the sacred strangeness of the human project."
—James Howard Kunstler, author of The Long Emergency and the World Made by Hand novels

"Fascinating, amusing, crazy, chilling, and surreally topical for what the world is going through now. You've got to read this book!"
—Douglas Preston, author of The Lost City of the Monkey God

"Reading Bunker, I found myself wondering exactly why it was that I'd rather die than live in an end-times world like this. Have I lost my devotion to the art of the long view? Or my sense of adventure?.... No matter where you come down on the apocalypse, this book will stimulate your thinking, as it did mine. Luck of the publishing gods that it is, unfortunately, so timely."
—Joel Garreau, author of Radical Evolution and Edge City

"Bradley Garrett's Bunker offers a wry travelogue portraying a world we hope never arrives. Its Hunter S. Thompson-style journey brings us right up to the edge of the Apocalypse. With a penetrating gaze and colorful detail, Garrett tours the Star Wars bar-like world of Doomsday preppers, grifters, and conspiracy theorists who are readying themselves to survive the end of the world. Through it all, you're left to wonder: What if they're right?"
—Garrett M. Graff, contributing editor at Wired and author of the national bestseller Raven Rock

"A page-turner…Garrett suggests that bunkerization is 'the logical endpoint of the atomization of social life,' and once you've read Bunker it's hard to disagree with him."
—Rowland Atkinson and Sarah Blandy, authors of Domestic Fortress
Scribner, 9781501188558, 336pp.
Publication Date: August 4, 2020
About the Author
Bradley Garrett is an American-born social and cultural geographer and expert on exploration, urban politics, and subterranean space. He holds a PhD from the University of London and has published over fifty academic journal articles and book chapters. His work, which often has him entering lost, forgotten, or off-limits places, has been featured on the History Channel and in The Atlantic and GQ. He has previously authored several critically acclaimed books on urban exploration.