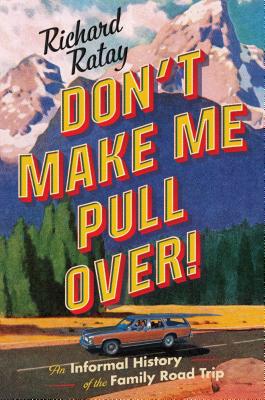 Don't Make Me Pull Over!
An Informal History of the Family Road Trip
Hardcover

* Individual store prices may vary.
Other Editions of This Title:
Digital Audiobook (7/2/2018)
Digital Audiobook (7/2/2018)
Paperback (5/14/2019)
Compact Disc (7/3/2018)
Description
"A lighthearted, entertaining trip down Memory Lane" (Kirkus Reviews), Don't Make Me Pull Over! offers a nostalgic look at the golden age of family road trips—before portable DVD players, smartphones, and Google Maps.

The birth of America's first interstate highways in the 1950s hit the gas pedal on the road trip phenomenon and families were soon streaming—sans seatbelts!—to a range of sometimes stirring, sometimes wacky locations. In the days before cheap air travel, families didn't so much take vacations as survive them. Between home and destination lay thousands of miles and dozens of annoyances, and with his family Richard Ratay experienced all of them—from being crowded into the backseat with noogie-happy older brothers, to picking out a souvenir only to find that a better one might have been had at the next attraction, to dealing with a dad who didn't believe in bathroom breaks.

Now, decades later, Ratay offers "an amiable guide…fun and informative" (New York Newsday) that "goes down like a cold lemonade on a hot summer's day" (The Wall Street Journal). In hundreds of amusing ways, he reminds us of what once made the Great American Family Road Trip so great, including twenty-foot "land yachts," oasis-like Holiday Inn "Holidomes," "Smokey"-spotting Fuzzbusters, twenty-eight glorious flavors of Howard Johnson's ice cream, and the thrill of finding a "good buddy" on the CB radio.

An "informative, often hilarious family narrative [that] perfectly captures the love-hate relationship many have with road trips" (Publishers Weekly), Don't Make Me Pull Over! reveals how the family road trip came to be, how its evolution mirrored the country's, and why those magical journeys that once brought families together—for better and worse—have largely disappeared.
Praise For Don't Make Me Pull Over!: An Informal History of the Family Road Trip…
"The season's most playful (and best titled) entry . . . [Ratay] vividly captures that relatively brief – but iconic – time before cheap air travel and Wi-Fi, when 'six people locked up together in a tiny padded room,' hurtling down the highway without seatbelts, was something not simply to be enjoyed but survived. Under Ratay's confident and relaxed spell, anyone of a certain age will be instantly transported back to those more innocent times when Fuzzbusters and eight-track players were the order of the day . . . Deceptively informative, this high-spirited romp down the byways of America is part social history, part memoir, and a loving salute to that brief time when the wood-paneled family station wagon was king of the open road."
—Andrew McCarthy, New York Times Book Review

"Don't Make Me Pull Over! is nostalgia-glazed…charming…[and] poignant."
—Maureen Corrigan, Fresh Air

"With smartphones and rear-seat entertainment systems, the family road-trip experience has changed dramatically, writes Ratay in this enjoyable reminiscence on what they used to be . . . [His] informative, often hilarious family narrative perfectly captures the love-hate relationship many have with road trips."
—Publishers Weekly

"Richard Ratay's long-distance childhood adventures in his family's giant land cruisers are at the center of Don't Make Me Pull Over!, a breezy and warm-hearted 'informal history' of the great American family road trip…It all goes down like a cold lemonade on a hot summer's day. Mr. Ratay is a charming raconteur who always seems to know just when it's time to get us all back into the car with his big, quintessentially middle-class family."
—Wall Street Journal

"As someone who missed the golden age of the family road trip, I found Don't Make Me Pull Over! a wonderful revelation, filled with unexpected—and frequently amusing—insights into how so much of our culture was built."
—Rob Erwin, author of Lost with Directions: Ambling Around America

"If only this book were available to Clark Griswold, he and his family might well have stayed home. Don't Make Me Pull Over! is an encyclopedia of road trip adventures. I can't wait to read it."
—Chevy Chase, star of National Lampoon's Vacation and "Saturday Night Live"

"A book with a title as good as Don't Make Me Pull Over! has a lot to live up to, and somehow Richard Ratay manages to deliver. It's a memoir, a work of popular history, and a love letter all in one. Books this wise are seldom so funny; books this funny are rarely so wise."
—Andrew Ferguson, author of Land of Lincoln and Crazy U

"Captures all the adventure, bonding, desperate conflict, and existential self-interrogation that is only made possible by hours (and hours) on the road with your family. Read it, but probably don't read it while also driving your family around."
—John Hodgman, author of More Information than You Require and Vacationland

"Ratay's impressively researched book isn't just a road trip across America—it's a trip back in time. Suddenly I was eight years old again and bouncing around seatbelt-free in the back of a Ford Country Squire station wagon."
—Ken Jennings, record-breaking "Jeopardy!" champion, and author of Maphead

"Ratay has perfectly captured the essence of what it was like to embark on a road trip in the golden days of family vacations. Combining spot-on history and a great sense of humor Don't Make Me Pull Over! feels so authentic I got carsick reading it."
—Jane Stern, co-author of Roadfood

"I was laughing the whole way. As an expert on the 1970's (I was there) I encourage you to climb in, wait for that sweet Toronado engine to purr, and let Rich Ratay take you on his wonderful ride through the great American pastime known as the family road trip."
—Tom Shillue, author of Mean Dads for a Better America

"Entertaining social history spiced with funny family memories. The characters include the first man to drive a car around the world, in 1906 (before fast food!). And America's first highway czar, who served under seven presidents until Eisenhower fired him. And then there's Ratay himself, as a 10-year-old, on the CB radio: 'Blue Thunder here, gobbling up the zipper dashes like PacMan rollin' for a power pill.' Great stuff."
—Paul Ingrassia, author of Engines of Change

"Takes us back to the once popular family road trips of vacationing Americans in the 1970's. Stuffed into a station wagon filled with luggage and provisions, backseat-bound Rich typically set off on adventures that possessed all the idiosyncratic melodrama of family life but played out in a confined space."
—Anthony Sammarco, author of Lost Boston and The History of Howard Johnson's

"Smooth prose that entertains and enlightens . . . For anyone who has ever been on a road trip, or is planning to take one, this book is a must read."
—Michael Wallis, Route 66: The Mother Road and The Lincoln Highway: Coast to Coast from Times Square to the Golden Gate
Scribner, 9781501188749, 288pp.
Publication Date: July 3, 2018
About the Author
Richard Ratay was the last of four kids raised by two mostly attentive parents in Elm Grove, Wisconsin. He graduated from the University of Wisconsin with a degree in journalism and has worked as an award-winning advertising copywriter for twenty-five years. Ratay lives in Menomonee Falls, Wisconsin, with his wife, Terri, their two sons, and two very excitable rescue dogs.
Coverage from NPR
or
Not Currently Available for Direct Purchase