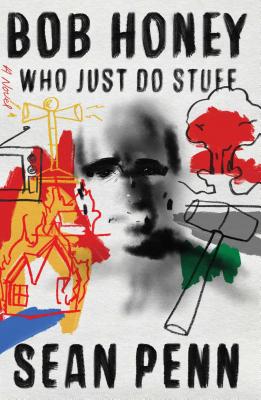 Bob Honey Who Just Do Stuff
A Novel
Hardcover

* Individual store prices may vary.
Other Editions of This Title:
Paperback (4/9/2019)
Description
"It seems wrong to say that so dystopian a novel is great fun to read, but it's true. I suspect that Thomas Pynchon and Hunter S. Thompson would love this book." —Salman Rushdie

From legendary actor and activist Sean Penn comes a scorching, darkly funny novel about Bob Honey—a modern American man, entrepreneur, and part-time assassin.

Bob Honey has a hard time connecting with other people, especially since his divorce. He's tired of being marketed to every moment, sick of a world where even an orgasm isn't real until it is turned into a tweet. A paragon of old-fashioned American entrepreneurship, Bob sells septic tanks to Jehovah's Witnesses and arranges pyrotechnic displays for foreign dictators. He's also a contract killer for an off-the-books program run by a branch of US intelligence that targets the elderly, the infirm, and others who drain this consumption-driven society of its resources.

When a nosy journalist starts asking questions, Bob can't decide if it's a chance to form some sort of new friendship or the beginning of the end for him. With treason on everyone's lips, terrorism in everyone's sights, and American political life sinking to ever-lower standards, Bob decides it's time to make a change—if he doesn't get killed by his mysterious controllers or exposed in the rapacious media first.

A thunderbolt of provocative words and startling images, Bob Honey Who Just Do Stuff marks the fiction debut of one of America's most acclaimed artists.
Praise For Bob Honey Who Just Do Stuff: A Novel…
"Charmingly weird…Penn takes on an ambitious challenge here, and he succeeds spectacularly. Bob is a wonderful character, the kind of guy you can't take your eyes off… that's part of the book's almost immeasurable charm."
— Booklist (starred review)

"Penn paints with a broadly satirical, Vonnegut-ian brush. . . . he gives nods (by way of sly footnotes) to the likes of David Foster Wallace and Thomas Pynchon. . . . It's good fun [and] a provocative debut."
— Kirkus Reviews

"It seems wrong to say that so dystopian a novel is great fun to read, but it's true. I suspect that Thomas Pynchon and Hunter S. Thompson would love this book."
— Salman Rushdie

"Before I started reading, I glanced over the table of contents. The first chapter is called 'Seeking Homeostasis in Inherent Hypocrisy.' I rolled my eyes and said aloud to no one, "fuuuck you." Then, I read it, and it turns out it's a goddamned novel for the ages. A straight-up masterwork, more relevant to this very moment than anything I've seen. Tom Robbins, Mark Twain, E.E. Cummings and Billy Bragg all just came in Chuck Bukowski's pants. Whether it's your cuppa tea is something I cannot know. But sweet Jesus it was mine."
— Sarah Silverman
Atria Books, 9781501189043, 176pp.
Publication Date: March 27, 2018
About the Author
Sean Penn won the Academy Award for Best Actor for his performances in Mystic River and Milk, and received Academy Award nominations as Best Actor for Dead Man Walking, Sweet and Lowdown, and I Am Sam. He has worked as an actor, writer, producer, and director on over one hundred theater and film productions. His journalism has appeared in the San Francisco Chronicle, The Nation, and HuffPo. This is his first novel.
or
Not Currently Available for Direct Purchase