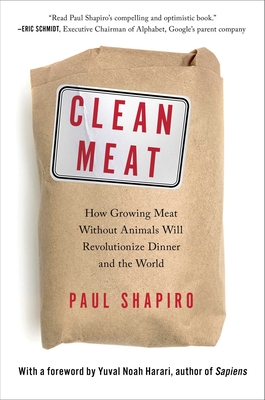 Clean Meat (Hardcover)
How Growing Meat Without Animals Will Revolutionize Dinner and the World
Gallery Books, 9781501189081, 256pp.
Publication Date: January 2, 2018
* Individual store prices may vary.
Description
Paul Shapiro gives you a front-row seat for the wild story of the race to create and commercialize cleaner, safer, sustainable meat—real meat—without the animals. From the entrepreneurial visionaries to the scientists' workshops to the big business board­rooms—Shapiro details that quest for clean meat and other animal products and examines the debate raging around it.

Since the dawn of Homo sapiens some quarter million years ago, animals have satiated our species' desire for meat. But with a growing global popula­tion and demand for meat, eggs, dairy, leather, and more, raising such massive numbers of farm animals is woefully inefficient and takes an enormous toll on the planet, public health, and certainly the animals themselves.

But what if we could have our meat and eat it, too? The next great scientific revolution is underway—discovering new ways to create enough food for the world's ever-growing, ever-hungry population.

Enter clean meat—real, actual meat grown (or brewed!) from animal cells—as well as other clean foods that ditch animal cells altogether and are simply built from the molecule up. Also called lab-grown meat, cultured meat, or cell-based meat, this race promises promise to bring about another domestication. Whereas our ancestors domesticated wild animals into livestock, today we're beginning to domesticate their cells, leaving the animals out of the equation. From one single cell of a cow, you could feed an entire village. And the story of this coming "second domestica­tion" is anything but tame.
About the Author
Paul Shapiro serves as the vice president of policy for The Humane Society of the United States, the world's largest animal protection organization. In 1995, Shapiro founded Compassion Over Killing as a high school student, building it into a national organization over the next decade. An inductee into the Animal Rights Hall of Fame, Shapiro has been interviewed by hundreds of print, broadcast, and online news outlets as an authority on animal welfare and advocacy including The New York Times, the Los Angeles Times, The Washington Post, The National Review, Time, the Chicago Tribune, among others and has appeared on Fox News, StarTalk with Neil deGrasse Tyson, NPR, and more. He's also published dozens of articles in publications ranging from daily newspapers to academic journals.
Praise For Clean Meat: How Growing Meat Without Animals Will Revolutionize Dinner and the World…
"Clean meat could be a huge win for animal welfare, human health, and the planet. If you want to learn more about the scientists, entrepreneurs and activists who are leading this revolution, read Paul Shapiro's compelling and optimistic book."
—Eric Schmidt, Executive Chairman of Alphabet, former CEO of Google

"Clean Meat offers an enthralling look into a near future where many of our most dangerous food safety risks could be all but eliminated. Paul Shapiro tells a tale in this important book that could just save your life."
—Michael Greger, M.D., bestselling author of How Not to Die

"An intriguing argument from an animal rights perspective for developing an economy of cultured, lab-born meat. Shapiro, a vice president at the Humane Society, observes at the outset that the seemingly science-fiction-y thing he calls "clean meat" is a reality. . . Shapiro serves up portraits of a rapidly developing technology."
—Kirkus Reviews

"Shapiro's book is a wake-up call informing Americans that not only will lab-grown, cultured meat be healthier—unnecessary antibiotic usage on animals living in crowded, contaminated quarters has made the quality of much of our meat questionable at best—it will also tremendously reduce animal suffering."
–Big Think

"The meat we sell at Whole Foods Market is rated on an animal welfare scale of 1-5+ but when clean meat hits the market, I'd like to put it in our meat section with an animal welfare rating of 10 since it means no animals were harmed or killed. Read Paul Shapiro's captivating account of the entrepreneurs working to enable us to sell that meat soon."
—John Mackey, CEO of Whole Foods Market

"Paul Shapiro provides a fascinating look at the future of food and the innovators who are working to interrupt and reinvent the food system. Clean Meat is an interesting and worthwhile read."
—Ann Veneman, former executive director of UNICEF and former US Secretary of Agriculture

"Clean Meat offers an inspirational look into a future where the cellular agricultural revolution helps lower rates of foodborne illness, greatly improves environmental sustainability, and allows us to continue to enjoy the food we love."
—Kathleen Sebelius, Former US Secretary of Health & Human Services

"An interesting and controversial glimpse into how cellular agriculture may supplement conventional agriculture and how innovation offers a variety of additional ways to feed a hungry and growing world."
—Dan Glickman, Former US Secretary of Agriculture

"Paul Shapiro has written a timely and informative book on the exciting transformation that is about to happen in the way we produce our food. He introduces us to the bold young innovators and entrepreneurs who are developing clean meat, milk and eggs. What they are doing has the potential to put an end to a vast quantity of cruelty, and to make a dramatic reduction in greenhouse gas emissions."
—Peter Singer, bestselling author of Animal Liberation and Princeton ethicist

"Clean meat is poised to revolutionize the business of food and agriculture, addressing many of our most pressing problems. This book artfully tells the story of the roots of that revolution and where it may be leading us."
—Jack Welch, former CEO of General Electric, and Suzy Welch, TV journalist, co-authors of Winning

"Paul Shapiro has artfully chronicled a most important development in his very worthwhile book Clean Meat, destined to take its place in the literature of moral progress."
—Michael Shermer, publisher of Skeptic magazine and author of The Moral Arc

"This is the book to read to understand the story of the cultured meat movement."
—Mark Post, creator of the world's first clean burger

"[A] carefully researched and lively written volume."
—Pacific Standard

"A brisk and engaging case, "Clean Meat" advocates without overselling."
—Wall Street Journal