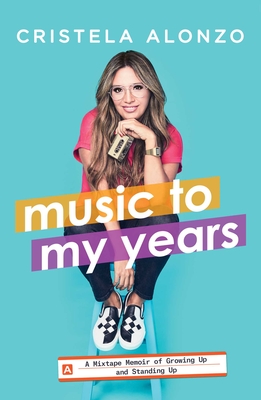 Music to My Years
A Mixtape Memoir of Growing Up and Standing Up
Hardcover

* Individual store prices may vary.
Other Editions of This Title:
Digital Audiobook (10/7/2019)
Compact Disc (10/8/2019)
Description
In this memoir full of humor and heart, comedian, writer, and producer Cristela Alonzo shares personal stories of growing up as a first-generation Mexican-American in Texas and following her dreams to pursue a career in comedy.

When Cristela Alonzo and her family lived as squatters in an abandoned diner, they only had two luxuries: a television and a radio, which became her pop cultural touchstone and a guiding light.

Cristela shares her experiences and struggles of being a first-generation American, her dreams of becoming a comedian, and how it feels to be a creator in a world that often minimizes people of color and women. Her stories range from the ridiculous—like the time she made her own tap shoes out of bottle caps or how the theme song of The Golden Girls landed her in the principal's office—to the sobering moments, like how she turned to stand-up comedy to grieve the heartbreaking loss of her mother and how, years later, she's committed to giving back to the community that helped make her.

Each significant moment of the book relates to a song, and the resulting playlist is deeply moving, resonant, and unforgettable. Music to My Years will make you laugh, cry, and even inspire you to make a playlist of your own.
Praise For Music to My Years: A Mixtape Memoir of Growing Up and Standing Up…
"If Chance the Rapper and Cristela the Comedian had a baby, it would be this book. Cristela's memoir is an emotional journey that will make you laugh, cry, and everything in between. As the first Latina woman to create, produce, write, and star in her own prime-time show and who found success despite all the challenges she faced, Cristela will have you continually rooting for her. Also, all the songs she name-drops are real bops." —Wanda Skyes

"Cristela's real life evolved into her comedy and her comedy informed her sense of right and wrong—but more than anything, Cristela has remained real and funny. Read the book. You'll understand." —Whoopi Goldberg

"Cristela brings her signature humor to bear as she offers a brilliant and touching reflection on how the personal is political. It is no coincidence that after ruminating on themes that include identity, representation, and inequality, she caps off the book with a fierce defense of our democracy and the people whom it is meant to serve. I was inspired by her story of political awakening and hope others will read this and deepen their own political activism." —Julián Castro

"I loved the book. Cristela vividly enlightens, educates, and entertains us on her hard journey from the poverty and culture of the Mexico-Texas border to stardom, honestly sharing her life lessons and the music that sustained her. [This is] a story that will guide us to want to be as strong, compassionate, and visionary as she is for family, friends, and country. Music is such a big part of one's life. When we stood on the picket lines, we sang 'We Shall Overcome' and 'This Little Light of Mine' a thousand times from the early morning till the strikebreakers left the fields. There is so much to say about the book, it affirmed my life in many ways, as I am sure it will for so many Latinas. We are alike." —Dolores Huerta

"Alonzo crafts a humorous writing style that feels like an intimate conversation with readers. The jokes jump off the page and provide an emotional relief to the harsh realities of hardship and poverty she experienced. Alonzo's memoir is a timely reminder that regardless of economic status, race, or gender, love is the connection that ties together all humanity." —Booklist
Atria Books, 9781501189203, 304pp.
Publication Date: October 8, 2019
About the Author
Cristela Alonzo is a comedian, actor, and producer. She was the first Latina to create, produce, and star in her own network sitcom, Cristela. She became the first Latina lead in a Disney Pixar film, Cars 3. Alonzo's stand-up special, Lower Classy, can be streamed on Netflix. Cristela is an advisory board member for the nonprofit media and culture organization, Define American, and a board member for La Union del Pueblo Entero (LUPE), founded by Cesar Chavez and Dolores Huerta. She lives in Los Angeles.