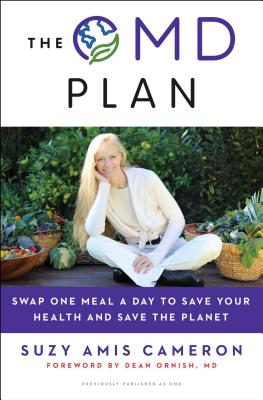 The OMD Plan
Swap One Meal a Day to Save Your Health and Save the Planet
Paperback

* Individual store prices may vary.
Description
Change the World by Changing One Meal a Day

Suzy Amis Cameron—environmental advocate, former actor, and mom of five—presents "a timely and empowering guide to take charge of your health—both for your own sake and for the planet's" (Ariana Huffington) by swapping one meat- and dairy-based meal for a plant-based one every day.

The research is clear that a plant-based diet is the healthiest diet on Earth. But what many people don't realize is that nothing else we do comes close to the environmental impact of what we eat.

Now Suzy Amis Cameron explains how we can boost energy, feel better, live healthier, and heal the Earth, starting with just one meal a day. Developed at MUSE School, the school she founded with her sister Rebecca Amis, Suzy's program makes it possible for anyone and everyone to reverse climate change while they embrace a healthier lifestyle. This one simple step will begin to help you lose weight and stay naturally thin, reverse chronic health concerns, improve overall wellbeing, enjoy newfound energy, and slash your carbon footprint in half.

In The OMD Plan, Suzy shares her field-tested plan, outlining the latest science and research on why a plant-based diet is better for one's health and the environment. Featuring fifty delicious, nourishing recipes and complete with inspiring success stories, shopping lists, meal plans, and pantry tips, The OMD Plan "is a book that nourishes our minds as well providing ways to nourish our bodies" (Jane Goodall).
Praise For The OMD Plan: Swap One Meal a Day to Save Your Health and Save the Planet…
"My top priority in life is to ensure that my children live happy, healthy lives. And I feel an incredible responsibility to teach them the importance of protecting and respecting themselves, others and the world around them. We now know that incorporating more plant-based foods into our diets is better for overall health…and the planet. But it can be difficult to throw together quick, easy, healthful meals that also taste great. In this book Suzy makes it all that much easier, providing all the small things you can do to make a big impact. Filled with wholesome (and super-delicious) recipes, OMD is the solution that every health-minded mama can benefit from."
— Jessica Alba

"In OMD, Suzy is the perfect guide to gently usher you into plant-based eating. There's simply nothing better you can do for your health, and with OMD's incremental, non-judgmental and nutrition-based approach, it's inspiring, achievable--and delicious. Get ready for a health transformation!"
— Michael Greger, MD, New York Times bestselling author of How Not to Die and founder of NutritionFacts.org

"A timely and empowering guide to take charge of your health — both for your own sake and for the planet's. OMD reveals how one small daily change truly can change our world."
— Arianna Huffington, Founder of HuffPost and Founder & CEO of Thrive Globa

"In addition to the well-known nutritional benefits of a plant-based diet, it has now become quite clear that these diets are better for the environment. Suzy Amis Cameron provides clear evidence in support of both of these claims. As well she provides her readers with all manner of tips and tricks to create delicious recipes that will not only be of benefit for their own health, but also that of the natural world. OMD is a book that nourishes our minds as well providing ways to nourish our bodies."
— Jane Goodall, PhD, DBE, founder of the Jane Goodall Institute & UN Messenger of Peace

"The OMD concept really excites me! Anything that nudges us towards making big changes, one step – just one meal – at a time, is a powerful thing. Food interacts with pretty much everything on the planet: our health; the economy; the environment. As Suzy explains, small changes can make a huge difference to our health – and the health of future generations."
— Jamie Oliver

"The wave of plant-based eating is making culinary history—and Suzy Amis Cameron shows in OMD that the benefits for your health and the climate are just as groundbreaking. Her book warmly and wisely guides you to make the life-changing shift."
— Tal Ronnen, founder and chef of Crossroads and author of the New York Times Bestseller The Conscious Cook

"Cameron's book will appeal to environmentally conscious readers concerned with lifestyle changes that help reduce their carbon footprint."
— Library Journal

"Suzy is doing incredible things to educate people about the positive impact of a plant-based diet."
— Eat for the Planet
Atria Books, 9781501189487, 368pp.
Publication Date: October 1, 2019
About the Author
Suzy Amis Cameron is an environmental advocate and mom of five. A former actor and model, she founded MUSE School in California, the first school in the country to offer a plant-based lunch program, with her sister Rebecca Amis. Suzy has founded several plant-based organizations, including Plant Power Task Force, Cameron Family Farms, and Verdient, with her husband, filmmaker James Cameron, as well as Red Carpet Green Dress, showcasing environmentally responsible fashion. As an actor, Suzy was featured in more than twenty-five films, including The Usual Suspects andTitanic. To learn more about the book and upcoming food products, please visit OMDForThePlanet.com.