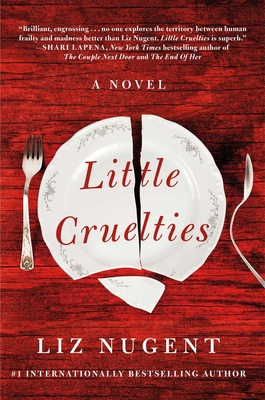 Little Cruelties
Hardcover

* Individual store prices may vary.
Other Editions of This Title:
Digital Audiobook (11/9/2020)
Paperback (7/27/2021)
Compact Disc (11/10/2020)
Description
Hailed by New York Times bestselling author Lisa Jewell as "a force to be reckoned with," Liz Nugent is back with a powerful and unsettling new novel that will invite comparison to the bitter relationships in HBO's blockbuster series Succession, as it follows three brothers, bound by blood but split by fate, and delves into the many ways families can wreak emotional havoc across generations.

All three of the Drumm brothers were at the funeral.

But only one of them was in the coffin.

William, Brian, and Luke: three boys, born a year apart, trained from birth by their wily mother to compete for her attention. They play games, as brothers do…yet even after the Drumms escape into the world beyond their windows, those games—those little cruelties—grow more sinister, more merciless, and more dangerous. And with their lives entwined like the strands of a noose, only two of the brothers will survive.

Crisply written and quickly paced, perfect for fans of breathtaking suspense, Little Cruelties gazes unflinchingly into the darkness: the darkness collecting in the corners of childhood homes, hiding beneath marriage beds, clasped in the palms of two brothers shaking hands. And it confirms Liz Nugent—whose work has invited comparisons to Patricia Highsmith and Barbara Vine and has been celebrated as "captivating" (People) and "highly entertaining" (The Washington Post)—as one of the most exciting, perceptive voices in contemporary fiction.
Praise For Little Cruelties…
Praise for Little Cruelties

"A dark jewel of a novel, fire flickering in its depths and light lining its edges. …no other crime novelist of the past decade has rivaled Patricia Highsmith, Ruth Rendell, or Gillian Flynn. [Little Cruelties is] a tragedy of evil power, crisply written and quickly paced; above all, [it's] a thriller, swift and exciting and built like a carnival house, all false walls and trapdoors."—A.J. Finn, #1 New York Times bestselling author of The Woman in the Window

"Clever...Little Cruelties shows how thoroughly families can mess one another up, and how sometimes the greatest mysteries are found within the psyche."—The New York Times Book Review

"Artfully constructed… the author's skillful telling of this multigenerational tragedy has the riveting power of an imminent car crash."—Publishers Weekly

"Liz Nugent's books exist at that very particular crossroads of horror and psychological thriller where the horror exists in the cruelty of human relationships themselves. As with all of Liz Nugent's works, the sociopathy of characters is as much rooted in the repressed culture of 1980s Ireland as in the figures themselves. No one is rotten to begin with, Nugent knows, but she won't let us look away from how truly rotten some of us become."—CrimeReads

"Nugent's upcoming novel is one you'll want to pick up...If you liked Succession, you'll get sucked into this cautionary tale of how sinister impulses can corrupt a family." —Betches

"Just as sharp and intelligent as Liz Nugent's previous releases...This book will get under your skin with the everyday evils it depicts." —Crime by the Book

"Riveting...Little Cruelties melds a hardboiled story with a family drama, leading to a tragedy that will define another generation."—Shelf Awareness

Praise for Lying in Wait

"An extraordinary novel. Lying in Wait crackles and snaps like a bonfire on a winter's night; you shudder even as you draw closer to it. Spellbinding."
— A.J. Finn, #1 New York Times bestselling author of The Woman in the Window

"Taut, crisp, clear, a storm-warning of a book. It has the eeriness of 'The Turn of the Screw;' but as these screws turn, a mighty tension takes hold. Masterly."
— Sebastian Barry, author of Days Without End

"A tense, taut, almost gothic thriller…impossible to stop reading."
— Marian Keyes, New York Times bestselling author

"Like Unraveling Oliver (2017), this is a whydunit, not a whodunit, and the real meat lies in Nugent's exploration of motherhood, mental illness, and what could drive a person to murder... A page-turner chock full of lies and betrayals and a very creepy mother-son relationship."
— Kirkus Reviews

"A devastating psychological thriller... Lydia is the most intriguing puzzle; equal parts victim and villain, she simultaneously inspires pity, outrage, and horror. The result is an exquisitely uncomfortable, utterly captivating reading experience."
— Publishers Weekly (starred and boxed review)

"[A] chilling tale of the sociopathic mind… Readers who love sinister psychological thrillers will tear through these pages."
— Library Journal (starred review)

"Nugent introduces an unforgettable cast of characters in this tour de force…astonishing....everyone should grab it the second it appears."
— Booklist (starred review)

"[A] dark, captivating psychological thriller."
— PEOPLE

"Truly outstanding."
— Crime by the Book

"Just when you think you have things figured out, Nugent throws everything off-kilter again. All of the primary characters --- including the dead woman, Annie --- are complicated and well-rounded...and defy easy categorization as "villain" or "hero." Readers who first encountered Nugent's work only recently will be thrilled with this new-to-us thriller --- and will be thronging for even more of her excellent work to make its way across the pond."


— BookReporter

"Though we know Lydia and Andrew Fitzsimmons' big secret by the end of the first sentence of Nugent's book, it's why they did it that initially remains a mystery...The secret may be out, but the intrigue remains."
— Brit + Co

"Nugent tells a brilliant tale—taut, horrifying, chilling...the plot is impossible to resist and the tale is beautifully written...If you like psychological thrillers, "Lying in Wait" is perfect."
— Fredericksburg Freelance Star

"Perfect for those who have already read A Woman in the Window and are looking for a new gripping read."
— The Amazon Book Review

"Liz Nugent, whose debut novel, Unraveling Oliver, earned high critical praise, has upped her game here with a darkly twisted tale of murder, lies and secrets best left buried."
— BookPage

"Electrifying ... a chilling narrative with an unexpected ending that will take your breath away."
— Bustle

"Darkly funny, creepy, and has one of the most disturbing endings I've ever read!"
— Robyn Harding, international bestselling author of The Party

"This book is a brutal as it is beautiful, with the year's most haunting ending."
— CrimeReads
Gallery/Scout Press, 9781501189685, 352pp.
Publication Date: November 10, 2020
About the Author
Liz Nugent has worked in Irish film, theater, and television for most of her adult life. She is an award-winning writer of radio and television drama and has written critically acclaimed short stories both for children and adults, as well as the bestselling novels Unraveling Oliver and Lying in Wait. She lives in Dublin. Visit her at LizNugent.ie or follow her on Twitter at @Lizzienugent.