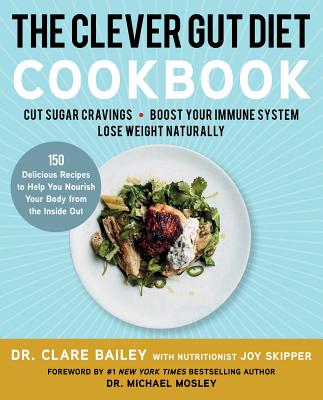 The Clever Gut Diet Cookbook (Paperback)
150 Delicious Recipes to Help You Nourish Your Body from the Inside Out
Atria Books, 9781501189760, 224pp.
Publication Date: May 1, 2018
* Individual store prices may vary.
Description
"Now readers can implement a diet plan and understand why it's going to work." —Dr. Barry Marshall, winner of the Nobel Prize for Medicine

"Follow this advice for better gut health." —Dr Valter Longo, Director of the University of Southern California Longevity Institute

The highly anticipated and essential cookbook companion to The Clever Gut Diet by the #1 New York Times bestselling author of the FastDiet series, featuring over 150 recipes to help you reap the benefits of a healthy gut, one delicious meal at a time.

In The Clever Gut Diet, you learned the crucial role your gut plays in your overall wellbeing and in maintaining a healthy weight. Improving your gut health will help you control your cravings, boost your mood, ease intestinal distress, and lose weight.

Now, in this eagerly awaited cookbook, you can take this groundbreaking program into your kitchen and enjoy the benefits of a gut-healthy diet at every meal. These delicious recipes for breakfasts, lunches, dinners, snacks, and mouthwatering desserts are proven to help revolutionize your body from the inside out, by increasing the "good" gut bacteria that keep you lean and healthy, while staving off the "bad" gut bacteria that contribute to weight gain and disease. Complete with shopping lists, meal plans, and helpful tips and tricks, this recipe collection will help you transform your gut and your health, one delectable bite at a time.
About the Author
Dr. Clare Bailey is a general practitioner doing diet research with Oxford University. She is the author of
The 8-Week Blood Sugar Diet Cookbook
, and is married to Dr. Michael Mosley, author of
The Clever Gut Diet
,
The Fast Diet
, and
The 8-Week Blood Sugar Diet
. She is also founder of Parenting Matters, an organization that helps parents become more confident through courses and one-to-one consultations.
Joy Skipper is a qualified nutritionist who has worked in the food industry for over twenty years, writing cookbooks and advising clients on healthy diet and lifestyle.
Dr Michael Mosley trained as a doctor before becoming a journalist and television presenter. He is the No. 1 bestselling author of The 8-Week Blood Sugar Diet, The Clever Guts Diet and The Fast 800. He is married with four children.