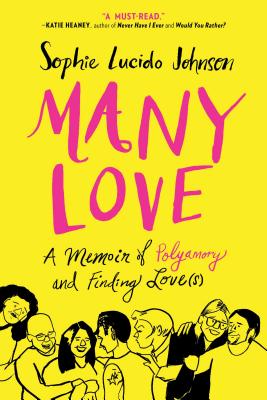 Many Love (Paperback)
A Memoir of Polyamory and Finding Love(s)
Gallery Books, 9781501189784, 272pp.
Publication Date: June 26, 2018
Other Editions of This Title:
MP3 CD (9/24/2019)
* Individual store prices may vary.
Description
"A fast-paced debut… A candid, modern take on polyamory for fans of memoirs and graphic novels, and anyone interested in stories of dating, love, and romance." —Library Journal

After trying for years to emulate her boomer parents' forty-year and still-going-strong marriage, Sophie realized that maybe the love she was looking for was down a road less traveled. In this bold, graphic memoir, she explores her sexuality, her values, and the versions of love our society accepts and practices. Along the way, she shares what it's like to play on Tinder side-by-side with your boyfriend, encounter—and surmount—many types of jealousy, learn the power of female friendship, and other amazing things that happened when she stopped looking for "the one."

In a lot of ways, Many Love is Sophie's love letter to everyone she has ever cared for. Witty, insightful, and complete with illustrations, this debut provides a memorable glimpse into an unconventional life.
About the Author
Sophie Lucido Johnson is a writer, illustrator, comedian, and the editor-in-chief of Neutrons Protons, an online literary magazine. She has been published in The New Yorker, Guernica, The Guardian, VICE, Catapult, DAME, McSweeney's, Jezebel, The Hairpin, The Nation, and ROOKIE, among others. She has just completed an MFAW at the School of the Art Institute of Chicago. Many Love is her first book.
Praise For Many Love: A Memoir of Polyamory and Finding Love(s)…
"[A] refreshingly candid and provocative narrative… [T]he author adds a dash of humor and incisive observation to almost every page of her text with comic book-style drawings… Johnson's multipronged approach not only demystifies a much-maligned and misunderstood practice; it also makes for enjoyable, accessible reading. Illuminating and entertaining."—Kirkus Review

"Sophie Lucido Johnson is funny, feminist, smart, and, annoyingly, a very talented illustrator to boot. Many Love is a compassionate and convincing love story, and a must-read for anyone who feels left out by our culture's one-size-fits-all, heterosexual, monogamous norms."—Katie Heaney, author of Never Have I Ever and Would You Rather?

"In this candid memoir, Johnson delivers a combination of humorous illustrations, personal experience, and even a section to answer questions, to chart her journey to polyamory and debunk myths about her choice."—Bitch Media

"Johnson has created an unjaded portrait of "unconventional" love, and reading it feels like you've both been introduced to a new, exceedingly cool best friend and granted access to a kind of interpersonal, anthropological wisdom that will cause you to reevaluate every preconceived ideal you had about family and commitment. To call Many Love compulsively readable is a gross understatement. This book will split you wide open."—Kristen Radtke, author of Imagine Wanting Only This

"Many Love may be about polyamory, but it's just like any touching coming of age story - just with a bit of a different inter-personal structure. Warm, revealing and honest, it's a welcoming read, no matter what structure for love you have in your life."—Jen A Miller, author of Running: A Love Story

"Many Love is funny, poignant and valuable for any person interested in relationships—be it with lovers, friends, or oneself. With a beautiful intertwining of words and pictures, of thoughts and ideas, Sophie Lucido Johnson has crafted a personal story that's universally applicable. I have many loves for Many Love."—Myq Kaplan

"Sophie Lucido Johnson's Many Love is completely delightful. Smart, sparkly and kind, like a great conversation with an old friend. Johnson brings sanity, perspective and wit to her examination of the propaganda that surrounds traditional romance, and offers a well-considered way of reinventing it."—Liana Finck, author of Passing for Human

"A fast-paced debut… Discussing her adulthood in New Orleans and Chicago, the author is refreshingly honest about meeting people on Tinder and Craigslist and seeking to redefine the meaning of partner and commitment… A candid, modern take on polyamory for fans of memoirs and graphic novels, and anyone interested in stories of dating, love, and romance."—Library Journal

"Johnson uses her own life as the framing device to gently bring readers into understanding polyamory… Whether readers pick up Many Love because they want to explore polyamory for themselves or just want to learn more, Johnson's story offers insight for everyone as we all explore what it means to be in relation to one another."—Culture Trip