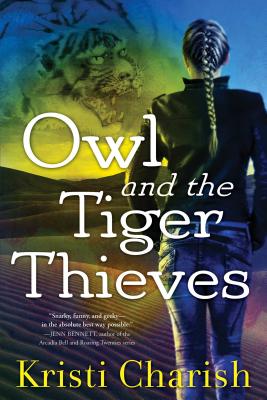 Owl and the Tiger Thieves (The Owl Series #4)
Paperback

* Individual store prices may vary.
Other Editions of This Title:
MP3 CD (8/14/2018)
Description
Owl—a modern-day Indiana Jane—handles supernatural monsters, temperamental dragons, and slippery ninjas as she races to stop a brewing supernatural war in this fourth novel in the Owl series.

The Silk Road was an ancient trade route paved with fortunes and tears in equal measure—the tears part mostly due to the distinct chance of being gutted by an opportunistic supernatural lying in wait.

Somewhere among the trade cities lost to the ages, the Tiger Thieves—assassins who once guarded the Silk Road against the supernatural monsters that preyed on ancient caravans—still hide.

Shame no one has seen one of them in over five hundred years, since they're the only ones who might be able to help Owl stop the reign of the Electric Samurai and the descent of the world into supernatural chaos in all its eviscerating glory.

From a Peruvian jail to Venice to Timbuktu, Owl searches for the Tiger Thieves in the hopes of convincing them to help her—all while fetching artifacts and weapons for Mr. Kurosawa's brewing supernatural war. Considering diplomatic negotiations aren't exactly Owl's strong suit, she has her work cut out for her. Not to mention, her sidekick on this adventure leaves a lot to be desired and little to trust.

Poking a tiger is never a good idea, and tangling with the ancient assassins will take everything Owl has. Eventually, she'll have to decide whether she's a wayward archaeologist or just another cold-hearted thief.
Praise For Owl and the Tiger Thieves (The Owl Series #4)…
PRAISE FOR OWL AND THE JAPANESE CIRCUS

"She is an archaeologist, renegade, fantasy game lover, and thief who lives in a wacky world populated by dragons, nagus, and vampires. She is Owl, and we meet her for the first time in Owl and the Japanese Circus, a book that's fast-paced, humorous, action-filled, and completely original. Kristi Charish has created a wonderful, quirky character in Owl, and I predict this adventure is going be only the first of many."
— Ian Hamilton, author of the Ava Lee novels

"Adventure! Drama! Japanese radish demons! Dr. Kristi Charish in my zombie series is an evil bitch who conducts horrible experiments. But the real Kristi Charish is awesome and her debut novel releases tomorrow! And it's fantastic! Owl and the Japanese Circus! Go buy!"
— Diana Rowland, author of My Life as a White Trash Zombie

"Antiquities thief Owl is snarky, funny, and geeky—in the absolute best way possible. Her globe-trotting escapades are brimming with unique supernatural foes and comic-book cool. Urban fantasy fans will cheer Owl on to the thrilling conclusion and eagerly anticipate the next adventure. Go Owl!"
— Jenn Bennett, author of Kindling the Moon and the Arcadia Bell series

"A great new fantasy series of fans of Indiana Jones and Buffy the Vampire Slayer...Here's to hoping this will be the first of many outings for Owl."
— Library Journal, starred review

"Charish deftly imagines Studio Ghibli doing Tomb Raider. Great fun."
— Mark Teppo, author of Mongoloid w 47N and the Lightbreaker UF series (Night shade)

"Rich, stylish, and uber geeky. A thrill-ride to the darkly glittering crossroads of myth and archeology."
— Phoebe Kitanidis, author of Glimmer

"A swashbuckling affair. Check your skepticism at the door, because this one is going to defy logic in the pursuit of having a really good time."
— LitStack

"Alix – Owl – ain't your parent's Indiana Jones; she's a tech savvy, gadget friendly, plain speaking, cat loving, Corona drinking, hardcore gamer gal."
— LitStack
Gallery Books, 9781501189845, 432pp.
Publication Date: May 8, 2018
About the Author
Kristi Charish is a scientist and science fiction/fantasy writer who resides in Vancouver, British Columbia, with her spousal unit, Steve, and two cats named Captain Flash and Alaska. She received her BSc and MSc from Simon Fraser University in Molecular Biology and Biochemistry, and her PhD in Zoology from the University of British Columbia. Kristi writes what she loves: adventure heavy stories featuring strong, savvy female protagonists. Visit her at KristiCharish.com or follow her on Twitter @KristiCharish.
or
Not Currently Available for Direct Purchase