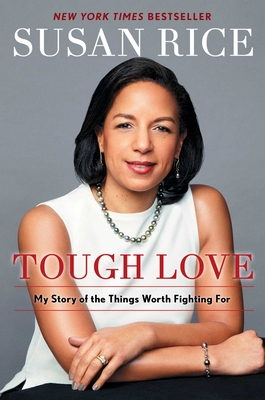 Tough Love
My Story of the Things Worth Fighting For
Hardcover

* Individual store prices may vary.
Other Editions of This Title:
Digital Audiobook (10/7/2019)
Paperback (8/4/2020)
Compact Disc (10/8/2019)
Description
Recalling pivotal moments from her dynamic career on the front lines of American diplomacy and foreign policy, Susan E. Rice—National Security Advisor to President Barack Obama and US Ambassador to the United Nations—reveals her surprising story with unflinching candor in this New York Times bestseller.

Mother, wife, scholar, diplomat, and fierce champion of American interests and values, Susan Rice powerfully connects the personal and the professional. Taught early, with tough love, how to compete and excel as an African American woman in settings where people of color are few, Susan now shares the wisdom she learned along the way.

Laying bare the family struggles that shaped her early life in Washington, DC, she also examines the ancestral legacies that influenced her. Rice's elders—immigrants on one side and descendants of slaves on the other—had high expectations that each generation would rise. And rise they did, but not without paying it forward—in uniform and in the pulpit, as educators, community leaders, and public servants.

Susan too rose rapidly. She served throughout the Clinton administration, becoming one of the nation's youngest assistant secretaries of state and, later, one of President Obama's most trusted advisors.

Rice provides an insider's account of some of the most complex issues confronting the United States over three decades, ranging from "Black Hawk Down" in Somalia to the genocide in Rwanda and the East Africa embassy bombings in the late 1990s, and from conflicts in Libya and Syria to the Ebola epidemic, a secret channel to Iran, and the opening to Cuba during the Obama years. With unmatched insight and characteristic bluntness, she reveals previously untold stories behind recent national security challenges, including confrontations with Russia and China, the war against ISIS, the struggle to contain the fallout from Edward Snowden's NSA leaks, the U.S. response to Russian interference in the 2016 election, and the surreal transition to the Trump administration.

Although you might think you know Susan Rice—whose name became synonymous with Benghazi following her Sunday news show appearances after the deadly 2012 terrorist attacks in Libya—now, through these pages, you truly will know her for the first time. Often mischaracterized by both political opponents and champions, Rice emerges as neither a villain nor a victim, but a strong, resilient, compassionate leader.

Intimate, sometimes humorous, but always candid, Tough Love makes an urgent appeal to the American public to bridge our dangerous domestic divides in order to preserve our democracy and sustain our global leadership.
Praise For Tough Love: My Story of the Things Worth Fighting For…
"This is a breathtakingly honest account by a true American patriot about what it's like to grow up with tough love and then deploy those values on behalf of our nation's foreign policies. Weaving together the personal and the professional, Susan Rice describes how her upbringing in a distinguished but at times struggling family helped prepare her to be a fierce champion of American interests and survive the unfair attacks on her in the aftermath of the Benghazi tragedy. This book will not only inspire you about the true sources of America's greatness, it will also provide some lessons in empowerment, tenacity, and fearlessness." -Walter Isaacson, New York Times bestselling author of Leonardo da Vinci

Susan Elizabeth Rice is one of the most gifted, tenacious, and influential foreign policy voices of our times, and in her revelatory new memoir Tough Love, she takes us to the seats of power she's occupied from the State Department to the United Nations to the West Wing of America's first black president, whom she served as National Security Advisor. In reading these pages, it's easy to see why President Obama would trust her to give him the clearest assessment of the facts on any day, at any moment, and to offer him unvarnished counsel on how best to keep the country safe. At the core of Rice's story, and brilliant career, is a fearless commitment to the truth and an unwavering devotion to the lessons she inherited as the descendent of Jamaican immigrants in Maine and enslaved Africans in South Carolina: to prize education as the path up to the American Dream and to have the confidence to be herself. In this remarkably honest examination of the opportunities and struggles confronting those charged with national security, Rice has given us an inspiring autobiography while making a critically important addition to the history of U.S. foreign policy.­— Henry Louis Gates, Jr., Harvard University

"In Tough Love, Susan Rice provides a compelling look at what it is really like to work in the inner sanctums of the White House and what it really means to walk the corridors of power. In a gripping display of humor and grace, Susan invites us all to share in her triumphs and her failures – and she teaches some important life lessons along the way. Reading Tough Love is like taking a master class in how to be a powerful woman. It is also a classic American tale, relatable to anyone who has ever dreamed of success. I was riveted from the first page of Tough Love to the last." — Shonda Rhimes

"Susan Rice's intellect, strategic prowess, and integrity are unrivalled among today's national security leaders. I have seen firsthand how she has achieved vitally important results for American interests and values. Tough Love finally reveals who Susan Rice really is, much of which has been lost or misunderstood in public portrayals of her. The fearless, compassionate, funny and selfless woman whom I have known since she was a child emerges as she shares with bracing honesty her challenges with family, motherhood, and leadership in the most demanding of male-dominated fields." — Madeleine Albright, Former Secretary of State

"Tough Love is a must-read for leaders and their teams. A brilliant, courageous woman with a remarkable personal story, Susan Rice provides a riveting and moving account of rising to the highest ranks in national security and diplomacy along with unmatched insight into the most complex global challenges. She offers a masterclass for all who aspire to excellence, with invaluable lessons about high performance leadership and effective management of complex teams in unforgiving circumstances. Her powerful, hopeful appeal to our shared values as Americans and all that we stand to gain by coming together is profoundly inspirational and more urgent than ever." — Indra Nooyi, Former Chairman and CEO, PepsiCo

"The daughter of up-by-their bootstraps Jamaicans and African Americans, Rice achieved early success through disciplined hard work, intellectual brilliance, and friendships with the likes of Madeline Albright… Rice is able to look back on her experiences with pride, gratitude, and bracing realism." Booklist, Starred Review

"A stellar debut...Rice writes of juggling work and motherhood, and of the importance of being one's own advocate. Rice's insightful memoir serves as an astute, analytical take on recent American political history."
Publishers Weekly, Starred Review

"A tribute to American leadership—and a unifying call for us to do our part to protect it." –President Barack Obama

"Personal and honest… [Rice] owns up to her decisions — the good and the bad. In many ways, this memoir is an ode to public service. There is a dignity to serving your country, be it in uniform, at an embassy overseas, or at a national park in the middle of country." –NPR

"A hard-hitting and candid New York Times best-selling memoir of a tough woman no longer confined by talking points, who shares her whole voice, her family history, her perspective, and her insider's take on a host of national-security crises over the past three decades." - Ibram Kendi, New York Times Bestselling author of How to Be an Antiracist and Stamped from the Beginning
Simon & Schuster, 9781501189975, 544pp.
Publication Date: October 8, 2019
About the Author
Ambassador Susan E. Rice is currently Distinguished Visiting Research Fellow at the School of International Service at American University, a Non-Resident Senior Fellow at the Belfer Center for Science and International Affairs at Harvard's Kennedy School of Government, and a contributing opinion writer for The New York Times. She serves on the boards of Netflix and the John F. Kennedy Center for the Performing Arts and previously served on several nonprofit boards, including the U.S. Fund for UNICEF.

Rice earned her master's degree and doctorate in international relations from Oxford University, where she was a Rhodes Scholar, and her bachelor's degree from Stanford University. A native of Washington, DC, and a graduate of the National Cathedral School for Girls, she is married to Ian Cameron; they have two children. Rice is an avid tennis player and a long-retired basketball player.
or
Not Currently Available for Direct Purchase