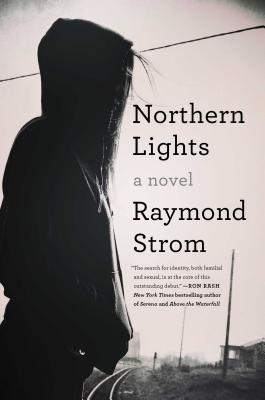 Northern Lights
Hardcover

* Individual store prices may vary.
Other Editions of This Title:
Digital Audiobook (2/11/2019)
Paperback (2/18/2020)
MP3 CD (2/12/2019)
Compact Disc (2/12/2019)
Compact Disc (2/12/2019)
Description
A stunning debut novel set in the late 1990s as an androgynous youth arrives in small-town Minnesota, searching for the mother who abandoned him as a child.

On a clear morning in the summer of 1997, Shane Stephenson arrives in Holm, Minnesota, with only a few changes of clothes, an old Nintendo, and a few dollars to his name. Reeling from the death of his father, Shane wants to find the mother who abandoned him as an adolescent—hoping to reconnect, but also to better understand himself. Against the backdrop of Minnesota's rugged wilderness, and a town littered with shuttered shops, graffiti, and crumbling infrastructure, Holm feels wild and dangerous.

Holm's residents, too, are wary of outsiders, and Shane's long blonde hair and androgynous looks draw attention from a violent and bigoted contingent in town, including the unhinged Sven Svenson. He is drawn in by a group of sympathetic friends in their teens and early twenties, all similarly lost and frequent drug users: the reckless, charming J and his girlfriend Mary; Jenny, a brilliant and beautiful artist who dreams of escaping Holm; and the mysterious loner Russell, with whom Shane, against his better judgment, feels a strange attraction. As Sven's threats of violence escalate, Shane is forced to choose between his search for his mother, the first true friendships he's ever had, and a desire to leave both his past and present behind entirely.

At its core, Northern Lights is the story of a son searching for his mother, and for a connection with her, dealing with issues of abandonment and forgiveness. But it also addresses the complications, tensions, and dysfunction that can exist in those relationships, presenting an unforgettable world and experience often overlooked, with a new kind of hero to admire.
Praise For Northern Lights…
PRAISE FOR NORTHERN LIGHTS BY RAYMOND STROM

"Good news for readers who love coming-of-age stories and don't mind their fiction soaked in drugs: Northern Lights a debut novel by Hibbing, Minn., native Raymond Strom, might be described as a cross between two of the greats in those categories: The Outsiders by S.E. Hinton, and Jesus' Son by Denis Johnson."—MINNEAPOLIS STAR TRIBUNE

"A powerful depiction of the currency of intolerance and addiction in one small town. Strom's debut novel follows Shane Stephenson, who's trying to find his mother following the sudden death of his father. Shane's mother abandoned them a long time ago, leaving her son a $100 bill and sending him a Christmas card with a return address in Holm, Minnesota. Shane has long hair and an androgynous appearance, and he clearly doesn't fit into the small town of Holm. Strom paints a portrait of small-town life that is sure to make readers shiver, giving us death, alcohol, addiction, drugs, sex, bigotry, all wrapped up in the neat package that makes up Holm. Shane is heartbreaking, and readers will have a hard time parting with him after the book is over."—KIRKUS REVIEWS

Strom's challenging debut follows recent high school graduate Shane's roundabout search for his mother. Strom's insightful navigation of family trauma, sexual identity, and small-town despair blends with his chilling depictions of drug abuse. [Will] resonate with readers who like gritty coming-of-age tales.—PUBLISHERS WEEKLY

"One of the first lines in Strom's powerful first novel is, 'Are you a boy or a girl?' And from the moment we meet Shane Stephenson, we feel his confusion. Shane must come to terms with his past and his identity as a queer, androgynous teen living in a hostile environment. Though set in the pre-Trump Midwest, the characters and dead-end towns Strom portrays could easily be found now, and he has a sure hand as he addresses such timely issues as identity, sexism, prejudice, drug abuse, conformity, and community from a queer perspective."—BOOKLIST

"[An] incredibly well-crafted debut novel. Strom strikes a painful chord as he takes a hard look at the meth epidemic in the upper Midwest. He also offers a heartwarming glimpse at the goodness of humanity… You come away from this novel feeling as though as though you've met real people and engaged with them in their lives."—SOUTHERN MINNEAPOLIS BOOK REVIEW

"Raymond Strom was born in Hibbing, and lived in small towns across Minnesota, North Dakota, South Dakota and Wisconsin. So it's not surprising his depiction of young people in the fictional town of Holm, Minn., rings so true in his debut novel Northern Lights…The reader roots for Shane, who is grieving his father's death and grieves another when he returns to Holm after searching in another city for his mother"—ST. PAUL PIONEER PRESS

"His novel features captivating characters and a plot that could have been mundane in lesser hands, but which never falters in Strom's. And his prose packs punches in stark and arresting passages...A blend of pain and promise, Northern Lights also offers, in Strom, a fresh and gifted voice from which much can be expected."—FREE-LANCE STAR

"The search for identity, both familial and sexual, is at the core of this outstanding debut. Shane Stephenson and his friends inhabit a harsh world where drugs and violence are omnipresent, hope of a better life too often thwarted. Strom renders their lives with sympathy but not sentimentality, and we come to care deeply for Shane and his friends as the novel moves toward its powerful conclusion." —RON RASH, New York Times bestselling author of Serena and Above the Waterfall

"Written with a mesmerizing voice as crystalline and startling as the title suggests, Northern Lights is a beautiful, drug-fueled coming-of-age set in the strung-out, debt-crushed American upper midwest. Strom's cool, sharp-eyed clarity and tender pathos calls Denis Johnson to mind—the ghost of Jesus' Son shimmers in these pages."—BRENDAN KIELY, New York Times bestselling author of All American Boys and Tradition

"Raymond Strom's lovely and unflinching coming-of-age novel tracks a non-binary youth looking for acceptance and discovering self-worth among friends in a struggling Midwestern town the summer before college. The powerful bonds of at-risk youth are vividly portrayed and movingly rendered. I found myself rooting for this crew of troubled, resourceful kids. A stirring debut."—EMILY RABOTEAU, author of The Professor's Daughter and Searching for Zion, winner of the American Book Award

"Sweet and sneaky, Northern Lights is a novel to savor, a sad and heartfelt exploration of the families that fail us and the ones we construct after. This is a book to read, and Raymond Strom is a writer to remember."—GREG DOWNS, author of Spit Baths, winner of the Flannery O'Connor Award for Short Fiction

"In Raymond Strom's haunting, propulsive, and beautifully rendered debut, a group of misfits chase transcendence in a dying town. Cut with both violence and tenderness, Northern Lights deftly captures the knife-edge of addiction, the electricity of first love, and the insatiable search for belonging." —Jessie Chaffee, author of Florence in Ecstasy

"With echoes of Richard Ford and early Hemingway, Raymond Strom's Northern Lightsshows us a cold landscape, a heartland that has never had a more frightening hold on the nightmares of this country, illuminating an American sadness that needs to be understood before it overwhelms us all." —Mark Mirsky, author of The Red Adam and Blue Hill Avenue
Simon & Schuster, 9781501190292, 272pp.
Publication Date: February 12, 2019
About the Author
Raymond Strom was born in Hibbing, Minnesota, and moved from small town to small town in the Midwest as a child. He received his MFA from the City College of New York, where he now works as an academic advisor and studies romance languages. His writing has appeared in Fiction, Tweed's, and The New York Times. Northern Lights is his first novel.
or
Not Currently Available for Direct Purchase