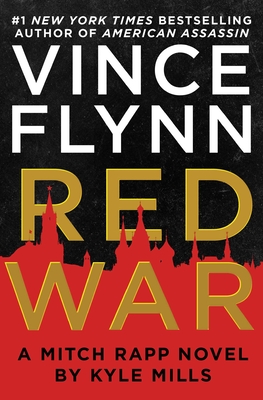 Red War (A Mitch Rapp Novel #15) (Hardcover)
Atria/Emily Bestler Books, 9781501190599, 384pp.
Publication Date: September 25, 2018
* Individual store prices may vary.
Description
*Instant #1 New York Times Bestseller*

The #1 New York Times bestselling series returns with Mitch Rapp racing to prevent Russia's gravely ill leader from starting a full-scale war with NATO.

"Mills is the only writer capable of filling the enormous void left by Vince Flynn."—The Real Book Spy

When Russian president Maxim Krupin discovers that he has inoperable brain cancer, he's determined to cling to power. His first task is to kill or imprison any of his countrymen who can threaten him. Soon, though, his illness becomes serious enough to require a more dramatic diversion—war with the West.

Upon learning of Krupin's condition, CIA director Irene Kennedy understands that the US is facing an opponent who has nothing to lose. The only way to avoid a confrontation that could leave millions dead is to send Mitch Rapp to Russia under impossibly dangerous orders. With the Kremlin's entire security apparatus hunting him, he must find and kill a man many have deemed the most powerful in the world.

Success means averting a war that could consume all of Europe. But if his mission is discovered, Rapp will plunge Russia and America into a conflict that neither will survive.

"In the world of black-ops thrillers, Mitch Rapp continues to be among the best of the best" (Booklist, starred review).
About the Author
#1 New York Times bestselling author Vince Flynn (1966–2013) created one of contemporary fiction's most popular heroes: CIA counterterrorist agent Mitch Rapp, featured in thirteen of Flynn's acclaimed political thrillers. All of his novels are New York Times bestsellers, including his stand-alone debut novel, Term Limits. The Mitch Rapp story begins with American Assassin, followed by Kill Shot, Transfer of Power, The Third Option, Separation of Power, Executive Power, Memorial Day, Consent to Kill, Act of Treason, Protect and Defend, Extreme Measures, Pursuit of Honor, The Last Man, The Survivor, Order to Kill, Enemy of the State, and Red War. American Assassin was released as a major film in 2017.

Kyle Mills is the #1 New York Times bestselling author of nineteen political thrillers, including Red War for Vince Flynn and The Patriot Attack for Robert Ludlum. He initially found inspiration from his father, the former director of Interpol, and still draws on his contacts in the intelligence community to give his books such realism. Avid outdoor athletes, he and his wife have lived in Jackson Hole, Wyoming, for over twenty years. Visit his website at KyleMills.com.
Praise For Red War (A Mitch Rapp Novel #15)…
"Outstanding . . . Mills is writing at the top of his game in this nail-biter."

"Kyle Mills continues his impressive run of must-read thrillers with RED WAR, a timely, explosive novel that shows yet again why Mitch Rapp is the best hero the thriller genre has to offer. . . and why Mills is the only writer capable of filling the enormous void left by Vince Flynn."

"Events lead to a dramatic, you-got-your-money's-worth conclusion. Good, escapist fun."

"All action from start to finish . . . a page-turner all the way up to the climatic finale that you just can't put down."

"In the world of black-ops thrillers, Mitch Rapp remains the gold standard. Mills has embraced the high-concept-thriller style and continues to exceed expectations."

"The characters drive the story and Mitch Rapp continues to be a mainstay of the modern techno-thriller."