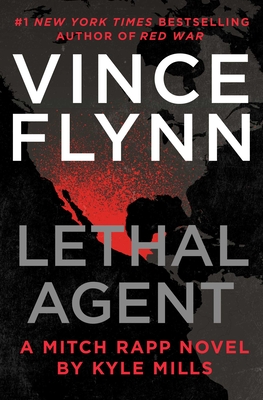 Lethal Agent (A Mitch Rapp Novel #18) (Hardcover)
Atria/Emily Bestler Books, 9781501190629, 400pp.
Publication Date: September 24, 2019
* Individual store prices may vary.
Description
An unprecedented and terrifying bioterrorism plot threatens to kill millions in the midst of a divisive presidential election in this new thriller from the #1 New York Times bestselling Mitch Rapp series.

A toxic presidential election is underway in an America already badly weakened by internal divisions. While politicians focus entirely on maintaining their own power and privilege, ISIS kidnaps a brilliant French microbiologist and forces him to begin manufacturing anthrax. Slickly produced videos chronicling his progress and threatening an imminent attack are posted to the Internet, intensifying the hysteria gripping the US.

ISIS recruits a Mexican drug cartel to smuggle the bioweapon across the border, but it's really just a diversion. The terrorist organization needs to keep Mitch Rapp and Irene Kennedy distracted long enough to weaponize a deadly virus that they stumbled upon in Yemen. If they succeed, they'll trigger a pandemic that could rewrite the world order.

Rapp embarks on a mission to infiltrate the Mexican cartels and track down the ISIS leader who he failed to kill during their last confrontation. But with Washington's political elite increasingly lined up against him, he knows he'll be on his own.

"In the world of black-ops thrillers, Mitch Rapp remains the gold standard" (Booklist, starred review).
About the Author
#1 New York Times bestselling author Vince Flynn (1966–2013) created one of contemporary fiction's most popular heroes: CIA counterterrorist agent Mitch Rapp, featured in thirteen of Flynn's acclaimed political thrillers. All of his novels are New York Times bestsellers, including his stand-alone debut novel, Term Limits. The Mitch Rapp story begins with American Assassin, followed by Kill Shot, Transfer of Power, The Third Option, Separation of Power, Executive Power, Memorial Day, Consent to Kill, Act of Treason, Protect and Defend, Extreme Measures, Pursuit of Honor, The Last Man, The Survivor, Order to Kill, Enemy of the State, and Red War. American Assassin was released as a major film in 2017.

Kyle Mills is the #1 New York Times bestselling author of nineteen political thrillers, including Red War for Vince Flynn and The Patriot Attack for Robert Ludlum. He initially found inspiration from his father, the former director of Interpol, and still draws on his contacts in the intelligence community to give his books such realism. Avid outdoor athletes, he and his wife have lived in Jackson Hole, Wyoming, for over twenty years. Visit his website at KyleMills.com.
Praise For Lethal Agent (A Mitch Rapp Novel #18)…
*Praise for RED WAR*

"Outstanding . . . Mills is writing at the top of his game in this nail-biter."

"Kyle Mills continues his impressive run of must-read thrillers with RED WAR, a timely, explosive novel that shows yet again why Mitch Rapp is the best hero the thriller genre has to offer. . . and why Mills is the only writer capable of filling the enormous void left by Vince Flynn."

"Events lead to a dramatic, you-got-your-money's-worth conclusion. Good, escapist fun."

"All action from start to finish . . . a page-turner all the way up to the climatic finale that you just can't put down."