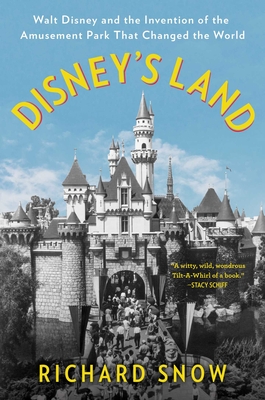 Disney's Land
Walt Disney and the Invention of the Amusement Park That Changed the World
Hardcover

* Individual store prices may vary.
Other Editions of This Title:
Paperback (12/1/2020)
Compact Disc (12/3/2019)
Description
A propulsive history chronicling the conception and creation of Disneyland, the masterpiece California theme park, as told like never before by popular historian Richard Snow.

One day in the early 1950s, Walt Disney stood looking over 240 acres of farmland in Anaheim, California, and imagined building a park where people "could live among Mickey Mouse and Snow White in a world still powered by steam and fire for a day or a week or (if the visitor is slightly mad) forever." Despite his wealth and fame, exactly no one wanted Disney to build such a park. Not his brother Roy, who ran the company's finances; not the bankers; and not his wife, Lillian. Amusement parks at that time, such as Coney Island, were a generally despised business, sagging and sordid remnants of bygone days. Disney was told that he would only be heading toward financial ruin.

But Walt persevered, initially financing the park against his own life insurance policy and later with sponsorship from ABC and the sale of thousands and thousands of Davy Crockett coonskin caps. Disney assembled a talented team of engineers, architects, artists, animators, landscapers, and even a retired admiral to transform his ideas into a soaring yet soothing wonderland of a park. The catch was that they had only a year and a day in which to build it.

On July 17, 1955, Disneyland opened its gates…and the first day was a disaster. Disney was nearly suicidal with grief that he had failed on a grand scale. But the curious masses kept coming, and the rest is entertainment history. Eight hundred million visitors have flocked to the park since then. In Disney's Land, Richard Snow brilliantly presents the entire spectacular story, a wild ride from vision to realization, and an epic of innovation and error that reflects the uniqueness of the man determined to build "the happiest place on earth" with a watchmaker's precision, an artist's conviction, and the desperate, high-hearted recklessness of a riverboat gambler.
Praise For Disney's Land: Walt Disney and the Invention of the Amusement Park That Changed the World…
"This joyful, lavishly detailed account will entertain Disneyphiles and readers of popular American history." —Publishers Weekly

"An animated history of an iconic destination." —Kirkus Reviews

"Snow's smooth narrative spotlights the hard work and heart that the 'happiest place on Earth'." —Booklist

"Call it what you will: a fantasy, a folly, a country of its own, a city from the Arabian Nights, a giant cash register, a monument to Main Street, a saccharine absurdity, a triumph of urban design. Richard Snow calls Disneyland an invention on par with the Kitty Hawk Flyer and—in the most shapely of narratives—not only convinces us of its magic but somehow reproduces that magic on the page. A witty, wild, wondrous Tilt-A-Whirl of a book." —Stacy Schiff, Pulitzer Prize–winning author of The Witches and Cleopatra: A Life

"This is a deeply felt and deeply researched story about the complicated man and his vision to create 'the happiest place on earth.' Snow brings a historian's eye and a child's delight, not to mention superb writing, to the telling of this fascinating narrative." —Ken Burns

"Richard Snow gives Disney fans everything they could want in a history of the world's favorite theme park, from its nascent phase as a mere faraway look in Walt Disney's eye, to the hysteria of its opening day, with the freshly poured asphalt on Main Street barely set—and beyond. Snow is a great researcher and a terrific storyteller—and no detail is too small, whether it's the landscaping, the design of the rides, or the way Walt Disney did (or didn't) manage the money. As Snow tells it, Disney's Land is more than mere history; it's a page-turner of a suspense story, and, even knowing how it all turns out, you'll find yourself wondering if Walt is really going to get his pie-in-the-sky project ready in time for its opening day. I couldn't put it down." —Brian Jay Jones, New York Times bestselling author of Jim Henson: The Biography and Becoming Dr. Seuss: Theodor Geisel and the Making of an American Imagination

"My favorite new book of 2019… brisk, smart, a delight." —Richard Brookhiser, The Wall Street Journal

"Fantastic." —New York Journal of Books

"The clockwork of the park — and to some extent, the personality of the man who created it — receives an expert inspection…Readers are led toward the climax of opening day, July 17, 1955, with narrative wienies aplenty and the whole enterprise is shown as a magnificent amoeba that was as much an accident as a mastered design." —The New York Times Book Review

"Eight hundred million visitors have trekked to the so-called 'happiest place on earth' since its 1955 opening, seeking its carefully scripted brand of excitement and cheer. How and why Walt Disney envisioned a place where people 'could live among Mickey Mouse and Snow White' is carefully detailed in this new book." —Washington Post, "Best Books to Read in December"


"An extremely entertaining story… Disney's Land is Snow's exhaustively researched, jam-packed chronicle of how Walt Disney conceived and created a new kind of amusement park." —Newsday

"Entertaining…Mr. Snow [proves] to be as solid a storyteller as Walt Disney himself." —The Wall Street Journal

"Disney fans will enjoy this rendering of the founder and entrepreneurs will find their time well spent inside the covers of Snow's book." —Associated Press

"Disneyland is rarely mentioned as a milestone American invention, but it should be…The captivating origin story of the 'Happiest Place on Earth' is well-told in Disney's Land, the latest work from esteemed historian and novelist Richard Snow. It's a rollicking read befitting the home of Mr. Toad's Wild Ride, chock full of Alice-in-Wonderland-level surprises, with the grandeur of Sleeping Beauty's Castle, and other delightful details (Walt Disney would eat his favorite hot dog lunch from a cart, walk away, and place garbage receptacles at the exact spot he finished his frankfurter.)" —Medium

"A rich biography of a place…Snow echoes Disney's attention to detail in this lush history of how the theme park came to be." —Christian Science Monitor

"Every Disney fan needs to read [this]." —PopSugar
Scribner, 9781501190803, 432pp.
Publication Date: December 3, 2019
About the Author
Richard Snow spent nearly four decades at American Heritage magazine, serving as editor in chief for seventeen years, and has been a consultant on historical motion pictures, among them Glory, and has written for documentaries, including the Burns brothers' Civil War, and Ric Burns's award-winning PBS film Coney Island, whose screenplay he wrote. He is the author of multiple books, including, most recently, Disney's Land.