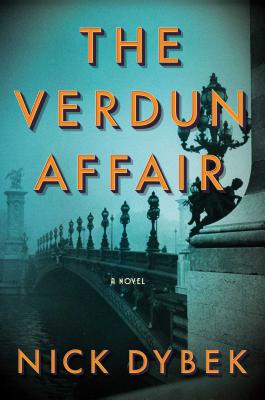 The Verdun Affair
A Novel
Hardcover

* Individual store prices may vary.
Other Editions of This Title:
Digital Audiobook (6/11/2018)
Paperback (8/13/2019)
Description
Across a continent still reeling from World War I, a "ravishingly beautiful" (Paula McClain) story about a love affair between two Americans and the lie that changes everything.

France, 1921—Tom, a young American orphaned in World War I, is working at an ossuary in Verdun, helping priests comfort families seeking answers about their loved ones. But nothing in his past—not his rough-and-tumble Chicago childhood nor his experiences driving ambulances across French battlefields—can prepare Tom for the arrival of Sarah Hagen. From the moment he sees her, a young woman in a blue dress desperate for news of her missing husband, he knows he will help her in any way he can.

As their affair takes them across a fractured Europe, Tom and Sarah reckon with the ways extraordinary circumstances impact the lives of ordinary people. They eventually part but when news of an amnesiac soldier in Naples reaches Tom in Paris, he sets off, only to find Sarah there, hopeful as ever, along with an Austrian journalist named Paul who has his own agenda. Years later, a chance encounter with Paul forces Tom, now a screenwriter in Hollywood, to confront his past—and the woman he's never been able to forget.

A page-turning, vividly imagined, and deeply romantic novel about love and identity, truth and consequences, The Verdun Affair is a "literary romance…[that] unravels a love triangle and its players' secrets" (Los Angeles Times). It will transport you to another place and time while asking the question: Who are you in a world you no longer recognize?
Praise For The Verdun Affair: A Novel…
"Grief looms, shadowlike, over this beautifully calibrated novel, which recalls the work of Anthony Doerr and Michael Ondaatje."
—O Magazine

"Striking… a story of operatic complexity, narrated in many voices, rich in imagery... Dybek finds the perfect conclusion for a novel so much about the mutability of time."
—New York Times Book Review

"As evocative as it is unflinching in its verisimilitude, Dybek's novel begins shortly after the First World War in an ossuary, a makeshift memorial of sorts where unidentified remains of soldiers are gathered. Into this metaphor-rich setting a young American wife arrives seeking answers, and a precarious romance ensues…capturing the fragmented textures of war's afterlife, and the private desires that seem to glow with even greater intensity in memory, is Dybek's true ambition."
–Vogue

"For a literary romance, try The Verdun Affair by Nick Dybek, a historical fiction that begins in 1950 in Los Angeles, where a Hollywood screenwriter runs into someone from his past. Their story stretches back to Europe in the years following the First World War, and the novel unravels a love triangle and its players' secrets."
–LA Times

"Dybek has a knack for creating a cinematic, wistfully noirish atmosphere of romance, in a world where love now seems beside the point."
—Seattle Times

"Nick Dybek's pensive new novel centers on a man, a woman and a lie in World War I Europe and 1950s California. Dybek's protagonist is an orphan without ties, free to project his life in any direction he chooses – but he can't choose where the lie takes him."
–Portland Oregonian

"The perfect escape."
–First For Women

"While there are obvious comparisons to The English Patient, this book seems to be an extended metaphor showing how relationships, loves even, can be shattered beyond all recognition, just as a human body can be obliterated. The author effectively communicates the spirit of place and time. He also has a knack for sharing the feelings and intentions behind quite ordinary conversations. The strength of this book lies in the first chapters set in Verdun. The powerful images of post-war suffering eclipse the image of long-dead romances."
–Historical Novels Review

"Dybek is a master at creating an atmosphere of war, of decadence amid the rubble, and at dipping in and out of history, teasing the reader with beguiling clues concerning the secrets each character harbors ... Dybek's novel is a complex tale of memory, choice, and the sacrifices one sometimes makes by doing the right thing."
—Publishers Weekly, starred review

"Dybek has created a carefully constructed, deeply inquisitive, and broodingly romantic tale of mourning resonant with judicious echoes of Hemingway and Fitzgerald and spiked with piquant insights into the loss, longing, and delusion rampant in the haunting aftermath of war."
—Booklist, starred review

"An absorbing tale ... in delicate, evocative prose, Dybek captures the grim devastation of scarred battlefields, bombed villages, and fetid soil and conveys with sensitivity his characters' unabated desire to see in the shellshocked soldier an answer to their deepest desire."
—Kirkus Reviews

"The Verdun Affair is ravishingly beautiful, and as much about love as about war. Nick Dybek is a storyteller of great power. I found myself drawn in immediately, believing the place, the characters, everything in his magnificently woven story. If there's any justice, this novel will be widely read and recognized. I absolutely adored it."
—Paula McLain, author of The Paris Wife and Circling the Sun

"Sometimes the true battle begins only after the fighting is over. In this case, it's the struggle to regain feeling, memory, and love in a landscape where verdancy can flourish again over graves and trenches and bones, but not over the craters of a wounded spirit. In the end, only a story can do that, but it must be as rich and poignant and compelling as Nick Dybek's immersive and atmospheric The Verdun Affair. The meaning in life often goes AWOL, and we look to our great writers—writers like Nick Dybek—to bring it back."
—Adam Johnson, author of The Orphan Master's Son and Fortune Smiles

"The Verdun Affair is an intensely gripping story set in the immediate aftermath of war. From a still-smoldering battlefield, Nick Dybek conjures a sweeping saga of secrets, lies, mistaken identity, love and betrayal. This is the kind of book you can't put down."
—Claire Vaye Watkins, author of Gold Fame Citrus and Battleborn

"The Verdun Affair is a masterful, sweeping novel of love and war and the way we reconstruct ourselves and our stories after everything has come apart. Nick Dybek is a vivid storyteller, and this is a beautiful and exciting book."
—Ramona Ausubel, author of Sons and Daughters of Ease and Plenty and No One is Here Except all of Us

"I am still haunted by the images of war so deftly conjured in the midst of an elegiac love story. Dybek writes with a commanding sense of story and language. This novel will not let you go."
—Helen Simonson, author of Major Pettigrew's Last Stand and The Summer Before The War

"Love, war, the mysteries of who we are — it's all in The Verdun Affair. A masterful novel that will fizz your brain and enchant your heart."
—David Ebershoff, author of The Danish Girl and The 19th Wife

"A haunting, beautiful, and wholly absorbing book, that is at once a gripping story of war, a poignant coming of age, and a bittersweet romance. Dybek conjures the time period with elegance and visceral detail. I didn't want it to end!"
—Madeline Miller, author of The Song of Achilles and Circe
Scribner, 9781501191763, 304pp.
Publication Date: June 12, 2018
About the Author
Nick Dybek is a recipient of a Granta New Voices selection, a Michener-Copernicus Society of America Award, and a Maytag Fellowship. He received a BA from the University of Michigan and an MFA from The Iowa Writers' Workshop. He teaches at Oregon State University. He is the author of When Captain Flint Was Still a Good Man and The Verdun Affair.
or
Not Currently Available for Direct Purchase