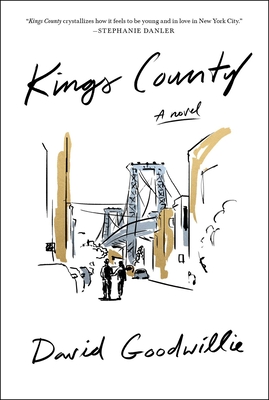 Kings County
Hardcover

* Individual store prices may vary.
Other Editions of This Title:
Digital Audiobook (7/27/2020)
Paperback (7/13/2021)
Compact Disc (7/28/2020)
Description
A Brooklyn love story, set to music.

"Kings County crystallizes how it feels to be young and in love in New York City." —Stephanie Danler

"A true and continual delight...Goodwillie captures the rapturous soul of a bygone Brooklyn." —Joshua Ferris

It's the early 2000s and like generations of ambitious young people before her, Audrey Benton arrives in New York City on a bus from nowhere. Broke but resourceful, she soon finds a home for herself amid the burgeoning music scene in Williamsburg, Brooklyn. But the city's freedom comes with risks, and Audrey makes compromises to survive. As she becomes a minor celebrity in indie rock circles, she finds an unlikely match in Theo Gorski, a shy but idealistic mill-town kid who's struggling to establish himself in the still-patrician world of books. But then an old acquaintance of Audrey's disappears under mysterious circumstances, sparking a series of escalating crises that force the couple to confront a dangerous secret from her past.

From the raucous heights of Occupy Wall Street to the comical lows of the publishing industry, from million-dollar art auctions to Bushwick drug dens, Kings County captures New York City at a moment of cultural reckoning. Grappling with the resonant issues and themes of our time—sex and violence, art and commerce, friendship and family—it is an epic coming-of-age tale about love, consequences, bravery, and fighting for one's place in an ever-changing world.
Praise For Kings County…
"Can a person with a tattoo have a soul? To judge from a broad swath of contemporary fiction, the answer would seem to be no. . . . It's refreshing, then, that David Goodwillie's very good new novel, Kings County, depicts such people with genuine, unmitigated sympathy and good-fellowship, as if, in spite of their fashionable lifestyles, they are as fully human as anyone else. . . . Goodwillie is also a stylish writer, smart and witty without being a show-off. . . . It makes for a suspenseful read. After the first chapter or two, the pages of Kings County begin to turn quickly."
—Adelle Waldman, New York Times Book Review

"Dazzling writing, propulsive storytelling, relevant and timeless characters—that's exactly what David Goodwillie has accomplished in Kings County. He's created a true urban tableau, at once gritty and hopeful. Kings County crystallizes how it feels to be young and in love in New York City."
—Stephanie Danler, author of Sweetbitter

"Vivid . . . A down-and-dirty ode to New York City . . . Goodwillie guides his young, reckless, hard-working characters through the ins and outs of the early 2000s Brooklyn music scene—and eventually into the mystery of a drug-dealer friend's unexpected death. Coursing through this novel is nostalgia for a New York that no longer exists due to the increasing gentrification of the past decade."
—Interview magazine

"A panoramic time capsule of youth and self-discovery in the aughts in New York City . . . Goodwillie's writing is full of not only impressive detail and fondness, but also self-awareness. . . . The novel's characterizations of people—from Brooklyn musicians to Upper East Siders—and the city itself are its biggest strength."
—Kirkus

"Goodwillie has the anthropology of New York down. In Kings County, young professionals struggle to find their moral compass as they test the limits of their relationships under the glare of city lights, and suffer the dramatic effects of their past and present decisions. He weaves suspense around a dark, page-turning mystery that stays palpable to the end, and his confident—and often comedic—narrative hand allows him to seamlessly fold in contemporary events and generate a necessary social document for this new age of unenlightenment."
—Matthew Thomas, author of We Are Not Ourselves

"Kings County is a heart-wrenching love story, a character-driven suspense novel, and a lush thrill-ride through the New York City aughts. For some of us who lived in Brooklyn at the turn of the century, it's a meticulous period piece that doesn't sacrifice immediacy for the nostalgia it provokes. For those who didn't, it's a scintillating glimpse into the zeitgeist that followed 9/11—the music, movements, and sense of impending upheaval that foretold our chaotic present."
—Melissa Febos, author of Abandon Me

"Goodwillie captures the rapturous soul of a bygone Brooklyn: the songs, the sex, the bars, the youth! And then the churn of relentless change, the broken hearts, the crushing realities. But it is the searing burn of discovery that makes Kings County a true and continual delight."
—Joshua Ferris, author of Then We Came to the End

"Goodwillie pins his characters to the page with a lepidopterist's merciless affection—and then, by some trick of resuscitation, lets them fly in a Brooklyn that's a kind of darkly miraculous forest populated by charismatic and errant fauna. Kings County is a thrilling and persuasive read."
—Joseph O'Neill, author of Netherland

"With Tom Wolfean sociological precision, David Goodwillie casts an insider's eye on the Brooklyn creative class in a gripping novel as suspenseful as it is panoramic. Kings County is a grand, galloping ride."
—Teddy Wayne, author of Apartment

"Goodwillie's setting is vivid and his characters rich, with flashbacks fleshing out their backstories. Those who like literary, character-driven fiction with a strong sense of place . . . will enjoy this coming-of-age story with elements of romance and mystery."
—Booklist

Praise for American Subversive:

"No one could accuse David Goodwillie of playing it safe in his first novel. . . . The book moves like a potboiler. . . . Sequel, please?" —Vanity Fair

"[A] hip and quick-paced literary thriller . . . Goodwillie excels at jet-black social satire in a style reminiscent of Bret Easton Ellis. . . [H]e has written a scathing and hilarious indictment of our bizarre moment in time." —Malena Watrous, New York Times Book Review

"Definite beach-reading recommendation. . . A genuinely thrilling thriller." —The New Yorker

"The novel is thoughtful and dead-on in its presentation of our post-recession, digitally obsessed, self-centered and seemingly morally bankrupt culture." —Carol Memmott, USA Today

"A new voice has entered the city—youthful, wise, and with an enthralling story to tell. Goodwillie's rendering of an American woman seduced by radicalism skillfully examines the enduring themes of our lives: politics, media, loyalty and love." —Gay Talese, author of A Writer's Life

"An incisive depiction of radicalism's seductive roots . . . Falls somewhere between Bret Easton Ellis's Glamorama and John Updike's Terrorist." —Publishers Weekly
Avid Reader Press / Simon & Schuster, 9781501192135, 432pp.
Publication Date: July 28, 2020
About the Author
David Goodwillie is the author of the novels Kings County, American Subversive, a New York Times Notable Book of the Year, and the memoir Seemed Like a Good Idea at the Time. Goodwillie has written for the New York Times, New York magazine, and Newsweek, among other publications. He has also been drafted to play professional baseball, worked as a private investigator, and was an expert at Sotheby's auction house. A graduate of Kenyon College, he lives in Brooklyn.
or
Not Currently Available for Direct Purchase