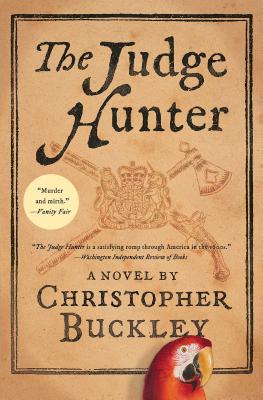 The Judge Hunter
Paperback

* Individual store prices may vary.
Other Editions of This Title:
Compact Disc (5/1/2018)
Compact Disc (5/1/2018)
Description
The latest comic novel from Christopher Buckley, in which a hapless Englishman embarks on a dangerous mission to the New World in pursuit of two judges who helped murder a king.

London, 1664. Twenty years after the English revolution, the monarchy has been restored and Charles II sits on the throne. The men who conspired to kill his father are either dead or disappeared. Baltasar "Balty" St. Michel is twenty-four and has no skills and no employment. He gets by on handouts from his brother-in-law Samuel Pepys, an officer in the king's navy.

Fed up with his needy relative, Pepys offers Balty a job in the New World. He is to track down two missing judges who were responsible for the execution of the last king, Charles I. When Balty's ship arrives in Boston, he finds a strange country filled with fundamentalist Puritans, saintly Quakers, warring tribes of Indians, and rogues of every stripe. Helped by a man named Huncks, an agent of the Crown with a mysterious past, Balty travels colonial America in search of the missing judges. Meanwhile, on the other side of the Atlantic, Samuel Pepys prepares for a war with the Dutch that fears England has no chance of winning.

Christopher Buckley's enchanting new novel spins adventure, comedy, political intrigue, and romance against a historical backdrop with real-life characters like Charles II, John Winthrop, and Peter Stuyvesant. Buckley's wit is as sharp as ever as he takes readers to seventeenth-century London and New England. We visit the bawdy court of Charles II, Boston under the strict Puritan rule, and New Amsterdam back when Manhattan was a half-wild outpost on the edge of an unmapped continent. The Judge Hunter is a smart and swiftly plotted novel that transports readers to a new world.
Praise For The Judge Hunter…
"It's murder and mirth in Christopher Buckley's The Judge Hunter." —Vanity Fair

"An entertaining and nicely crafted picaresque thriller with crackling dialogue and a brace of Colonial cops as appealingly mismatched as any of Hollywood's buddy efforts." —Kirkus Reviews

"Christopher Buckley's style of satire has a peculiar bite: It nibbles, nibbles, nibbles—gently, even delightfully—before chomping down and leaving teeth marks as distinctive as any known to forensic science....The Judge Hunter is a brisk adventure....Buckley's signature wordplay transposes well to 17th-century England and America, and anyone familiar with the real Pepys will take special pleasure in Buckley's pitch-perfect fictional diary entries for him....the point of the thing is in the adventure and in the glimpses of a past that is distant but familiar, not only because of the names that still resonate three centuries on but because all the manners of stupidity and greed, intrigue and intrepidity he describes are still very much with us today." —The Weekly Standard

"Christopher Buckley fans and newcomers to his work will delight in this humorous historical novel." —Bookish

"A wry, witty, enjoyable romp....With an almost British, Monty Python–esque dryness, Buckley traipses through the American Colonies and skewers the foibles of the inhabitants....Buckley cleverly weaves his story line with historical threads taken from Pepys diaries and other notes from the Colonial period." —Library Journal

"Buckley (The Relic Master) has turned his quick wit and sharp writing focus on the 17th century in this 2nd book in his historical fiction series....Peppered with historical characters—Peter Stuyvesant, John Winthrop II—and cleverly using Samuel Pepys' famous diaries, Buckley masterfully weaves a fictional story with historical fact....a rich story ripe for Buckley's humor and pointed satire on Puritan ideals, royal peccadillos, and political intrigue. The Judge Hunter is an absorbing mystery/thriller with humorous dialog and characters that resonate and draw in the reader. Buckley's ability to fuse fact with fiction makes this book a must for not just fans of historical fiction but anyone looking for a great read." —Historical Novels Review

"The Judge Hunter is a captivating and witty new novel that combines adventure, comedy, political intrigue, and romance around real-life historical characters....Buckley has a razor-sharp wit....[a] brilliantly plotted historical novel that is extraordinarily entertaining. You will not stop laughing as you read it." —Washington Book Review


"Wildly satisfying and funny...The Judge Hunter is a satisfying romp through America in the 1600s." —Washington Independent Review of Books

"Buckley's wry wit is on display throughout....the characters and events of the period covered in The Judge Hunter offer a trove of material. While it's handled lightly, like any good historical fiction the book sparks the reader's interest in learning more about the events and people it touches on. Carefully researched and constructed with a wealth of authentic details, the novel succeeds in making a sometimes distant and stodgy-seeming era feel somehow contemporary." —National Review

"In these days of nasty name-calling passing as humor there is thankfully one true practitioner of the literary art of satire still standing, and Christopher Buckley's second historical novel proves it. The Judge Hunter is full of humor that skewers historical figures in all their self-serving political ambitions....Buckley's humorous satire...is both revealing of painful truths and the timelessness of bad human behavior." —New York Journal of Books
Simon & Schuster, 9781501192531, 368pp.
Publication Date: May 28, 2019
About the Author
Christopher Buckley is a novelist, essayist, humorist, critic, magazine editor, and memoirist. His books include Thank You for Smoking, The Judge Hunter, Make Russia Great Again, and The Relic Master. He worked as a merchant seaman and White House speechwriter. He was awarded the Thurber Prize for American Humor and the Washington Irving Medal for Literary Excellence.