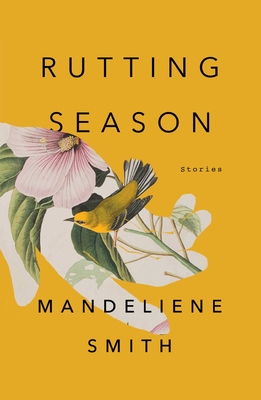 Rutting Season
Stories
Hardcover

* Individual store prices may vary.
Other Editions of This Title:
Digital Audiobook (2/11/2019)
Paperback (1/21/2020)
Compact Disc (2/12/2019)
MP3 CD (2/12/2019)
Description
An intimate, sparkling collection of stories by a debut writer about girls behaving badly and families on the brink of collapse.

In these lucid, sharply observant stories, Mandeliene Smith traces the lives of men and women in moments of crisis: a woman whose husband has just died, a social worker struggling to escape his own past, a girl caught in a standoff between her mother's boyfriend and the police. A lively and insightful collection, Rutting Season is dark, humorous, and moving, filled with complex characters who immediately demand our interest and attention.

In "What it Takes," a teenage girl navigates race and class as the school's pot dealer. "The Someday Cat" follows a small girl terrified of being given away by her neglectful mother. "Three Views of a Pond" is a meditation on the healing time brings for a college student considering suicide. And in "Animals," a child wrestles with the contradictions inherent in her family's relationship with the farm animals they both care for and kill.

In barnyards, office buildings, and dilapidated houses, Smith's characters fight for happiness and survival, and the choices they make reveal the power of instinct to save or destroy. Whether she's writing about wives struggling with love, teenage girls resisting authority, or men and women reeling from loss, Smith illuminates her characters with pointed, gorgeous language and searing insight. Rutting Season is an unforgettable, unmissable collection from an exciting new voice in fiction.
Praise For Rutting Season: Stories…
"This short story collection checks off two big marks for a memorable read ... Desperate characters and punchy writing."
—Today, 20 Inspiring New Books

"Mandeliene Smith's short story collection will appeal to fans of Alice Munro and Marilynn Robinson. The seven stories in this collection are well-crafted gems that peer into the lives of seven women and girls at pivotal moments. With gorgeous prose, Smith incisively uncovers truths of the human condition — and introduces us to some great characters, too."
—Refinery29

"This arresting debut short story collection often finds its protagonists poised between disaster and redemption. It's not always easy to foresee how the stories in Smith's collection will end… Nuanced and empathetic, at times dangerous, tragic, or redemptive, these stories find their subjects in the midst of pivotal moments in their lives, as they struggle with impulses and actions both animalistically urgent and deeply, hauntingly human. At once powerful and delicate, compassionate and cleareyed, this book is sure to breed interest in a new literary voice."
—Kirkus Reviews, starred

"In Smith's unsettling debut, characters must confront the most basic, animal sides of themsevles as they navigate crisis and tragedy, whether it is a husband's sudden death, workplace tension, or a police faceoff ... Smith's characteres skate the razor-thin line of brutality in a way that's both chilling and compelling ... This collection proves that Smith is an uncommonly talented writer with a particularly sharp eye for the serrated edge of human nature."
—Publishers Weekly

"Smith's wrenching first collection features characters encountering indelible, complex shifts in their lives and relationships ... Characters have little choice but to confront their difficulties and ghosts head on, and Smith's nine tales sharply convey their internalizations as well as the glimpses of acceptance they so desperately seek."
—Booklist

"I will follow Mandeliene Smith wherever her wise, tragicomic vision leads me. These stories about parents, children, and secrets of the soul are absolutely fearless. Smith finds mercy within darkness and even a deadpan humor in disaster. Exposing the animal nature of our human selves, Rutting Season will leave you looking anew at the world's dark, dangerous beauty—even "the red animal of your own heart."
—Daphne Kalotay, author of Sight Reading and Russian Winter

"Mandeliene Smith's debut is a collection of haunting and propulsive tales—families, children, mothers, men fighting daily horrors for their lives, for decency, for the glad shock of an unexpected joy. Rutting Season is as urgent as it is irresistible. What beautiful stories these are."
—Martha McPhee, author of Gorgeous Lies and Dear Money

"The lyricism and gritty naturalism that inform the haunting, extraordinary stories in Mandeliene Smith'sRutting Season bring to mind the dark, incisive vision of Joyce Carol Oates where love and cruelty commingle with often crushing force. Smith is a master of pathos and the casual terror of the everyday. Her characters are vibrant, flawed, vulnerable, and above all, wholly memorable."
—Christine Sneed, author of The Virginity of Famous Men and Paris, He Said

"Mandeliene Smith's stories are empathic, wise, and do not look away from uncomfortable truths, whether they be about black-white race relations, the necessary cruelty of life on earth, or the pervasiveness of loss. This is a beautiful, sensitive, and sophisticated debut."
—Rishi Reddi, author of Karma and Other Stories

"Mandeliene Smith's gorgeous, evocative debut story collection stunned me with its sharp language and almost painfully vivid insights into the human condition. Rutting Season tackles hard topics—grief, death, poverty, the search for self and shelter—with haunting beauty. Smith is a phenomenal new talent." –Whitney Scharer, author of The Age of Light
Scribner, 9781501192708, 240pp.
Publication Date: February 12, 2019
About the Author
Mandeliene Smith's stories have appeared in Guernica, The Sun, New England Review, and The Massachusetts Review. Her work has been nominated for a Pushcart Prize, and her story "Mercy" was selected by Stephen King for the list of "100 Other Distinguished Stories" in The Best American Short Stories 2007. Mandeliene has waited tables, weeded gardens, taught writing, worked as a secretary, and translated books into Braille, among other things. She has an MFA from Sarah Lawrence College and a BA in comparative literature from Hampshire College. The author of Rutting Season, she currently lives in Lexington, Massachusetts, with her husband, her two daughters, and two dogs.
or
Not Currently Available for Direct Purchase