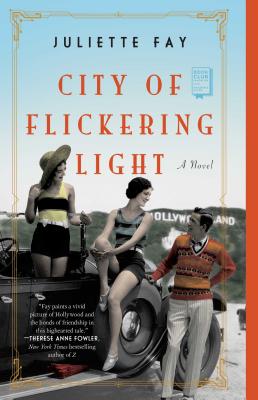 City of Flickering Light
Paperback

* Individual store prices may vary.
Other Editions of This Title:
Digital Audiobook (4/15/2019)
Library Binding, Large Print (7/3/2019)
MP3 CD (4/16/2019)
Compact Disc (4/16/2019)
Compact Disc (4/16/2019)
Description
Juliette Fay—"one of the best authors of women's fiction" (Library Journal)—transports us back to the Golden Age of Hollywood and the raucous Roaring Twenties, as three friends struggle to earn their places among the stars of the silent screen—perfect for fans of La La Land and Rules of Civility.

It's July 1921, "flickers" are all the rage, and Irene Van Beck has just declared her own independence by jumping off a moving train to escape her fate in a traveling burlesque show. When her friends, fellow dancer Millie Martin and comedian Henry Weiss, leap after her, the trio finds their way to the bright lights of Hollywood with hopes of making it big in the burgeoning silent film industry.

At first glance, Hollywood in the 1920s is like no other place on earth—iridescent, scandalous, and utterly exhilarating—and the three friends yearn for a life they could only have dreamed of before. But despite the glamour and seduction of Tinseltown, success doesn't come easy, and nothing can prepare Irene, Millie, and Henry for the poverty, temptation, and heartbreak that lie ahead. With their ambitions challenged by both the men above them and the prejudice surrounding them, their friendship is the only constant through desperate times, as each struggles to find their true calling in an uncertain world. What begins as a quest for fame and fortune soon becomes a collective search for love, acceptance, and fulfillment as they navigate the backlots and stage sets where the illusions of the silver screen are brought to life.

With her "trademark wit and grace" (Randy Susan Meyers, author of The Murderer's Daughters), Juliette Fay crafts another radiant and fascinating historical novel as thrilling as the bygone era of Hollywood itself.
Praise For City of Flickering Light…
"With humor, warmth, and an impeccable eye for historical detail, Juliette Fay has written a page-turning novel that's as radiant as its Hollywood setting. City of Flickering Light brings to life the wicked glamor of 1920s Tinseltown – and its story of friendship, love, and acceptance melts your heart."
— Ann Mah, bestselling author of The Lost Vintage

"Fay paints a vivid picture of newborn Hollywood and the bonds of friendship in this big hearted, wise tale of three appealing misfits bound by a desire to thwart misfortune and achieve their dreams."
— Therese Anne Fowler, New York Times bestselling author of A Well-Behaved Woman and Z.

"Fay spins the magic of Hollywood with the reality of 1920's show business, creating a captivating story of three courageous friends scaling past Tinsel Town's obstacles, battling the industry's ever-present me-too, and cutting through the cultural and religious barriers lurking behind the glitter. With her pen dipped in equal amounts of page-turning gotta-know, thrilling behind-the-scenes revelations, and characters who capture the heart, Fay delivers a spectacular read."
— Randy Susan Meyers, author of The Widow of Wall Street

"City of Flickering Light transports you to Hollywood in the 1920's--another time and place where so much is different and yet so much is sadly the same. We'll always go chasing dreams, and we'll always have to cope with reality... but in the end Fay gives us hope and that's what makes this novel so very special."
— M.J. Rose, New York Times bestseller

"Like a champagne cocktail, Juliette Fay's new novel, City of Flickering Light, bubbles with spirit and humor and fun. Fay has conjured a page turning tale that reveals both the power of the human spirit and the mysteries of the human heart. Fall in love with these unforgettable characters who must dare and fight and sometimes go hungry to survive and follow their dreams. Savor the fashions, the love affairs, the lingo, and the go-go-go jazz rhythms of a new industry as City of Flickering Light brings the heady early days of Hollywood and silent films to magical life."
— Laura Harrington, bestselling author of Alice Bliss and A Catalog of Birds

"City of Flicking Light is a delight of a novel, full of fascinating characters, timely themes, heady ups and downs, and all set in Hollywood during the era of silent films. Fabulous read!"


— B.A. Shapiro, New York Times bestselling author of The Art Forger and The Collector's Apprentice

"Full of humor and heart, this dazzling, evocative tale of Hollywood in the early 1920s—in all its glamorous, tragic glory—will charm you, move you, and stay with you for a long time after you finish the book. I laughed, I cried, and I was thoroughly swept away by the beautiful writing, fascinating details, and thoroughly delightful main characters. This is historical fiction at its best; Juliette Fay has truly created magic on the page."
— Kristin Harmel, bestselling author of The Room on Rue Amelie

"City of Flickering Light radiates excitement, warmth, and, yes, light, making the pages fly. You won't realize that you're getting an education—in this case, in the fascinating world of 1920's Hollywood—as you fall in love with the characters and root for their success. A thoroughly satisfying read."
— Lynn Cullen, bestselling author of Mrs. Poe

"Juliette Fay's gift for creating complex, exquisitely human characters is at its peak in CITY OF FLICKERING LIGHT, and she places Irene, Millie, and Henry--and their compelling friendship--in a dazzling 1920s Hollywood so vividly drawn--down to the smallest detail--that I felt as if I were right there with them. I can't imagine anyone not loving this book."
— Marisa de los Santos, New York Times bestselling author of Belong to Me and I'll Be Your Blue Sky

"City of Flickering Light by Juliette Fay is an entirely addictive, transportive historical novel. Delightful characters full of grit, flaws, and compassion take the reader on an unforgettable journey through the Golden Age of Hollywood. From glamorous film sets and champagne parties to dream-shattering realities waiting behind the scenes, the bonds of friendship are not only forged and tested but, above all, depended upon for survival. I didn't want the story to end."
— Kristina McMorris, New York Times bestselling author of Sold on a Monday and The Edge of Lost

"[A] dishy but never salacious tale, chock full of details that will delight readers fascinated with silent films and what goes on behind the scenes."
— Publishers Weekly

"The descendant of a vaudevillian, Fay follows her tale of traveling acrobats, The Tumbling Turner Sisters (2016), with this atmospheric portrait of early Tinseltown, peppering her characters' escapades with real people and places and creating a buoyant tale of friendship and loyalty."
— Booklist

"Readers who enjoyed Fay's previous works will find much to love here, as will those who appreciate well-drawn characters and vibrant historical backdrops."
— Library Journal

"Inspired by historic buildings, events, silent films and real-life figures […] this [is] a fascinating glimpse into Tinseltown's storied – and sometimes scandalous – past."
— The Toronto Star
Gallery Books, 9781501192937, 400pp.
Publication Date: April 16, 2019
About the Author
Juliette Fay is the bestselling author of five novels, including the USA TODAY bestseller The Tumbling Turner Sisters. A graduate of Boston College and Harvard University, she lives in Massachusetts. Visit her at JulietteFay.com.
or
Not Currently Available for Direct Purchase