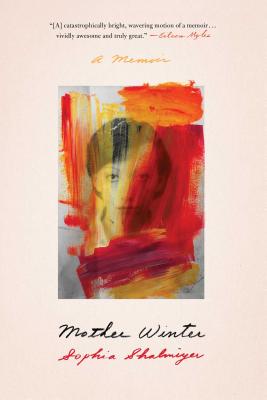 Mother Winter
A Memoir
Hardcover

* Individual store prices may vary.
Other Editions of This Title:
Digital Audiobook (2/11/2019)
Compact Disc (2/12/2019)
Paperback (2/11/2020)
Description
"Lyrical and emotionally gutting." —O, THE OPRAH MAGAZINE
"Intellectually satisfying [and] artistically profound." —KIRKUS REVIEWS (STARRED REVIEW)
"Mesmeric."—THE PARIS REVIEW
"Vividly awesome and truly great." —EILEEN MYLES
"Gorgeous, gutting, unforgettable." —LENI ZUMAS
"Brilliant." —MICHELLE TEA

An arresting memoir equal parts refugee-coming-of-age story, feminist manifesto, and meditation on motherhood, displacement, gender politics, and art that follows award-winning writer Sophia Shalmiyev's flight from the Soviet Union, where she was forced to abandon her estranged mother, and her subsequent quest to find her.

Russian sentences begin backward, Sophia Shalmiyev tells us on the first page of her striking lyrical memoir. To understand the end of her story, we must go back to the beginning.

Born to a Russian mother and an Azerbaijani father, Shalmiyev was raised in the stark oppressiveness of 1980s Leningrad (now St. Petersburg), where anti-Semitism and an imbalance of power were omnipresent in her home. At just eleven years old, Shalmiyev's father stole her away to America, forever abandoning her estranged alcoholic mother, Elena. Motherless on a tumultuous voyage to the states, terrified in a strange new land, Shalmiyev depicts in urgent, poetic vignettes her emotional journeys through an uncharted world as an immigrant, artist, and, eventually, as a mother of two. As an adult, Shalmiyev voyages back to Russia to search endlessly for the mother she never knew—in her pursuit, we witness an arresting, impassioned meditation on art-making, gender politics, displacement, and most potently, motherhood.
Praise For Mother Winter: A Memoir…
PRAISE for MOTHER WINTER by SOPHIA SHALMIYEV

"A rich tapestry of autobiography and meditations on feminism, motherhood, art, and culture, this book is as intellectually satisfying as it is artistically profound. A sharply intelligent, lyrically provocative memoir."—Kirkus Reviews (STARRED REVIEW)

"The lyrical prose of Sophia Shalmiyev's memoir, Mother Winter, splits open like layer after layer of an ornate matryoshka. With a mesmeric voice and scathing vulnerability, Shalmiyev peels her past down to its hollow core: the vacancy left by her absent mother. Across time and geography, Shalmiyev stitches together the diffuse pieces of her fractured narrative in order to find out what it truly is that makes someone the right 'type' of woman, the right 'type' of mother—especially as she becomes a mother herself."—The Paris Review

"Mother Winter is lyrical (an over-used adjective but apt here) and gutsy, delicate and meaty at once. [Shalmiyev] weaves together memoir and meditations on language, her own motherhood, and the writers and artists that she worshiped as her 'feminist mothers' in place of the real thing."—Lithub

"Artist and writer Shalmiyev's many-faceted memoir is an exploration of heartache and the ways life moves on even after irretrievable changes. Interestingly enough, Shalmiyev's description of poet Mary Ruefle's work as 'poignant and casual' also captures the spirit of her own remarkable demonstration of public introspection.This is an elegy for lost mothers and lost homes and a consideration of the complexity of national and religious identities and gender roles. A feminist framework underpins a narrative peppered with references to Western art and literature from ancient to modern times and extended by many thoughtful detours. The author's own apparently dueling instincts as a mother and writer are examined with unflinching forthrightness."—Booklist

"This debut is the memoir of a young woman's life shaped by unrelenting existential terror. The story is told in fragmentary vignettes beginning with Shalmiyev's fraught emigration as a young child from St. Petersburg, Russia to the United States, leaving behind the mother who had abandoned her. It closes with her resolve to find her estranged mother again."—The Millions (Most Anticipated February 2019)

"Mother Winter takes extraordinary risks. [Its] most distinct pleasure is Shalmiyev's authority as a writer, on a language level and in her capacity for assemblage."—Book and Film Globe

The prose of Mother Winter is rendered with perceptive, enduring grace. Shalmiyev weaves an interlocking bricolage of abandonment, transnational identity, feminism as salvation, and the many mothers who shape our psyches..."—The Stranger

"In Mother Winter, Sophia Shalmiyev follows the crumbs back to her native Russia in search of the mother she lost to addiction and geography. It's a lyrical memoir and feminist appraisal of the events that brought her to motherhood in Portland."—Portland Monthly

"The flickering alcoholic parent creates a writer by their absence. The kid colors the void, packs it with stuff, a life, and a love. And thus she lives. Mother Winter, Sophia Shalmiyev's catastrophically bright, wavering motion of a memoir, forged through sticky clouds of pain, is vividly awesome and truly great."—EILEEN MYLES, author of Evolution

"When she leaves her native Russia at age 11, Sophia Shalmiyev is forced to abandon a mother she may never see again. Mother Winter is the wrenching story of her exile and grief, but it's also a chronicle of awakening—to art, sex, feminism, and the rich complexities of becoming a mother herself. Like a punk rock Marguerite Duras, Shalmiyev has reinvented the language of longing. I love this gorgeous, gutting, unforgettable book."—LENI ZUMAS, author of Red Clocks

"Shalmiyev stubbornly, brilliantly pursues loss in this psycho-geography of immigration, grief displacement, and damage. A mother herself, Shalmiyev's narrator channels the ghosts of Dorothy Richardson, Anais Nin, Frances Farmer and the sad, bad stories of Aileen Wuornas and Amy Fisher, who could never be the right kind of girls. Like the great modernist writers, Shalmiyev writes from, not about, trauma but at a pitch that's witty, dry, sad, and laconic. I love America, her narrator declares. It's broken, like me."—CHRIS KRAUS, author of I Love Dick

"The coldness of Russia, of the occult; the heat of punk rock, of motherhood. The psychic tear of emigration and motherlessness, a past gone into mystery. With sparse, poetic language Shalmiyev builds a personal history that is fractured and raw; a brilliant, lovely ache."—MICHELLE TEA, author of Against Memoir

"Mother Winter slices through the conventions of narrative with the most delicate blade, ribboning what you think you know about memoir, homecoming, what it means to live in a female body, to live as a motherless mother, to be mothered by art and the arms of all that is strong enough to hold you. This book hypnotized me with its beauty and brutality. I feasted on Shalmiyev's sentences and they will stay with me for a long, long time."—MELISSA FEBOS, author of Whip Smart and Abandon Me
Simon & Schuster, 9781501193088, 288pp.
Publication Date: February 12, 2019
About the Author
Sophia Shalmiyev emigrated from Leningrad to America in 1990. She is a feminist writer and painter living in Portland with her two children. Mother Winter is her first book.
or
Not Currently Available for Direct Purchase