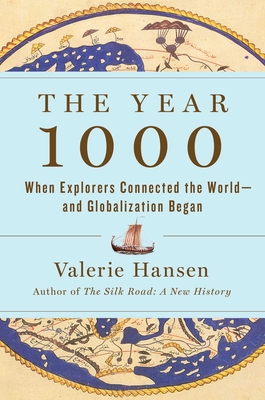 The Year 1000
When Explorers Connected the World—and Globalization Began
Hardcover

* Individual store prices may vary.
Other Editions of This Title:
Digital Audiobook (4/13/2020)
Paperback (4/20/2021)
Compact Disc (4/14/2020)
Description
From celebrated Yale professor Valerie Hansen, a groundbreaking work of history showing that bold explorations and daring trade missions connected all of the world's great societies for the first time at the end of the first millennium.

People often believe that the years immediately prior to AD 1000 were, with just a few exceptions, lacking in any major cultural developments or geopolitical encounters, that the Europeans hadn't yet reached North America, and that the farthest feat of sea travel was the Vikings' invasion of Britain. But how, then, to explain the presence of blonde-haired people in Maya temple murals at Chichén Itzá, Mexico? Could it be possible that the Vikings had found their way to the Americas during the height of the Maya empire?

Valerie Hansen, an award-winning historian, argues that the year 1000 was the world's first point of major cultural exchange and exploration. Drawing on nearly thirty years of research, she presents a compelling account of first encounters between disparate societies, which sparked conflict and collaboration eerily reminiscent of our contemporary moment.

For readers of Jared Diamond's Guns, Germs, and Steel and Yuval Noah Harari's Sapiens, The Year 1000 is an intellectually daring, provocative account that will make you rethink everything you thought you knew about how the modern world came to be. It will also hold up a mirror to the hopes and fears we experience today.
Praise For The Year 1000: When Explorers Connected the World—and Globalization Began…
New York Times Book Review Editors' Choice

"Fascinating … [a] highly impressive, deeply researched, lively and imaginative work."
—The New York Times Book Review

"A gripping account of exploration and ingenuity, sweeping across the economic alliances and great networks of trade that connected disparate regions around the globe….Through this generous and accessible distillation of global history, Ms. Hansen opens our minds to a world where it was still possible to venture, fearlessly, into the unknown."
—Wall Street Journal

"The Year 1000 is a tour-de-force and offers many new ways of thinking about the past."
—The Spectator

"Outstanding…a lively and engrossing book that describes in fascinating detail how trade enriched the world. [Hansen] displays the delightful exuberance of an author deeply in love with her subject."
—The Times (London)

"As Valerie Hansen shows in this fascinating book, much of the inhabited globe already had complex systems of long-distance trade more than a millennium ago."
—The Telegraph (UK)

"Daring…A smart, broad-ranging survey of the global Middle Ages that is learned, thought-provoking—and perfectly tuned to our times."
—London Sunday Times

"[A] meticulous portrayal of the explorers, traders, and rulers who built a complex network which linked a disparate world…deeply engrossing."
—Booklist

"Covers a vast amount of territory in a concise, readable manner…A thoroughly satisfying history of a distant era and people."
—Kirkus

"Vivid and edifying… [Hansen] displays a remarkable lightness of touch while stuffing the book full of fascinating details, and easily toggles between the big picture and local affairs. This astonishingly comprehensive account casts world history in a brilliant new light."
—Publishers Weekly (starred review)

"Breezily written but intensively researched…The Year 1000 happily abounds with checkmate discoveries."
—Boyd Tonkin, TheArtsDesk.com

"Full of eye-opening surprises. Hansen tells a rich and fascinating story of the many ways that far-flung societies a millennium ago forged connections....A masterly work of scholarship."
—Liaquat Ahamed, author of Lords of Finance

"Typically wide-ranging, informative, and illuminating, Valerie Hansen has written a lovely book that puts together the pieces of the global jigsaw puzzle of a millennium ago."
—Peter Frankopan, author of The Silk Roads: A New History of the World

"Valerie Hansen takes us on an informative and entertaining romp around the world of a thousand years ago, on everything from Viking longboats to camel caravans...Anyone who thinks that globalization is something new needs to read this book!"
—Ian Morris, author of Why the West Rules—for Now

"The myth of the 'European Middle Ages' dissolves in the ocean currents and trade winds of this stimulating account…Bolstered by facts and enlivened by intriguing theories, Hansen's book presents a world of objects, ideas, people, animals, and know-how constantly on the move."
—Barbara H. Rosenwein, author of A Short History of the Middle Ages and Generations of Feeling

"A whole new way of looking at the world. If you have the idea that medieval history was a time when there were few connections between those who inhabited different places on the map, this book will reorient you in the most stimulating way possible….Brilliant."
—Rana Mitter, author of Forgotten Ally

"Hansen has not only fashioned a coherent and original vision of the world in the year 1000, in itself a remarkable feat of scholarship, but described it in a clear, concrete, and absorbing narrative that will entertain and enlighten every reader."
—R.I. Moore, author of The First European Revolution and The War on Heresy

"Elegantly written and meticulously researched…a whirlwind world tour that challenges the notion of a more recently hyper-connected globe."
—Sarah Parcak, author of Archaeology from Space: How the Future Shapes Our Past

"Spotlighting the encounters of Norse, Maya, African, Chinese, and Arabic peoples—and more—the book shows how their coming together in war and peace, and commerce and culture, profoundly shaped the world to come. A lively read filled with surprises."
—Joanne B. Freeman, author of Affairs of Honor and The Field of Blood

"The world has been connected longer than the schoolbooks tell you, a whole millennium longer at least: connections of gold and spices, dragons and slaves and faith. Valerie Hansen teases out the unfamiliar links between Chinese markets, Baghdad fortunes, strange blonds on the walls of Mayan temples, and Vikings on Russian rivers in a careful but accessible and truly global history."
—Michael Pye, author of The Edge of the World

"Remarkable… More than a history of global trade, this is a story of human encounters brought to life by vignettes and voices from every corner of a connected medieval planet."
—Nile Green, author of Sufism: A Global History

"Bold and entertaining…ultimately, a celebration of difference—and readiness—for the unfamiliar."
—Arezou Azad, Senior Research Fellow at the University of Oxford and Humboldt Fellow at the Freie University of Berlin
Scribner, 9781501194108, 320pp.
Publication Date: April 14, 2020
About the Author
Valerie Hansen is the Stanley Woodward Professor of History at Yale University, where she teaches Chinese and world history. An accomplished scholar and author, she traveled to nearly twenty countries to conduct research for The Year 1000. She is also the author of The Silk Road: A New History and The Open Empire.