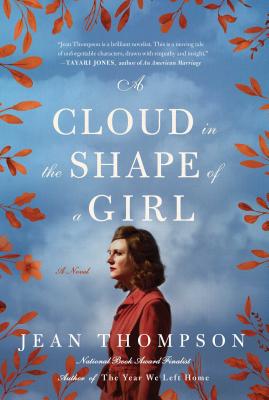 A Cloud in the Shape of a Girl
Hardcover

* Individual store prices may vary.
Other Editions of This Title:
Digital Audiobook (10/22/2018)
Paperback (10/22/2019)
Library Binding, Large Print (12/1/2018)
Compact Disc (10/23/2018)
Description
"There's not a false note in this powerful, beautifully crafted exploration of the trade-offs in women's lives." —People

From National Book Award finalist and the New York Times bestselling author of The Year We Left Home comes a moving family saga about three generations of women who struggle to find freedom and happiness in their small Midwestern college town.

A Cloud in the Shape of a Girl is a poignant novel about three generations of the Wise family—Evelyn, Laura, and Grace—as they hunt for contentment amid chaos of their own making.

Evelyn set aside her career to marry late, and motherhood never became her. Her daughter Laura felt this acutely and wants desperately to marry, but she soon discovers her husband Gabe to be a man who expects too much of everyone in his life, especially his musician son. Grace has moved out from Laura and Gabe's house, but can't seem to live up to her potential—whatever that might be.

In A Cloud in the Shape of a Girl we see these women and their trials, small and large: social slights and heartbreaks; marital disappointments and infidelities; familial dysfunction; mortality. Spanning from World War II to the present, Thompson reveals a matrilineal love story that is so perfectly grounded in our time—a story of three women regressing, stalling, and yes, evolving, over decades. One of the burning questions she asks is: by serving her family, is a woman destined to repeat the mistakes of previous generations, or can she transcend the expectations of a place, and a time? Can she truly be free?

Evelyn, Laura, and Grace are the glue that binds their family together. Tethered to their small Midwestern town—by choice or chance—Jean Thompson seamlessly weaves together the stories of the Wise women with humanity and elegance, through their heartbreaks, setbacks, triumphs, and tragedies.
Praise For A Cloud in the Shape of a Girl…
Praise for A CLOUD IN THE SHAPE OF A GIRL by JEAN THOMPSON

"There's not a false note in this powerful, beautifully crafted exploration of the trade-offs in women's lives."—PEOPLE

"Thompson's incisive, intricate novel centers on three generations of women living in a small, unnamed Midwestern college town. As Thompson (Who Do You Love) examines the present and past of each of the three generations of women, she adroitly reveals how their life experiences shaped them into being so different from one another. Intense, compassionate, and satisfying, Thompson's novel is filled with real, complex characters whose destinies are inextricably tied to the women in their lives."—PUBLISHERS WEEKLY

"With low-key yet piercing humor, caustic observations balanced with compassion, and entrancing storytelling mojo, Thompson masterfully uncovers the contrary emotions surging beneath the flat, orderly landscapes and tidy homes of the Midwest… As storms, gardens, and trees punctuate and embody the richly reverberating family drama Thompson so astutely orchestrates, she unflinchingly examines desire and resignation, death and inheritance, while tracing women's generational struggles for genuine independence…Like those of Jane Hamilton and Antonya Nelson, Thompson's embracing domestic novel invites reflection and discussion."—BOOKLIST


"Jean Thompson's new novel draws the reader in with character and plot…but what ultimately holds the reader enthralled is the chance to witness Thompson's exceptional powers of observation when it comes to the smallest, most subtle reactions people have to each other and to the ebb and flow of life around them...The story's drama, sweeping across generations, is mesmerizing, but page by page is where Thompson truly showcases her great skill: her ability to capture the nuance of individual moments, thoughts, and reactions. No one writing today is better at this...[an] extraordinary novel."—WASHINGTON INDEPENDENT REVIEW OF BOOKS

"Thompson brilliantly explores familial struggles...[a] remarkable achievement."—NEW YORK JOURNAL OF BOOKS

"Exceptionally well-written, showing the ties and love binding three generations of women together and the need for all of us to avoid repeating the past by studying the history of those we love as well as our own, and making decisions about what to leave behind and what we need to go forward to achieve what we desire."—NORTHWEST INDIANA TIMES

"Jean Thompson is a brilliant novelist from the classic school of storytelling. This is a moving tale built upon a foundation of unforgettable characters, drawn with empathy and insight. A Cloud in the Shape of a Girl is a story that illustrates our present moment through a keen and unflinching look at our past. Thompson's work centers on the Midwest, what some call 'fly over' country, but in her hands, we come to see that it is the center."—TAYARI JONES, New York Times bestselling author of AN AMERICAN MARRIAGE

"In this beautiful and unflinching novel, Thompson excavates one of life's essential truths: if we aren't doomed to repeat the past we are certainly called to reckon with it, to acknowledge the shape of our personal history and decide what to carry forward, what to bury. Gorgeously written and perfectly composed, this book is a powerful look at the unbidden forces that shape our lives and the unexpected places where love erupts and flourishes."—CYNTHIA D'APRIX SWEENEY, New York Times bestselling author of THE NEST
Simon & Schuster, 9781501194368, 336pp.
Publication Date: October 23, 2018
About the Author
Jean Thompson is a novelist and short story writer. Her works include the novels A Cloud in the Shape of a Girl, She Poured Out Her Heart, The Humanity Project, The Year We Left Home, City Boy, Wide Blue Yonder, The Woman Driver, and My Wisdom and the short story collections The Witch and Other Tales Re-Told, Do Not Deny Me, Throw Like a Girl, Who Do You Love (a National Book Award finalist), Little Face and Other Stories, and The Gasoline Wars. Thompson's short fiction has been published in many magazines and journals, including the New Yorker, and anthologized in The Best American Short Stories and The Pushcart Prize. Thompson has been the recipient of Guggenheim and National Endowment for the Arts fellowships, among other accolades, and has taught creative writing at the University of Illinois at Urbana-Champaign, Reed College, Northwestern University, and other colleges and universities. She lives in Urbana, Illinois.
or
Not Currently Available for Direct Purchase